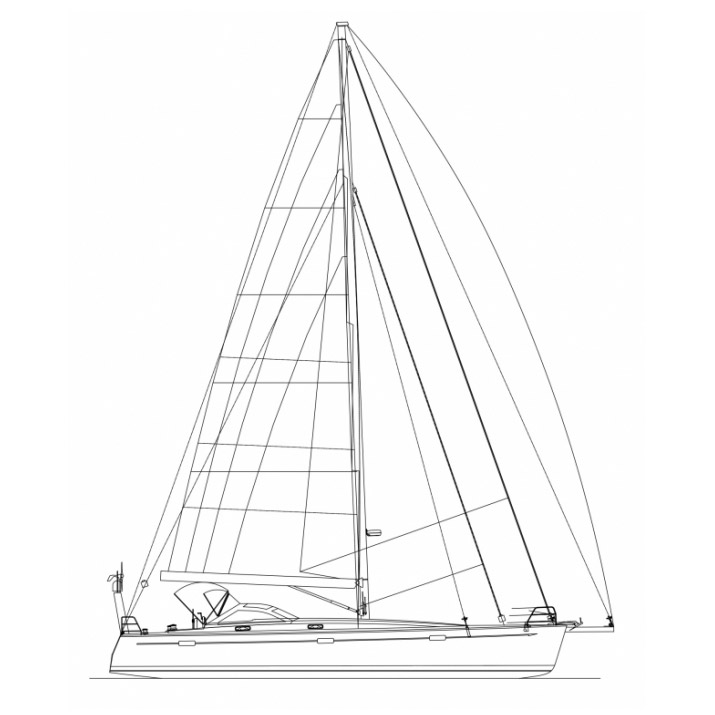 In 1986, Dodge Morgan at age 55 circumnavigated the globe on board "American Promise" from Bermuda and back to Bermuda in 150 days. At Lyman-Morse we are pleased to be building a 63' Farr-designed sloop for Dr. Stanley Paris, who will at age 76 attempt to break Morgan's record aboard "Kiwi Spirit."
Dr. Paris will depart St. Augustine, Florida, in November 2013 and cross Morgan's start line in Bermuda, returning to the same line and thence to St. Augustine. He aims to break Morgan's record for a non-stop, unassisted circumnavigation and also set a new record from the nation's oldest city. A successful circumnavigation will demonstrate that with modern design and at a reasonable cost, a boat can be produced in the United States that can solo circumnavigate the planet, entirely green (the boat will burn no fossil fuel) and in record time, thus demonstrating a fast short-handed family cruiser.
"Having previously circumnavigated with an assortment of family and friends, I appreciate that having speed usually provided for more comfort, Dr. Paris says. "It enabled me to avoid bad weather and provided more time at destinations. It's great being out there but the goal is to get to the destination and on time."
As of the end of September the plug for the hull mold was complete and the deck mold was nearing completion at our boatbuilding facility in Thomaston, Maine. By mid-winter our crews plan to have the hull and deck complete, allowing the cabin, engine room, and other modules to be installed. "The idea with this boat is to build as little actually on the boat as possible," says Steve Tofield, Lyman-Morse's customer-relations and project-development manager. "By building all the modules in what is essentially a lab environment, we're able to be much more efficient which will save the customer money and ultimately end up with as good a product as possible."
Dr. Paris has already walked through the full-size mockups that our crews created for the deck, cockpit, and interior — a key step for an ergonomically minded skipper who places a high priority on the location and height of things such as winches. "All cruise boats should be capable of being sailed solo," Dr. Paris says. "Even if there are three on board, and often it's just a couple, one is asleep while the other is on watch and so it's down to solo. Solo for handling the sails and the heavy weather. In fact in heavy weather it's often down to the one sailor for several watches on end and at such times a sea-kindly and dry boat capable of being completely sailed from the protected cockpit is a must."
"Being a physical therapist steeped in issues related to safety and ergonomics, I created an owners brief that would define comfort, safety and ease of handling," Dr. Paris says. "After all, being in my seventies is not like being in my twenties. Now I like to enjoy a cocktail and relax watching the boat go fast and easy."
Dr. Paris says his circumnavigation will be done in part to honor the memory of the late Dodge Morgan, who took the record for a circumnavigation in a cruise boat from 256 days down to 150 days. "It's time to show that it can be done in far less," the owner says. "A circumnavigation above all tests proves the boat as well as the skipper. At my age it would be impossible to mount a successful challenge if the boat were not designed for speed, sea kindliness, safety and ease of handling. Farr Yacht Design has made this blend, and with the skills present in the Maine boating community I was pleased to be able to get Lyman-Morse, known for their quality, to take on this job."
Lyman-Morse plans to launch the boat in late summer 2012, in time for the owner to take the boat to the Canary Islands for the start of a race in November 2012.
"For my part, I have most of my life mixed my professional career as an educator with endurance events such as completing the World Championship Ironman Triathlon in Kona, and in 2011 becoming the oldest to have swum the English Channel. By appropriate preparation, athletes of my age can restore, maintain, and enhance a high level of physical functioning provided they get the advice they need from a professional. Being a physical therapist helps me to lead a healthy and productive lifestyle, and I recognize that while medicine and surgery may save lives, no profession speaks to the quality of those lives better than does physical therapy. As a result I find this challenge most appropriate."