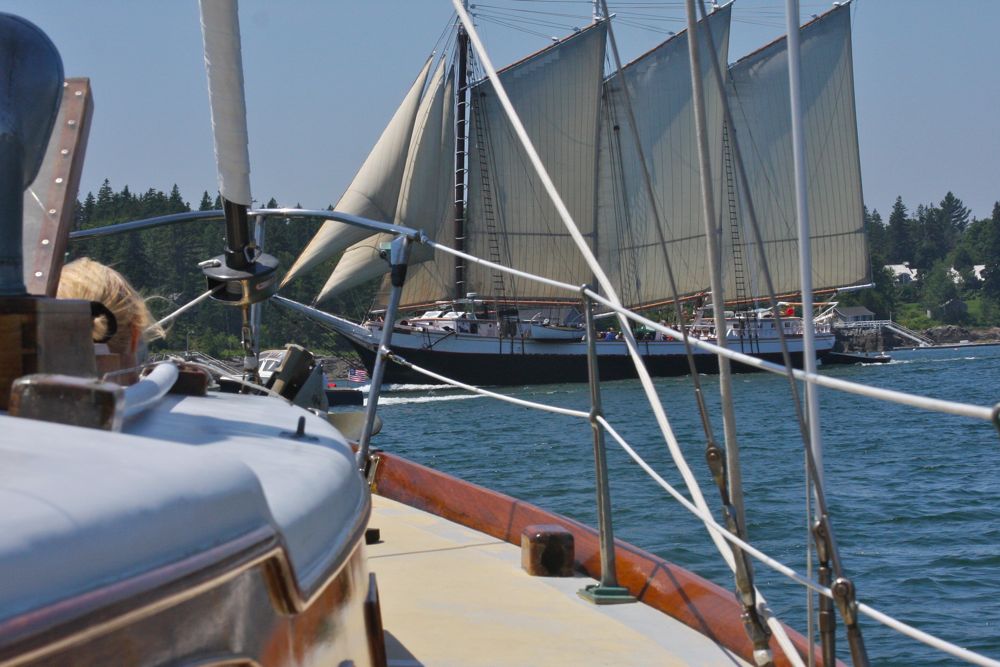 Someone planning to move their boat southward through Maine once asked me, "I won't have much time to spend in Penobscot Bay, what is the one thing I shouldn't miss?" That's such a dismal thought, but my answer came quickly: "Sail through the Fox Island Thorofare".
The Fox Island Thoroughfare is a one-of-a-kind natural east-west passage between Vinalhaven and North Haven Islands, known historically as the Fox Islands. The western entrance to the Thorofare is just south of Pulpit Harbor, a destination in its own right. The Thorofare has the beauty of coastal Maine, stunning scenery, history, a working harbor, and with a myriad of coves, back waters, and anchorages, it's a cruising destination in its own right. But beyond all that, if you sail the Thorofare, you will be amazed by the experience.
A sail from the south will take you through broad sounds flanked by pastoral islands, through a busy historic harbor, through a few tricky dogleg turns and, finally, eastward down the coast. The Thorofare can be sailed in either direction if there's any wind at all. The conditions may involve tedious light air sailing, some testy tacking and at times white-knuckle roaring beam reaches, and perhaps everything in between. You may not get all the way through under sail (we don't usually), but if conditions are right and your sail trim and handling are up to it, and you do make it through,…it's a sail you'll remember always.
Picking up a J.O. Brown mooring in North Haven Harbor not long ago, we enjoyed the moving scenery on the Thorofare. A large schooner under sail approached our bow and as the big boat was directly upwind, we could hear the soft roar of the bow wake and the power of the wind in the massive sails and rigging. Big wooden blocks squealed lightly as sheets were loosened onto a broad reach and the schooner fell off past Grindstone Ledge, then disappeared through the doglegged channel heading eastward. The only thing the schooner left in its wake was the faint aroma of woodsmoke coming from the wood cookstove in the galley below.
And so it must have looked, sounded and even smelled centuries ago on the Thorofare. The age of sail-only passage is gone now, but the wind and water is the same in the Fox Island Thorofare today.
Sail it, if you can.