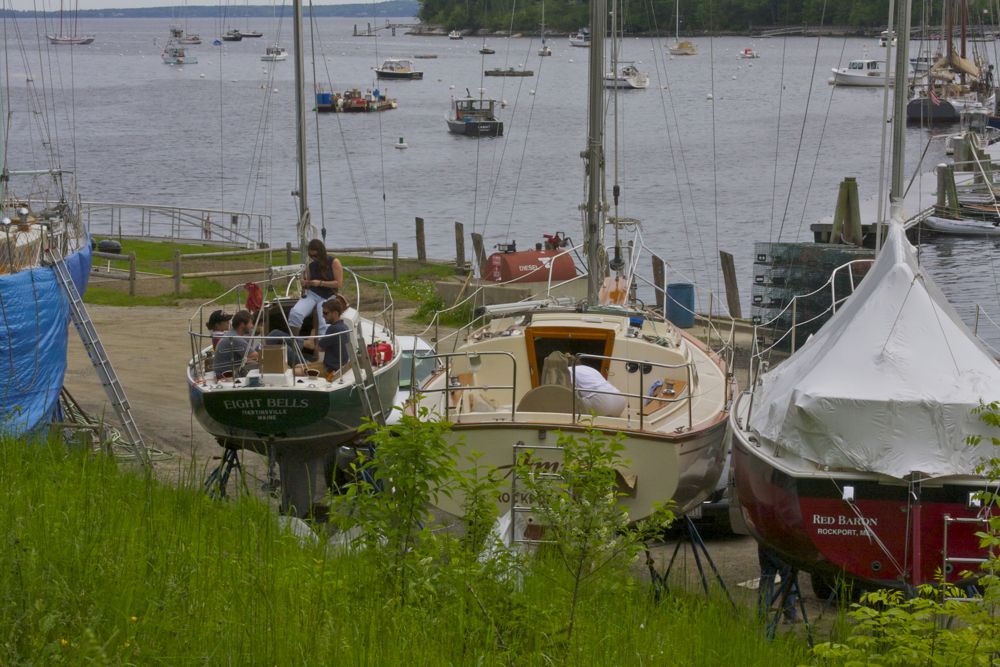 "Hope springs eternal" — in the boat yard, for sure.
Our very small group that store and care for our boats on Rockport's Public Landing are on a first name basis. We know each other's families, dogs, and spring boat-working routines. We can easily read boat work body language (unlike, say, the non-boat owning passer-by) when it clearly says, "DON'T DISTURB". And we practice boatyard etiquette, a fading courtesy, and drive by slowly so as not to raise dust as wet coatings are everywhere.
Although we show up at odd hours, no one is surprised nor remarks that, for instance, you show up with tools and it's almost dark. Greetings are spare beyond a nod — there's no time now. We're all on the same mission.
But is boat work drudgery? Depends. The harbor-strolling, non-boat owner for the most part seems to think so. While they clearly don't get it with clever remarks like, "CHRISTMAS (on my boat's stern), is that when you finally launch?" They do add some color to the boatyard fabric.
Just the other day I listened to a strolling tourist who scowled at me about how much work a boat is, "blah, blah, blah…and that is why…I DON'T… own a boat!"
I scowled back in staged agreement. What's the use? If I explained that I had trouble sleeping last night as I could hardly wait to see the results of today's coat of paint, they'd think I was daft. So off they went, feeling much better about wandering aimlessly.
But Steve sanding his boat to my port, John grinding to my starboard, or Dave (even though Dave is still under shrinkwrap, his truck is there) — they'd all understand my painting insomnia. I think I can speak for all of us to the wandering perplexed. We rather enjoy working on our boats.
It's a battle for the DIY boat owner. We fight the weather and the launch schedule, not to mention local horrors like the Perfect Gravel Storm from the annual spring run of the street sweeper on the Goose River Bridge high above.
We have to take what mother nature hands us as we claw our way toward the TravelLift. The clock ticks relentlessly and there's no prize for being the last boat to launch. Quite the contrary, it's a recognition (with a fine after the deadline), we all avoid.
Yesterday a recognized boat-owning passerby asked sympathetically, "Is it ever done?"
In a state of painting induced relaxation as I brushed gray enamel out, I thought about this simple yet monumental question.
"No", I answered, to both of us, as I enjoyed the sight of the last few trailing brush marks soften and flow together, then magically disappear in the glossy wet paint.
"No, 'it' doesn't end, ever," I added finally. "We just take a long break from working on our boats, about now, and go sailing".
And, I realized, I'm OK with that.