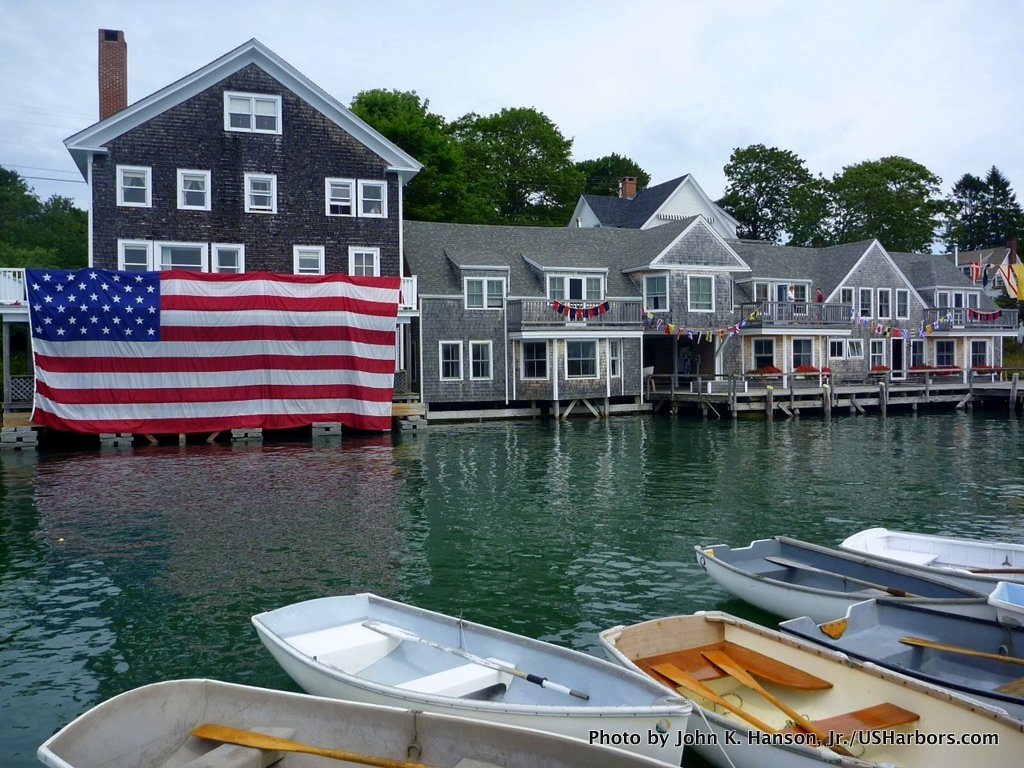 On a beautiful, light-air August day, the North Haven Casino celebrated its hundredth anniversary. This yacht club is the social home of the North Haven summer community, the organizer of sailing events, the groomer of the tennis courts, the center of the after-race teas. For generations this has been the center of summer memories.
Early in the day, members and the youthful sailing instructors started rigging the club for the event. Dinghy masts were lashed, dock railings decorated, signal flags were hoisted, and a huge American flag was draped from a neighbor's house. The skippers's meeting was at 1330 hours and, as per pre-race instructions, both crew and boats were suitably festooned with vintage finery.
The North Haven Dinghy, a thirteen-foot catboat, has been sailing the Thorofare for 125 years, well before the Casino was organized. For the Hundredth Anniversary Parade of Sail, thirteen dinghies were on the starting line. Next in the starting sequence were the Herreshoff 12 1/2's, raced here for over ninety years, then the magnificent Knockabouts, a 102-year-old design, along with the much newer Ensigns, 420s, Optimists, and assorted Lasers, Hobies, and more.
Adding a little majesty and heft, the schooner American Eagle was anchored right on the starting line.
The parade went up the Thorofare. Ignoring the designated weather mark, the sailors used the sardine carrier Jacob Pike as the turning mark instead. Befitting a parade, not a race, the finish was somewhere in the vicinity of the Casino docks, no committee boat on station. They had already started across the street for the tea! The custom for the North Haven racing community is tea, cookies, and ice cream after they race.
This club is very special to its members. Speeches were given, photos taken, and all of the former sailing instructors were given commemorative T-shirts. For with its unique name, the social standing of some of its members, and its lengthy history, the North Haven Casino really is all about the sailing.
May it be so for another 100 years.