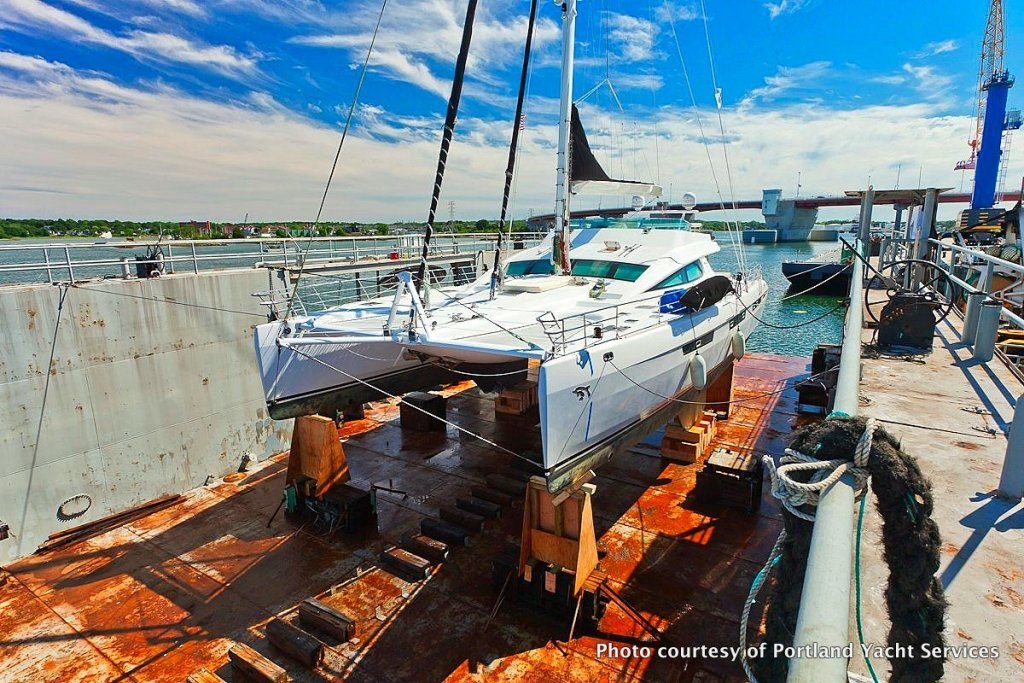 A 74-foot Marc Lombard Catamaran was back in the water recently after a week in the dry dock undergoing repairs to both keels after hitting a ledge. Portland Yacht Services was in the process of securing a two-year option on the dry dock "Owl," a 1300-ton dock measuring 120' by 56', when the call came in from the yacht's captain. Because of the beam of the vessel it was a challenge to find somewhere to haul. After several minutes on the phone, the decision to steam to Portland was made.
Before the ink was dry on the option agreement with Roger Hale, Sr., President of C.B. Marine, and Phineas Sprague, Jr., President of Portland Yacht Services, Inc., a blocking plan was being developed and Eric Thibodeau, Portland Yacht Services, Inc.'s Fiberglass and Paint Guru, was developing an outline of work on what was yet-to-be seen damages.
The owner of the vessel was eager for the work to begin and to be done as he was expecting Naval Architect Marc Lombard to arrive within the week to cruise and discuss plans for a new catamaran.
As these pictures tell, there was significant damage to the starboard keel and a good bite out of the port keel. It was "all hands on dock" for the next week, and despite losing twelve hours to a ferocious squall, the team led by Eric was able to complete the job on time and the vessel was soon back in the water, underway as promised.
So, if you are wondering where to haul your wide-body Cat or Tri in the future, call Portland Yacht Services, a full-service yacht yard.
For privacy reasons, we have purposely withheld the name of the boat per the captain's request.