3 Great Lures for Landing Keeper Blues and Stripers
Posted by David Pickering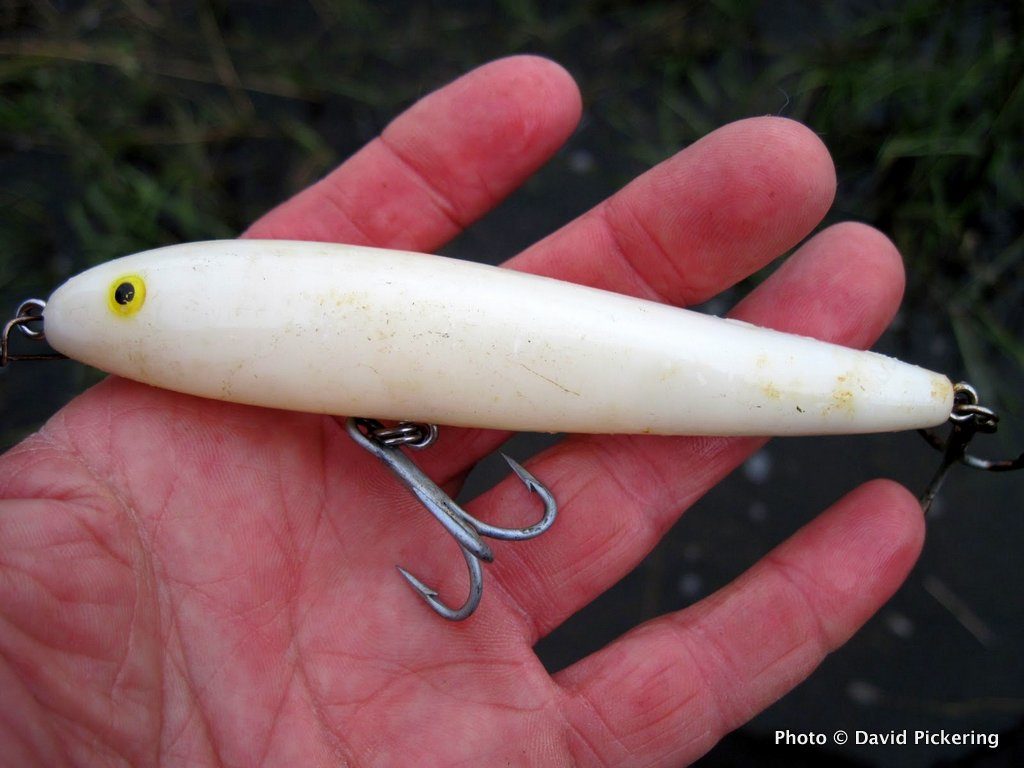 I fished the Upper Bay this week for schoolies. As I arrived at my spot, fish started busting all over for small bait. I reached in my plug bag and pulled out a Rebel Jumpin' Minnow. The fish were all over this plug. and I landed quite a few decent schoolies with it. This made me think about the lures that have been most effective for me recently.
The Jumpin' Minnow is a plug I should be using more often. It is one of those skimmers, like a Zara Spook, that seems to dart and jump and swim back and forth across the surface with an erratic motion as you vigorously jerk the rod tip with small pulls. It drives stripers crazy, and they will aggressively attack this artificial. In the past I have had good luck with it in Narragansett Bay, but I know a lot of fishermen who do well with it at the oceanfront, where it will usually outfish a popper, especially when the fish are fussy and feeding on top.
As far as plugs go, this one is relatively inexpensive, selling for about five bucks. I like the 4 1/2 inch model in a bone (white) color. I suggest beefing up the hooks since the hooks that it comes with are quite flimsy. The plug is lightweight and is ideally suited to light tackle fishing. Try them and I think you will be surprised just how good they are!
Earlier in the week, I had another one of those days in which you could see a lot of fish, but you could not get them to hit. I saw lots of albies, stripers and bluefish. Conditions were dead calm with little wind and clear water, a curse to begin with. Add the fact that there were tons of small bait around and it made things even worse. A lot of frustrated fishermen caught nothing.
I didn't kill the fish, but I did land some stripers and bluefish, far more than I saw any other fisherman catch. My key to success was a small 3/8-ounce flathead, homemade bucktail jig spiced with a 3-inch Bass Pro triple ripple curly tail. I can't tell you how many times this lure has saved the day for me, and it did again this week.
A small bucktail jig is a real good bet when small bait is around and fussy fish are feeding on them. Unlike other lures, the jig will get under the bait where the predators are lurking. In addition, the bucktail jig is durable. Yes, it will get you stripers AND bluefish. A plastic on a jighead, so popular with fishermen these days, might also work, but the problem with plastic is that the bluefish will chop it immediately and the blues have a nasty habit of chopping the plastic right up to the hook. Most always, they seem to avoid getting hooked while at the same time rendering the plastic worthless.
Today, most fishermen don't even carry a bucktail jig in their bag. These jigs are hard to find in tackle shops in small sizes so you almost have to make them yourself. I guess plastics are more convenient and readily available. Yet, I can tell you the bucktail jig remains a potent weapon with all the small bait around. These days, just like years ago, the bucktail jig still remains one of the best lures you can use for stripers and bluefish.
Finally, you know what I think of the Daiwa Salt Pro Minnow from previous posts. It is the best plastic swimmer out there to catch striped bass. However, realize that it has its flaws. The hooks and split rings are flimsy, or a better word would be junk. Many fishermen, including myself, are finding that big stripers can bend the hooks and split rings. There is a solution to this problem, so I am beefing up all my Daiwa SP Minnows.
Here's how it's done. Using split ring pliers, remove the original hardware. I then replace all the split rings with heavy duty 5.5H split rings (100 lb. test) from NJ Tackle. Next, add a new set of hooks. I am using VMC 4X trebles, size 1/0, that I also purchased from NJ Tackle. That will do it. Since I have changed the hardware on my plugs, no problem with bent hooks or split rings. I'm amazed that a big company like Daiwa did not realize their hardware was sub par on these plugs. Don't these guys test their products before putting them on the market?