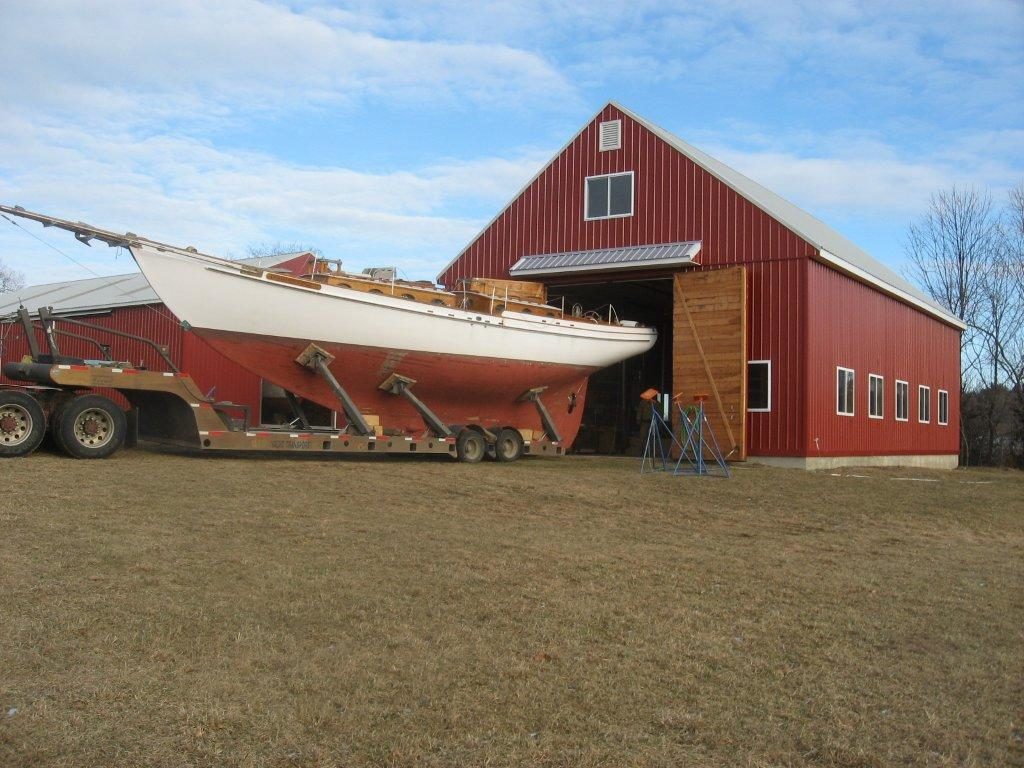 As you approach the shop, you have no sense you're about to stumble upon an ocean-going schooner — the smell of cow is in the air and draft horses gaze over the fence. But open the shop door, and she looms above you as though the sea is feet away, instead of twenty-plus miles. She's the Sadie G. Thomas, and she's getting a new lease on life in the capable hands of John Flanzer, of Traditional Boat, LLC, in the heart of Maine dairy farming, in Unity, Maine.
Originally conceived on the loft floor of Ferdinand "Red" Nimphius' shop in Wisconsin, she was designed and built without the aid of drawings — the master builder just laid down the lines on the loft floor and built her the old-fashioned way, plank-on-frame. Having journeyed from the fresh water of the Midwest to Florida, Rhode Island, and finally Maine, she was in need of TLC.
A top priority for her British owner was to restore the sail plan with an eye both to tradition and to using modern developments to ease the sail-handling chores that a gaff-rigger imposes on the crew. He also wanted to remove the 3,000-plus pounds of inside ballast and install it outside, augmenting the cast lead ballast keel. Flanzer, challenged by the lack of good drawings to work from, contacted Bob Stephens at Stephens Waring Yacht Design in neighboring Belfast. Primarily known for gorgeous Spirit of Tradition sailboats, the design firm is also well-grounded in hands-on restoration work. At Stephens' suggestion, they employed 21st century technology: rather than laboriously taking lines off the hull with plumb-bob and tape measure, they "shot" the boat with a 3-D imaging laser. From this image, a 3-D computer model of the hull and deck was generated.
"The 3D model allowed us to calculate the hydrostatics of the boat — find the centers of buoyancy and flotation, so we could accurately predict her trim with various ballast scenarios," says Stephens. "It was also a quick way to get a profile for drafting of an accurate sail plan."
With the model and good measurements of the spars and rigging, Stephens drew a sail plan that gave the client what he wanted — easy handling and a salty profile. "We tweaked a few things," says Stephens. "We steepened the rake of the gaffs, for a jauntier look and better control of sail twist, and we added furling systems for flying jib and light reachers. The outer furler uses a new system developed by Vendee Globe solo racers — not traditional, but you can be sure it works!" The new rigging work is being done by Front Street Shipyard in Belfast, and new sails of soft Oceanus cloth with traditional hand-sewn detailing will be built by Gambell and Hunter, of Camden.
Sadie G. Thomas will return to the waters of Penobscot Bay in summer 2013.