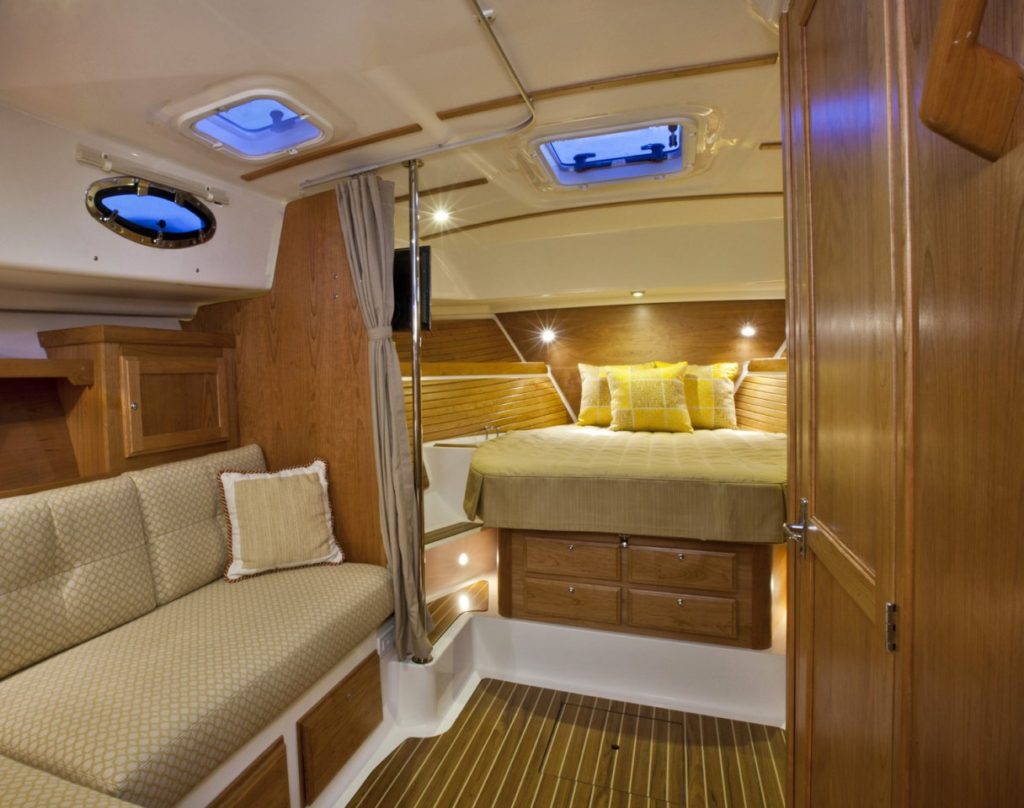 Back Cove yachts are known for their beautiful downeast design and fuel-efficient engines, but another charm to these boats is the fine woodwork handcrafted by Back Cove associates based in Rockland. The skills of these nine associates are second to none. They build everything from cabinets to tables to interior trim.
Back Cove interiors are all built from American grown cherry. We choose American Cherry because the wood is stable and perfect for furniture building. We also feel good about American Cherry being a renewable, sustainable hardwood that is harvested in the eastern United States. Each finished product receives four coats of varnish (two sealer coats and 2 finish coats). This ensures the beautiful wood in your Back Cove will need very little upkeep/maintenance.
When a boat is ordered, the wood shop creates a "kit" for that particular hull. Once all the pieces are complete in the woodshop, they are installed into the boats as completed, varnished components: berths, lockers, bureaus, drawers, and more.
The drawers are built of solid maple because it's superior to an engineered wood product. Dovetail joinery on a drawer box represents a higher level of fit and finish than could otherwise be available.
The image above is the beginnings of an island berth. On the left is the berth face with drawer openings. The piece on the right is one of the side supports which is shaped to fit the internal glass unit.
All wooden components are built by hand. We hand route parts and mill the various lumber profiles in house. Wood shop labor represents roughly 15 percent of the total build hours.
The interior of a Back Cove has beautiful built-in cabinetry that looks and feels elegant but is also practical to maintain for years to come.
Practical Elegance. From Maine.