Best Tactics, Lures for Narragansett and Buzzards Bay Fish
Posted by David Pickering
In the last week I have been out quite a few times from shore and from the boat. Each time I fished I ran into a mix of stripers and bluefish. Right now Narragansett Bay has good numbers of bluefish in the 5-8 lb. range that are looking for the abundant schools of menhaden. They are not big enough to take them whole but they have no problem chopping them up. In addition, the Bay has good numbers of schoolies in the 16-26-inch range. There are also some larger keepers around chasing menhaden, but I've yet to see any big numbers of them.
For the fisherman who is using a plug, you will need to adjust your tactics to cope with the blues. I'll tell you that plastics, either skinny ones like Hogys or Slug-Gos along with plastic bodies on jigheads, are the best lures to use for stripers. However, the blues love the plastic offerings also and will chop them to stubs. It's a waste to use plastics when blues are around. So, you have very little choice here and you will have to turn to hard plugs if you want to fish.
Three lures have been hot tickets in the last week to catch both stripers and bluefish. Small poppers made by Creek Chub in the 3-4-inch range have worked well at times, along with a Rebel Jumpin Minnow. I've also had good luck with a Kastmaster XL reeled in quickly and fished on top like a popper. Note that these are all small offerings. Most fishermen are making the mistake of using plugs that are too big for the finicky blues and schoolies.
Staying nimble and adjusting our tactics helped us last weekend, when we headed out into Narragansett Bay in the boat with the intentions of trying for keeper bass by using pogies. That never worked out. Oh, there were tons of menhaden around and you could snag all you wanted. But, those reports of lots of big stripers under them just did not materialize today. We had a couple of chases by small keeper stripers that just could not take the offering, and we had a couple of chops by bluefish. We never saw a keeper bass taken by an armada of boats.
So, we scrapped that plan and went to plugging for stripers and blues. That's when we hit the jackpot in a little obscure spot that was just loaded with schoolies and decent-size blues. There were three plugs that were working exceptionally well on Sunday. The 7.5-inch white Slug-Go, a white Jumpin Minnow, and a small three-inch popper were all hot producers as the fish were keying on small offerings fished on top. It was nonstop action for several hours as we landed at least 35-40 bluefish in the 5-9-pound range and at least 25 stripers in the 15-24-inch range. This hot fishing is a good example of how you should have a back up plan if what you are doing is not working. That back up plan led to a big day for us on Sunday.
Staying nimble isn't exclusive to fishing in Narragansett Bay, as my brother and I proved last week on Buzzards Bay, a real hotspot in the past in late spring and early summer.
We started off targeting black sea bass. We used Kastmaster XLs, as we vertically jigged these metal lures in about 20-25-feet of water. It was one black sea bass after another, with dozens of keepers. We got no real large ones but had numerous 3-5-pound fish. We also landed an occasional dinner plate-size scup on the same lure. We moved around and seemed to find black sea bass and scup on just about every hump, rocky point, and dropoff throughout the Bay. It was absolutely loaded.
While fishing for scup we also saw terns working all over the place. We suspected there were blues or stripers forcing baitfish to the surface. So, we went in search of bass and blues. We found big numbers of blues in mostly deeper water in the Bay. They seemed to be all over the place. Terns were diving; blues were breaking. It was wild. We landed several dozen bluefish from 5-7-pounds using that same Kastmaster XL on the surface (while reeling quickly). When close to the boat these hooked fish were puking up small sandeels that the bait the terns were also feeding on. Surprisingly (or maybe not a surprise), there were no stripers.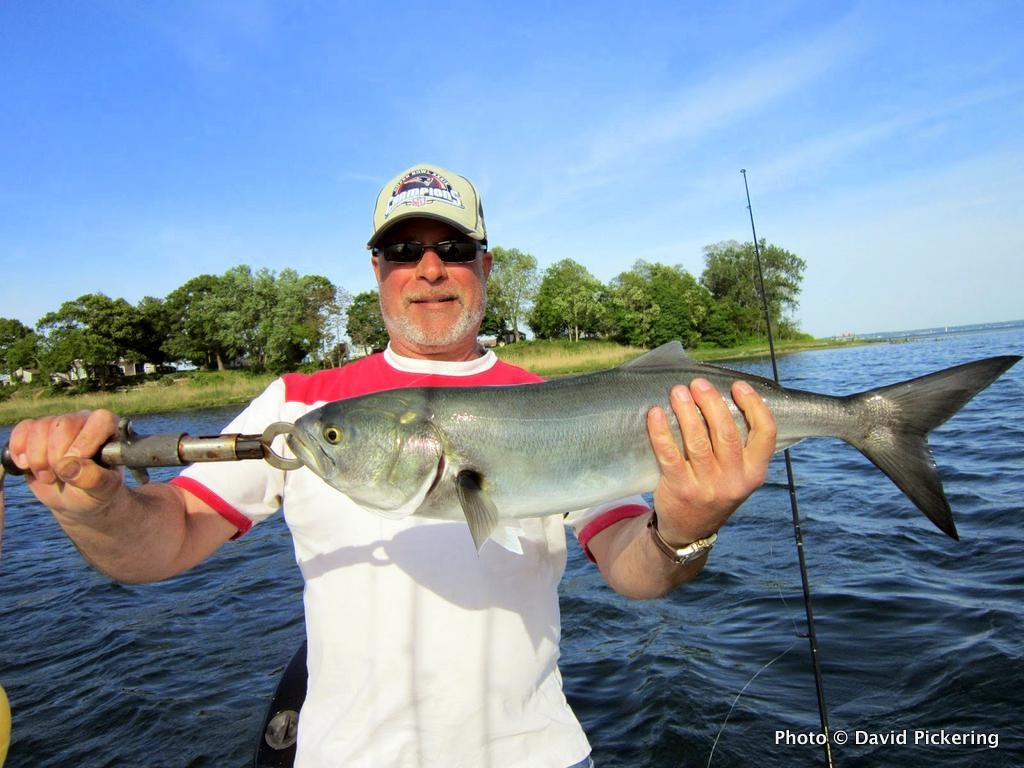 Photos of Best Tactics, Lures for Narragansett and Buzzards Bay Fish