Monhegan 42 Commercial Cruiser: Function Follows Form
Posted by US Harbors
When it comes to commercial ships, form usually has to follow function. Freighters might not look like vessels that ought to cross oceans, and yet thousands of them do that every single day. Ferries, likewise, often seem to be designed with an eye more toward maximizing human cargo space than improving seakeeping ability — as anyone who's endured a rough crossing can attest.
Until now. Lyman-Morse Boatbuilding Company, a high-end yacht manufacturer based in Thomaston and Camden, has taken commercial construction and turned it on its ear. Building off the company's successful Hunt-designed Monhegan 42 Flybridge Cruiser Jet Boat, a model I've been quite public in my praise for over the past couple of years, Lyman-Morse has created its first U.S. Coast Guard-certified passenger vessel. In the process, it has proven how much is possible when Maine craftsmanship and innovation are brought to bear on a "standard" commercial RFP.
Part of the reason for the project's success may be due to the fact that the client didn't start with a commercial design in the first place. Instead, they researched builders and designers of power yachts that had the high level of finish that they were looking for, plus could transport up to 15 passengers to and from a corporate retreat on Lake Ontario in absolute comfort. An online search led them to Peregrine, the flybridge jetboat version of the Monhegan 42 that Lyman-Morse launched in 2013. When they approached Drew Lyman about converting Peregrine into something as seakindly and sophisticated as a private yacht, but that still met the USCG's Subchapter T requirements for passenger-carrying vessels, Lyman leaped at the idea. Though the project involved far more government oversight than usual for Lyman-Morse — hull laminate schedules had to be approved beforehand, watertight bulkheads and taller bow rails had to be maneuvered into the existing design, and fireproofing and firefighting technology was paramount throughout — the company anticipates the up-front investment will yield returns when other commercial clients see the results.
Monhegan 42 Commercial Cruiser Specs:
•LOA: 42'0"
•LWL: 35'6"
•Beam: 13'
•Draft: 3'0"
•Fuel Capacity: 450 Gallons
Indeed, if any of them are able to take a test drive like the one I did this winter, the phone at Lyman-Morse may start ringing off the hook. On a day where temperatures were hovering in the low teens and spray froze on contact, the vessel's extra-high bow rail and lifelines were reassuring rather than abnormal as I helped stow docklines and fenders while Drew Lyman used the bow and stern thrusters to slide us off the dock. OSHA, I could only imagine, would be pleased that deckhands like me will be so well protected.
Easing out of Camden Harbor, most of the passengers in the long cabin (it was extended from the flybridge model to accommodate 11 passengers inside the cabin) settled into conversation on the upholstered bench seats, which run fore-and-aft. The steering station, complete with carbon-fiber dash to reduce glare, is an integral part of the cabin, allowing the captain to serve as host to corporate guests as well as helmsman. Reverse-cycle heating kept us toasty even in light sweaters, and Drew Lyman assured us that 30,000 BTUs of air-conditioning power would make us just as comfortable during steamy Great Lakes summers.
It was only once we'd cleared Curtis Island and experienced some Penobscot Bay swells, however, that the Monhegan 42's real magic started to show itself. Built with propellers rather than the jets aboard Peregrine to accommodate a shallow approach to the client's Lake Ontario island retreat as well as the ever-present lake grass, the twin 425-horsepower Cummins QSB6.7 diesels put us up on plane in a remarkable 3.5 seconds — practically light speed for a 42', 26,500-pound displacement vessel. Four thousand RPMs easily let me reach cruising speed of 28 knots, and I have no doubt that I could've exceeded the claimed top speed of 32 knots if I'd been so bold. Throwing the helm hard over at speed accomplished exactly what I suspected it would: a controlled, carving turn, even into three-foot swells, that reassured me that no matter what I might try to do with this vessel, it was ready for it.
To see a 45-second video of my test drive, click here.
And in the end, isn't reassurance precisely what anyone stepping aboard a commercial ship is looking for? Reassurance that no matter what something looks like on the outside — luxurious, artistic, or utilitarian — it will perform its intended task safely and reliably. With its newest Monhegan 42, Lyman-Morse reassures us that when it comes to commercial vessels, function can now actually follow form.

—Capt. Joshua F. Moore, USHarbors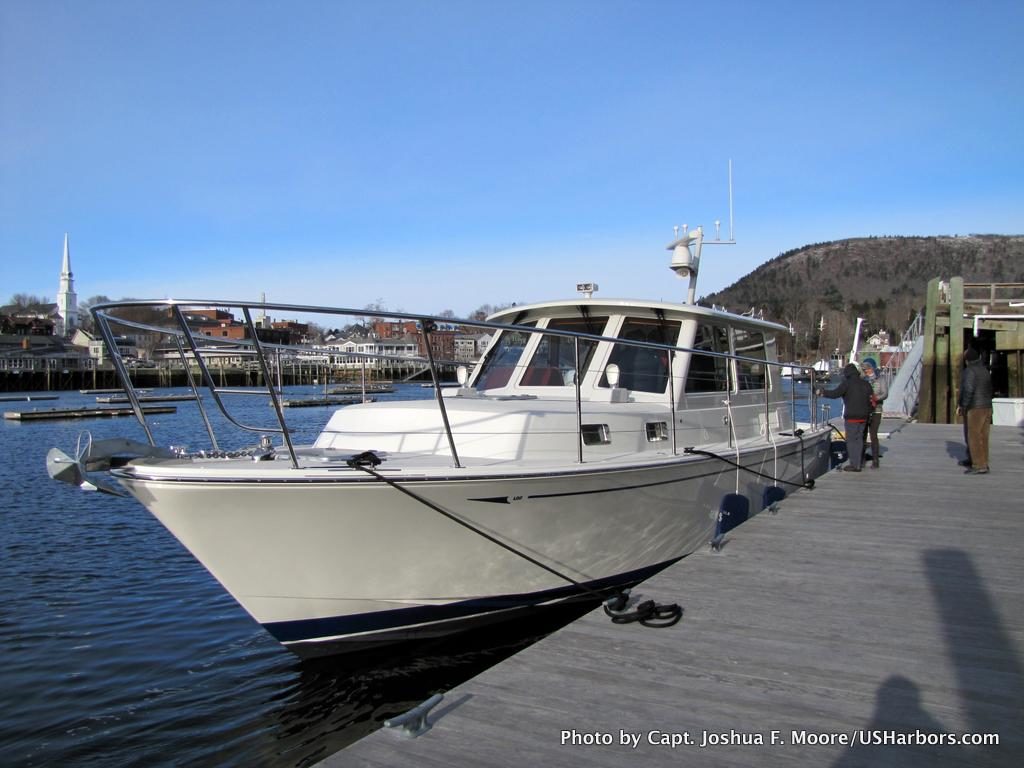 Photos of Monhegan 42 Commercial Cruiser: Function Follows Form