Inside your yacht's INTERIOR Tips for choosing and working with a designer
Posted by Boats Of The Year
By Laurie Schreiber
ARE YOU TRYING to decide how to lay out the
interior of your new yacht?
Maybe you'd like to refurbish your existing
interior? Finding materials made for use in the
marine environment and the techniques involved for
the complex shapes inherent in a boat make the
process of interior design for boats entirely different
from home design.
If you've ever gone down the road of designing a
custom boat, or are thinking about refitting a boat,
you've probably perused a fair number of yachting
magazines to look at what others have done, says
Martha Coolidge, who owns Martha Coolidge Design
in Belfast, Maine. She finds that her clients typically
hone in on a particular style—traditional, modern, or
something transitional—and the cues of that style
help to refine and articulate their own vision.
Coolidge recommends saving those images that
pop out, either the digital or paper version, so you have
a collection and a vocabulary of elements—colors, patterns,
arrangements—that you like when you bring the
discussion to an interior designer. You and your designer can then trade ideas back and forth. The sharing website
Pinterest has proven useful for that process, she says.
"I'll title one of my boards on Pinterest with the boat
name or the client's name, and we pin ideas back and forth,"
Coolidge says. "It's a constantly evolving board. The ideas
might be tiny: Maybe we both like the way a headboard is
upholstered. Or it might be the overall look."
When doing a custom interior, Coolidge says, it's essential
to understand that the skills of interior yacht designers
are different from those of interior residential designers.
"It has to do with understanding how a boat works, versus
a house," Coolidge says. "That includes factors such as
movement, weight, accessibility, and stowage."
Nevertheless, Coolidge says, interior house design
increasingly influences the way people think about interior
yacht design. For example, fabric—one of any design's most
visible elements—occupies a whole new world these days.
Colorful, patterned fabrics once only available for homes
are now increasingly available, in marine-grade materials,
for boats.
Krisha Plauché, who owns Onboard Interiors in Marblehead,
Massachusetts, says textile mills have done a great job
of making more fabrics available that have a marine rating.
"Ten years ago, color charts for boats were just primary
colors and maybe a stripe," Plauché says. Today, clients are
more willing than ever to step out of the old-style zone of
solid, bland colors. Designers will have catalogues of fabrics
on hand for clients to view. Designer and client will want to
consider how well a fabric works with fixed elements on the
boat, such as the woodwork.
The quality of exterior textiles and foams has also
evolved considerably over the years. Exterior fabric must be
able to shed water and resist mold and mildew. Marine
foam is mold-, mildew-, and fire-resistant and can be laminated
to memory foam for greater comfort. Medium-density
foam is most common for seats and backs. A soft foam
offers a softer seat. Open-cell foam is used on deck: With the
right fabric and lining, water drains right out.
Plauché explains that the first step in the design process
involves talking with clients about how they use their boat.
Is it a day boat or offshore cruiser? Do they travel with children
and pets, or entertain friends?
Then it's time to discuss options, while being mindful
of budget. Boat owners should not trim costs on the foam,
she says, but they should be aware that exterior foam costs
more than interior foam, and memory foam about doubles
the cost of a cushion.
The topic of fabric covers everything from curtains and
cushions to dodgers and sail covers. Prices run from $30 to
$300 per yard. Prices are driven by a combination of brand,
quality of material, and patterns, Plauché says.
"When you're working with your designer, tell her what
your budget is," she says.
The designer's next job is to measure the various surfaces
to be equipped with soft goods. The measurements taken onboard are then transferred to patterns. This is a
highly specialized skill. For example, sailboat cushions have
progressive bevels that conform to the complex curves of
the boat.
"It's measure twice, cut once," Plauché says, adding,
"Owners shouldn't make the measurements themselves."
Back at the cutting table, the patterns are transferred to
the fabric, which is cut and sewn, using UV-coated thread,
on industrial sewing machines that require frequent needle
changes, given the thickness of the fabrics involved. Specialty
saws allow the designer to cut large blocks of foam to
the required contours.
Cutting is a specialized skill.
"It's a real trade," says Plauché. "Unless you have years of
experience, or have apprenticed with someone, it's not
easy."
Overall, says Plauché, when choosing a designer, "You
need to have a good, open channel of communication. You
should be comfortable that your designer is working with
your budget. You also want to look at the designer's credentials.
You don't want to give the job to someone who's not
familiar with yacht design or with the special materials that
are required to use on a boat. That's a big one."
On a boat, nothing is hidden—unlike a house, where
the electrical panel, say, is out of sight in the basement. This
changes how to approach the challenge—and pleasure—
of interior design.
"What I tell people," says Coolidge, "is if everything looks
like there was an intention that is carried through by the
boatbuilders and the hardware-makers and all the craftsmen,
then it really works." ■
Excerpted from Boats of the Year 2016. Click here to read more stories from the latest edition.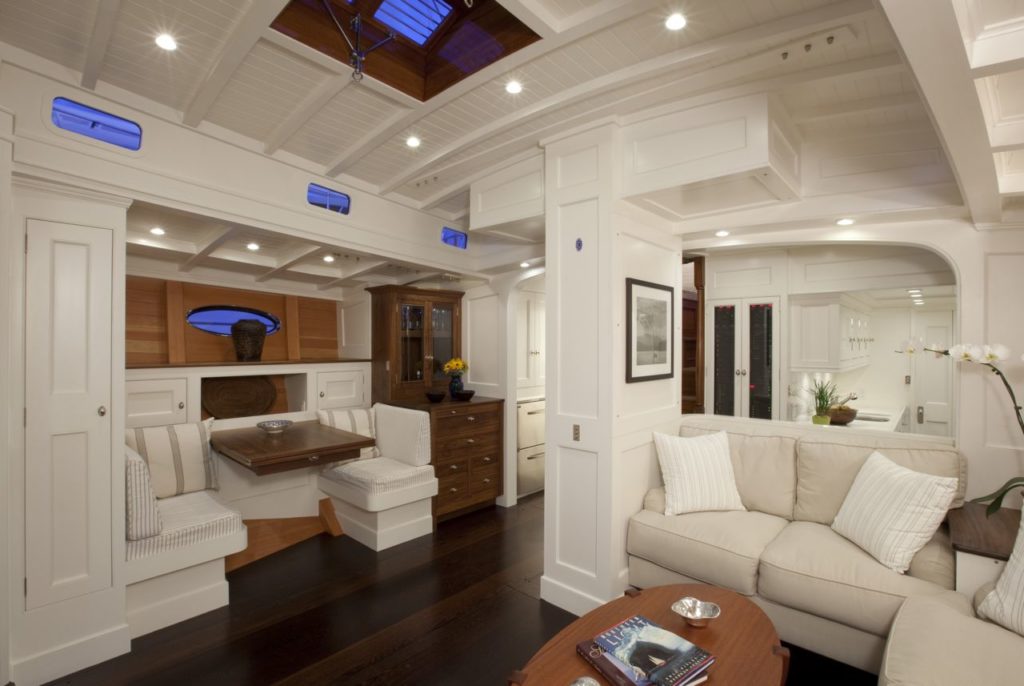 Photos of Inside your yacht's INTERIOR Tips for choosing and working with a designer