Lyman-Morse Beyond Boatbuilding: Composite Steeple Replacement
Posted by US Harbors
Last Updated
Innovative boatbuilding skills can be used for more than just marine applications, as one Maine-based company can attest to, after years of diversification into new markets. An architectural restoration project in the Midcoast is the latest example of how Lyman-Morse continues to expand its business.
The steeple on the Chestnut Street Baptist Church, Camden, Maine, was 30 years old and in a state of disrepair. Fortunately for the congregation, several members of the Lyman-Morse staff and Taylor Martens, owner of Taylor-Made Builders, are members of the church. The issue of the rotting steeple and spire was known to them and they agreed to tackle the age-old problem of a rotting wooden structure with a new solution. Taylor-Made officially received the contract for the restoration which included replacing the roof and other work and sub-contracted the spire and brow work to Thomaston-based Lyman-Morse.
"In the boating world, weight and longevity of materials is always the issue. Lessen the weight but increase the durability," said Steve Crane, Lyman-Morse's composite guru. "Cost is also a factor." The new 50'4" spire and brows are made of 3/8" solid FRP laminate using vinyl ester resin. The outside finish coating is white NPG gelcoat. The wooden structure it replaced weighed at least 10,000 lbs. The new spire weighs 6,800 lbs. If weight was more of a consideration than the cost, the process could include the extra step of infusion thus eliminating excess weight. Being a high-end boatbuilder, Lyman-Morse is a leader in this process.
A new approach was used in construction as well. Lyman-Morse draftsmen engineered the drawings necessary for construction. The eight-sided spire was divided into four quadrants. One mold was made of the decorative scalloped shingles. The four sections that included in-turning bonding flanges were pulled from this mold. The four pieces were then bolted and bonded with a structural adhesive together by the flanges. Afterwards the outside seams were bonded across with a fiberglass trim piece forming the finished octagonal structure.
The project took three months to build. The durability of the new steeple is expected to be at least 60+ years with little to no maintenance required.
Read more about the project here.
Watch a video here.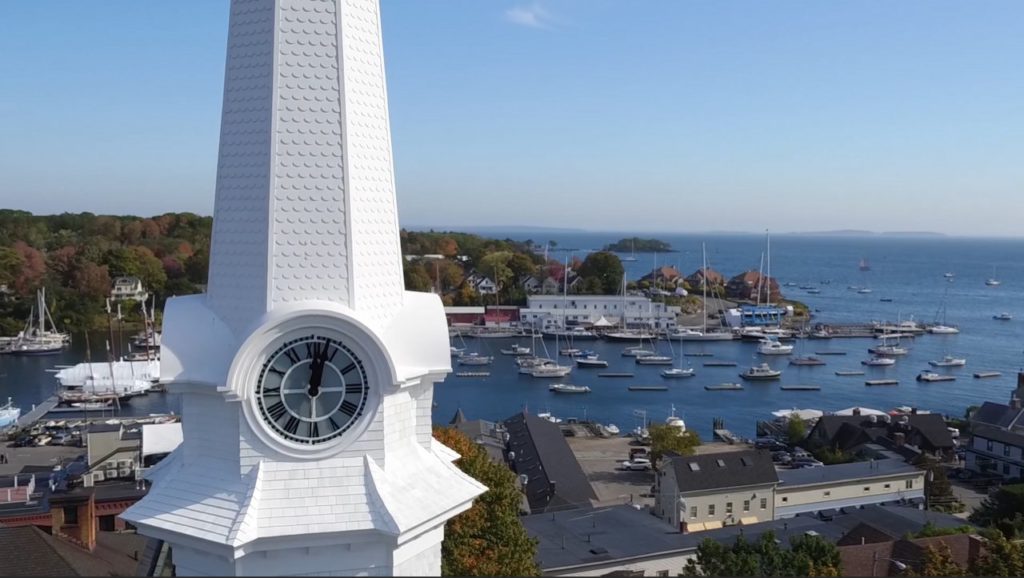 Photos of Lyman-Morse Beyond Boatbuilding: Composite Steeple Replacement