News from Our Coasts: August 2020
Posted
Last Updated
NEWS & UPDATES FOR AUGUST
Don't miss our interview with Dr. Jyotika Virmani for our series "Women on the Water". Dr. Virmani will be talking about her work managing the Schmidt Ocean Institute's ambitious and unique deep sea mapping program, as well as her background in ocean atmosphere meteorology–both things of great interest to us here at US Harbors!
Harbors & Marinas Around the Country
News & Events from Our Partners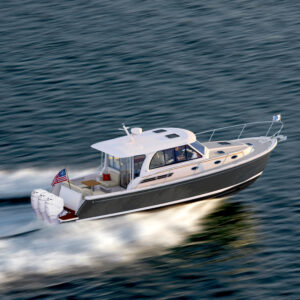 BACK COVE YACHTS new outboard-powered model, the Back Cove 39O, is on track to launch in the Fall of 2020, despite challenges and complications posed by the global pandemic.
The new design will feature triple Suzuki 350hp outboards as standard, with triple Yamaha 300 or triple Mercury 400 Verado as options. Hull #001 of the Back Cove 39O will feature triple Mercury 400hp Verado outboards. The 39O hull design will feature Back Cove's proprietary Trailing Edge Lifting Surface (TRELIS) *D* for optimal handling and performance.
The Back Cove 39O is expected to start engineering trials in October, then make a short tour of private-events down the east coast of the United States, where customers and the press will be invited to by-appointment tours and sea trials. The Back Cove 39O is expected to make her boat show debut in the spring of 2021. For more information contact National Sales Manager, Jamie Bloomquist, at [email protected] 39O Brochure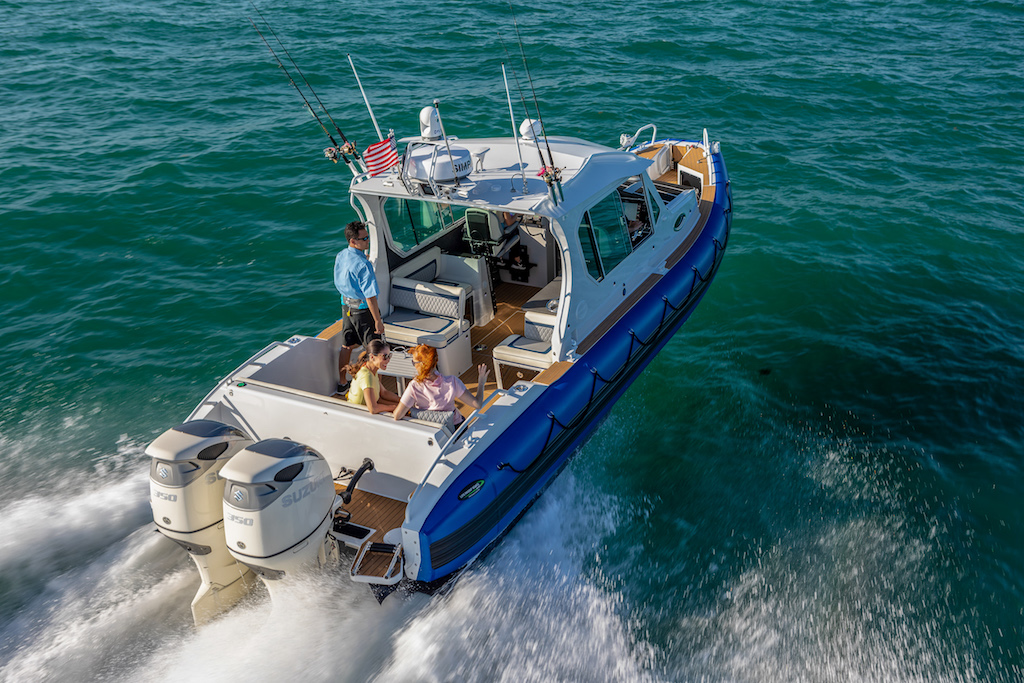 LIFE PROOF BOATS renowned for their robust 'virtually un-sinkable' boats crafted from aluminum deep vee hulls and a patented foam/air collar system is expanding into the Northeast USA through a partnership with LC8 Marine as their first Official Sales and Service Center. Located in Plymouth MA, LC8 Marine has over 20 years of expertise with all-weather best in class boats, with a specialty in performance RIBS, and is perfectly aligned to strengthen the Life Proof Boats brand in New England.
"After exhibiting at the Newport International Boat Show last year, the popularity of the Life Proof Boats brand has continued to grow in the Northeast", says Micah Bowers, CEO Life Proof Boats. "Our strategic partnership with LC8 Marine allows us to better serve current and future boat owners in the region, while providing the unparalleled level of service our owners expect."
Continuing to push the limits in foam stabilized boat! Life Proof Boats is pleased to announce a handful of new models for 2021. For those in search of the ultimate adventuring cabin boat, with an emphasis on safety and performance our pleasurecraft line as expanded to include a 35' Full Cabin, 35' GT Coupe, and 41' Full Cabin model. With our Yachtline signature series we now offer a 39' and 50' Yachtline cabin model. Please help us welcome these new models to our growing fleet by learning more about them on our website.
LM46 Mock-Up Experience–Take a virtual walk through the mock-up of the new LM46 performance sailboat with Cabot Lyman, Founder of Lyman-Morse. What's a mock-up? Watch the video to find out. If you would like an in-person personal tour of the mock-up and see the progress of hull No. 1 as her construction progress speeds along,  send Lyman-Morse an email at [email protected] For more information on the LM46 check out https://www.lymanmorse.com/project/lm46-1/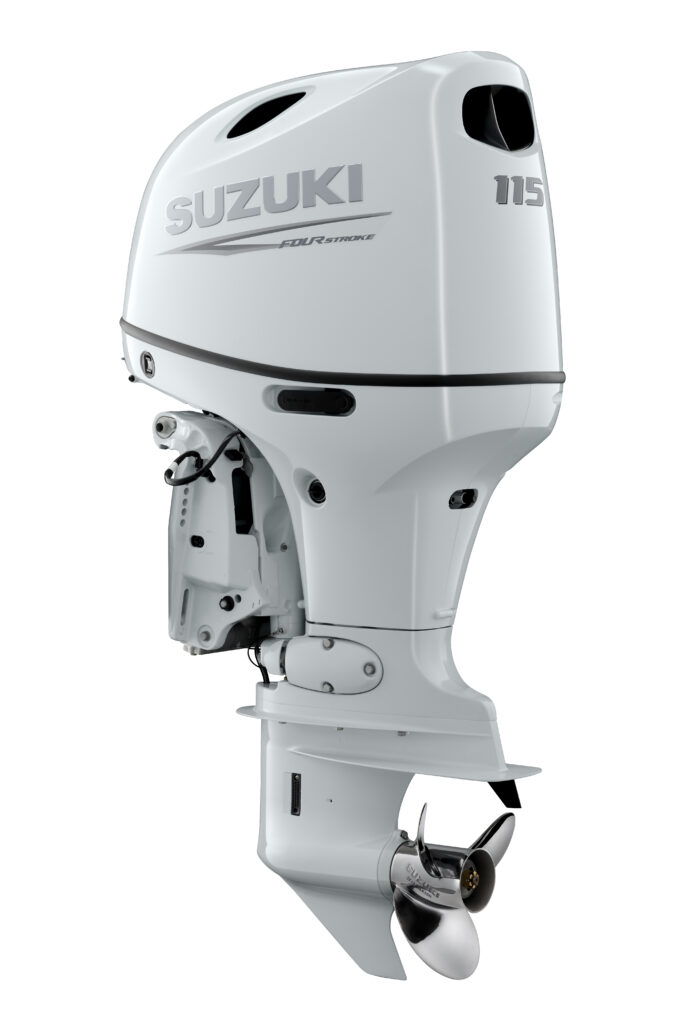 SUZUKI MARINE is recognized worldwide for making advanced technology and features available to boaters of all types —  not just those who run the largest, highest-horsepower outboards.  This tradition continues with today's global unveiling of Suzuki's new-for-2021 DF115BG and DF140BG 4-stroke outboards, the first in their class to offer all the advantages of drive-by-wire technology.
By bringing its proven drive-by-wire technology to its 115HP and 140HP in-line four-cylinder models, Suzuki is providing simplified rigging for a wide range of boat builders, along with silky smooth shifting, instant throttle response, enhanced performance and superior fuel efficiency.  The reliability and precision control of Suzuki's drive-by-wire technology has been proven for years on Suzuki's popular 150HP through 350HP models.
To learn more about the new 2021 DF115BG and DF140BG models — or Suzuki's entire line up of premium quality 4-stroke outboard motors ranging from 2.5 to 350 horsepower, visit www.suzukimarine.com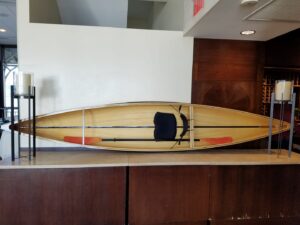 MOONLIGHT MARINE
has several gently used boats ready to go!
Kayaking and Canoeing are great for social distancing! Contact us for details.
We are open and accepting commissions and repair work.
Updates From Our Coastal Business Community​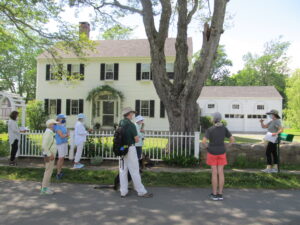 The Castine Historical Society is offering residents and visitors to this quintessential Maine coastal village a new way of learning about Castine's multi-layered history. The staff and volunteers of the Historical Society will offer Castine Uncovered Walking Tours, a fun, informative, outdoor learning experience.
After careful deliberation, the Castine Historical Society has chosen not to open the exhibits this season. Instead, the Historical Society is excited to expand the walking tours of historic Castine, a signature program of the Historical Society for many years.
The free hour-long walking tours will be offered from July 8 through September 6, Wednesday through Saturday at 10:00 a.m. and 4:00 p.m. and Sunday at 2:00 p.m. From September 9 through October 11, tours will be offered Wednesday through Saturday at 10:00 a.m. and Sunday at 2:00 p.m. While the tours are free, donations will be gladly accepted. No public restrooms will be available during the walking tour, but restrooms are available at the Castine Town Docks.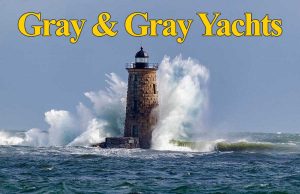 Gray & Gray Yachts – We want to let SELLERS of boats in the Coastal Maine area know that GRAY & GRAY YACHTS in York and Stonington, Maine has never been busier in 46 years with buyers coming to buy boats from all over the country.  This is a good opportunity to sell or list your boat.  We are here to help you in that process…… Please don't hesitate to visit our website:  grayandgrayyachts.com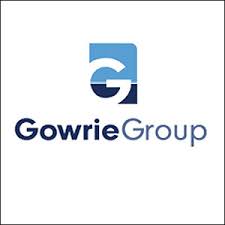 Sailors Health Insurance by Gowrie Group —Now more than ever, having the right health insurance matters. If you lead an active lifestyle on and around the water, in the US or Internationally, Gowrie Group has a health insurance solution to meet your needs. Open Enrollment Period for US Sailing members for the SailorsHealth Insurance by Gowrie Group plan runs from July 1 to August 31. Eligible US Sailing members include: pro-sailors, certified instructors, college sailors, international cruisers, and paid crew/captains. This best-in-class annual health insurance plan features worldwide coverage, prompt access to doctors and hospitals, English speaking customer service, and paperless claims. Learn more and enroll online now at www.gowrie.com/sailorshealth.  Questions, contact Gowrie Group at [email protected] or 860.399.3634.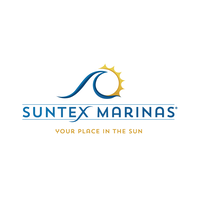 Make Suntex Marinas a part of your journey along the Atlantic Coast. Suntex Marinas is dedicated to ensuring sanitary and safe experiences so you're more focused on making positive memories out on the water.
Boaters who find themselves traveling along the Florida coast will enjoy making a stop at Miami Beach Marina. With easy accessibility to fishing, sailing, and on-site dining, it's a great stop to enjoy the water as you fill up your boat. As you make your way along the Florida Coast, dock at Bahia Mar, a Fort Lauderdale Beach resort close to a variety of restaurants and shopping. Bahia Mar Marina is also full-service with 250 slips that can handle vessels up to 300FT long. As you make your way along the Atlantic Coast, dock at York River Yacht Haven and Tidewater Yacht Marina, Virginian sister marinas that share a full-service yard and supply impressive slip amenities such as laundry, fuel, and pump-out services. For boaters looking for a secluded vacation, visit Maryland's full-service marina, Pleasure Cove Marina nestled in Bodkin Creek. Being 15 minutes away from Annapolis and Baltimore makes Pleasure Cove an alluring destination to store your boat in their state-of-the-art indoor heated building or dock in one of its many slips wide enough to accommodate boats up to 90FT in length. Further up the coast, feel free to dock in New Jersey at Liberty Landing Marina. With its 520 slips and transient dockage, it's an ideal stop to enjoy a meal at one of Liberty Landing's critically acclaimed on-site restaurants while filling up. Whether you've been boating your entire life or only dreaming about it, our marinas are your ideal destination to enjoy the boating lifestyle.
Photos of the Month
NOTE FROM OUR EDITOR: Do you have a beautiful or fun photo of your harbor, what you've been doing for social distancing, or a project you're working on? Send it to us!