What Grows on Kelp? New Research Identifies Microbes to Monitor
Posted
Last Updated
With a little "kelp" from the non-profit GreenWave, our scientists found no microorganisms that pose food safety concerns on aquacultured sugar kelp during the growing season in Long Island Sound.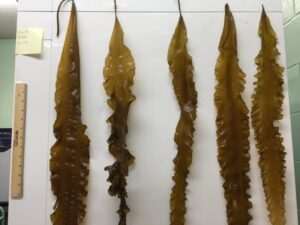 A team from our Milford Lab has published the first comprehensive list of what grew on kelp throughout a growing season at one farm in Connecticut.
"We did not find any microorganisms on kelp that are food safety concerns, and detected minimal presence of species that could affect product quality, which is good news for the industry," said lead biologist Yuan Liu.
The blades of sugar kelp underwater resemble undulating lasagna noodles. This cold-water brown algal species is a nutritious "superfood" prepared by creative chefs and available seasonally at farm-to-table restaurants. The native sea vegetable is also found in food additives, medicine, cosmetics, fertilizer, and animal feed. Environmentalists tout kelp as a climate solution because it soaks up excess nutrients and planet-warming carbon dioxide as it grows.
The researchers used both culture-dependent and culture-independent techniques, including microscopy and next-generation sequencing of microbial DNA. They also used a statistical analysis called indicator species analysis. They cataloged what they found attached to the kelp blades including:
Bacteria
Micro-and macro-algae
Protozoa (such as ciliates and amoeba)
Invertebrate animals
They worked with the New Haven-based ocean farming non-profit GreenWave, which provided biweekly kelp and seawater samples throughout a growing season in Long Island Sound. GreenWave trains regenerative ocean farmers, including kelp growers. Regenerative aquaculture operations are developed to support, and potentially improve, the environmental conditions in which they are located.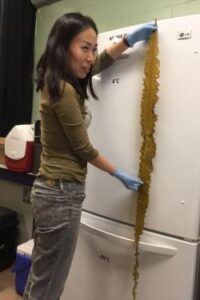 Emerging Industry Faces Challenges
Seaweed farming is the fastest-growing form of aquaculture in the United States and supports a $6 billion industry worldwide. Long cultured in Asia, sugar kelp has become trendy in the United States. There are now at least 120 permitted farms in New England, the majority of which are in Maine. Kelp is a winter crop that some fishermen and shellfish farmers grow to diversify their income in the offseason.
Despite kelp's benefits and growing popularity, the industry faces headwinds. In addition to a short shelf life and few processing facilities, growers and scientists are just beginning to learn what grows on kelp blades. As a result, there is currently no national food safety standard for U.S.-produced seaweed; regulations vary by state.
To farm kelp, strings are usually seeded with kelp spores in a hatchery. When the blades are attached to the string, they are transplanted and grow to maturity in the ocean on longlines. Microorganisms growing on the blades could potentially compromise food safety or product quality during grow-out. Removing encrusting animals and plants increases the cost of preparing kelp for the market.
READ MORE at fisheries.noaa.gov