Thorfinn returns from Pacific Northwest tour
Posted by US Harbors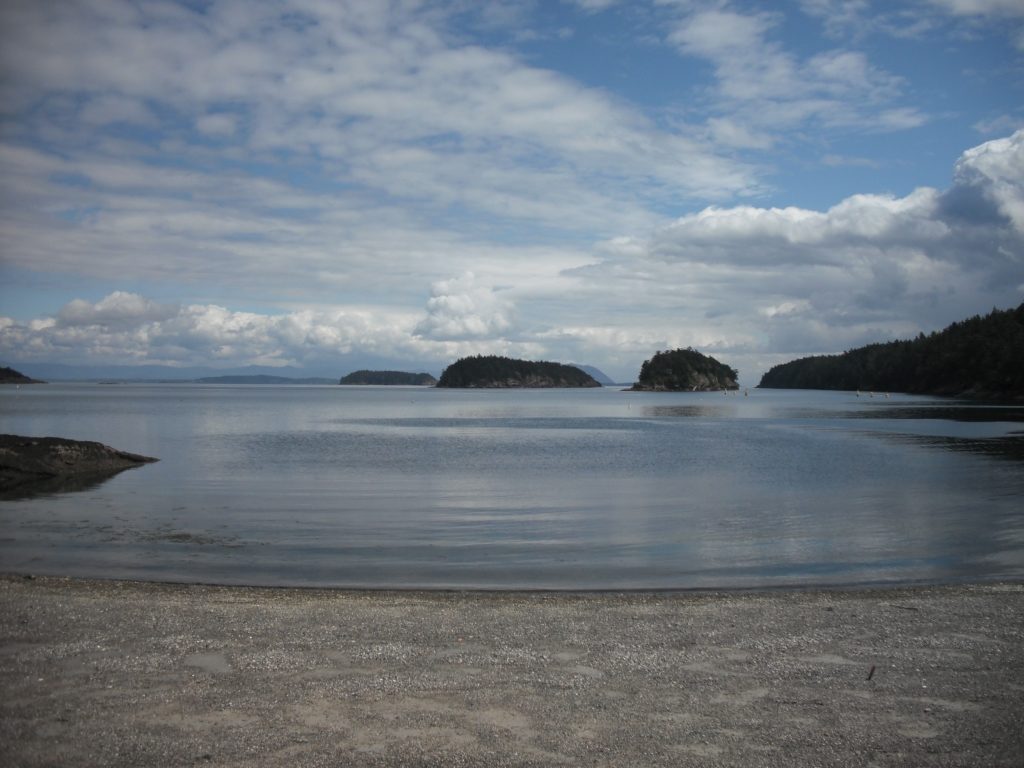 I could drink the Pacific Northwest. It is a part of the world that strongly agrees with my spirit.
I used to live in the NW, and I spend a lot of time dreaming about it. So, it felt surreal to be standing on Sucia Island, in the San Juan Islands, in early May staring out over the sea/landscape. Off in the distance I could see the snowcapped peaks of the British Columbia Coast Range rising over the water. The Gulf Islands and mountains on Vancouver Island lay to my north and west. At my feet lapped the US/Canada border waves. The sweet smells of the island permeated my olfactory senses and time seemed to stand still. The past and present fused for a moment.
As I stood rooted to that beach, memories of sea kayaking parts of the BC coast and time spent in the mountains returned. I remembered surf landings on remote beaches, the sound of wolves in the brush as they ran by my tent, the glint of light as a salmon sprang from the water, and the solid feel of gravity as my feet propelled me up snow slopes. Wilderness. For someone who loves areas where mountains meet the ocean, the Pacific Northwest is heaven. We had travelled a long way to reach this spot in the San Juan Islands and yet it felt as though I stood on a threshold. The entire Inside Passage, all the way to Alaska, lay before me. I could feel the pull.
Matt Jacobson, my traveling companion, and I had left Florida with Thorfinn in tow back on April 8. We drove almost non-stop to Oakland, Calif., for the Sail Pacific boat show and demo sails in the Bay Area. We were contracted by our builder, Ryder Boats, to tour the West and display the award-winning Presto 30.
After an event with perfect weather in Berkeley, Calif., we hauled Thorfinn out and headed north. We spent a few days in Bend, Ore., visiting old friends and doing a little backcountry skiing before continuing on to Bellingham, Wash. Bellingham is a great town just a hop south of Vancouver, Canada. The rain was pounding in typical NW fashion when we arrived.
The next day, however, it cleared and we rigged up Thorfinn and launched into Bellingham Bay. The next week was spent meeting folks and setting up a demo sailing event for the weekend. We raced with the local yacht club for an evening race and attended the annual "April Brews Fest," where 40 micro-brewers peddle their wares. The next stop planned was Seattle, but we had a few days to play so we cast off our lines and headed out for a few days to explore the San Juan Islands.
The San Juans
We spoke with several people, including Todd Shuster of Gato Verde Adventure Sailing, who advised us to visit Sucia Island. It was a fairly short day sail from Bellingham. We passed Lummi Island with the current providing a good push and our mizzen staysail set. The winds were light ,but the views spectacular.
After wrapping north of Lummi we crossed over to Sucia and tied up at the park dock. The island is run by the Washington State Park Service and we had this beautiful spot all to ourselves. After weeks spent driving and doing short events it felt great to just explore. We hit the trails running. Around every corner were awe inspiring views. For hours we toured the trails and took pictures. There were logs to balance on and cool rock formations to examine. Sucia is shaped like a hand, with the various fingers forming anchorages and remote coves.
Eventually we returned to our dock. It was warm enough and after exchanging some taunts back and forth, Matt and I jumped in the water. It was cold! That evening we cooked on the boat side picnic table and watched the sunset.
The next morning we headed for Orcas Island. The sun was shining and the wind filled in as we ran the shoreline below the mountains of Orcas. The current rips in the San Juans and the tide tables are a necessary resource. Once again we were shoved along our course. After passing through Obstruction Pass we entered East Sound which reminded me of Somes Sound on my home island of Mount Desert, Maine. The mountains plunge to the ocean on either side and the winds tend to funnel through. We arrived at the town dock in the community of Eastsound and went ashore.
After a quick lunch we rented mountain bikes from Wildlife Cycles. We took the road out of town and started huffing it to Moran State Park. Mt. Constitution is the highest peak in the San Juans at 2,400 feet, and there is an auto road that heads up … steeply. Since it was already afternoon the fastest way to get up was the road. For two guys who have been doing a lot of driving it was a solid workout. We switch backed up the road trying to beat our burning legs and lungs into submission.
The burn was worth it. At the top we were greeted with fantastic views. The islands stretched out before us and the snowy mountains were in plain view. The little gift shop even had free granola bars which we devoured before beginning our descent. There are excellent trails in the park and many are open (during the fall/winter/spring season) to mountain biking. Rather than take the road down, we darted into the woods and started hammering the single-track. We wound through the forest and periodically the trail would veer along the cliffs so we could sneak a peek back out over the San Juans. That evening we pulled Thorfinn out to a mooring and cooked a big meal. It felt damn good to hit our bunks.
The next morning we slept in before hoisting the sails in the rain. The breeze was up and we beat our way out of East Sound and back through Obstruction Pass. It was our best day of sailing. Eventually we were able to ease the sheets and our final leg back to Bellingham was spent surfing down the waves in Bellingham Bay at 8-11 knots. It was great to be back in our beloved town. We grabbed the truck and headed up to Bob's Burgers to celebrate our short San Juan Expedition.
On to Seattle!
While it was tough to leave Bellingham and the San Juans behind we had a great time in Seattle. We spent a weekend sailing on Lake Union. We were graciously hosted by the Center for Wooden Boats and took part in their Sunday sailing program. They have an amazing fleet of traditional boats including an actual sharpie, upon which the Presto 30 design is based. I spent a lot of time on their docks just looking at the boats and the restoration work that they were doing. Sailing on Lake Union was a hoot. We tore around the lake. When the breeze was up it only took a few minutes to get across so we did a lot of maneuvers including throwing our mizzen staysail up and down.
Seattle was also a great opportunity to visit with old Outward Bound friends. Ben and Mel, both instructors supreme, allowed us to crash in their pad, which was a welcome break from the boat. Ben brought some of his Seattle students sailing on Thorfinn. They all spoke Spanish so Ben had to translate. They took turns steering and helped with all of our sail handling. Ben and Mel are getting married in Maine soon, and Thorfinn will be ready to sail them back from their honeymoon on Vinalhaven Island to Rockland!
Maine Ho!
Our time in the Northwest passed all too quickly, but it was part of a longer trip and it was time to return home. Matt and I once again traversed the United States with Thorfinn in tow. In all we drove about 7,000 miles in just over a month. We met a lot of great people and enjoyed a true adventure. It felt so good to return home to the embrace of family and our primary base of operations. I left Maine back in January for Florida. It has been a long but amazing journey. I am now working to get our shop in Rockland put together and preparing for our summer sailing and paddle board programs.
A major reason for visiting the Northwest beyond boat promotion was to do the leg work for future Northwest expeditions. I have the feeling Thorfinn will return, and next time we will cross the threshold and head north to Alaska where wilderness awaits.
A special thanks to:
• OCSC and Alicia in Berkeley, CA
• Bend friends and Three Sisters Backcountry
• The Bellingham YC
• The Corinthian YC
• The great Port of Bellingham
• Mark in Bellingham
• The Center for Wooden Boats
• Ben and Mel and all the other Outward Bound friends we visited along the way (all 10 of them)
• Belle and Richard Ryder of Ryder Boats and their crew!
• And of course: Matt Jacobson!!