Hurricane Irene Takes Aim at East Coast
Posted by US Harbors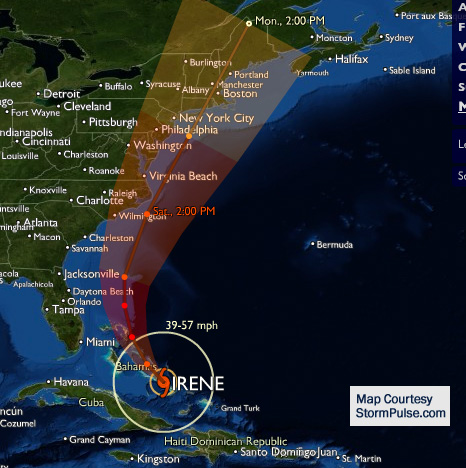 For many East Coast boaters, summer is about to experience an unpleasant interruption. Hurricane Irene, which as of the August 24 mid-afternoon report is up to a Class 3 hurricane with sustained winds of 105 knots, seems hell-bent on hitting the U.S. mainland harder than any storm has in several years. Prudent mariners from North Carolina to Maine are removing dodgers and sails, doubling up mooring lines, and securing anything that could become airborne during a blow. At US Harbors, some of us are even taking the extraordinary step of getting our boats hauled out this week, with Labor Day still more than a week away – a painful and early way to say goodbye to a fantastic summer of sailing but also the best way to ensure peace of mind in the days ahead. (If September turns out to be particularly gorgeous, we just might re-launch!)
Southern sailors look like they'll dodge this storm, but the forecast models don't have New England and the mid-Atlantic states being so lucky. Irene could make landfall on North Carolina's Outer Banks as soon as the morning of August 27, though some weather models have the hurricane tracking farther offshore, perhaps clipping Cape Cod and southern New England sometime on August 28. Regardless, the storm seems likely to strafe the eastern seaboard with winds strong enough to part mooring pennants and a rain/storm surge combination that could lead to significant coastal erosion.
For the latest from the National Hurricane Center, click here.
For tips on preparing your boat to withstand a hurricane, click here.
To view the hurricane track on Storm Pulse, click here.