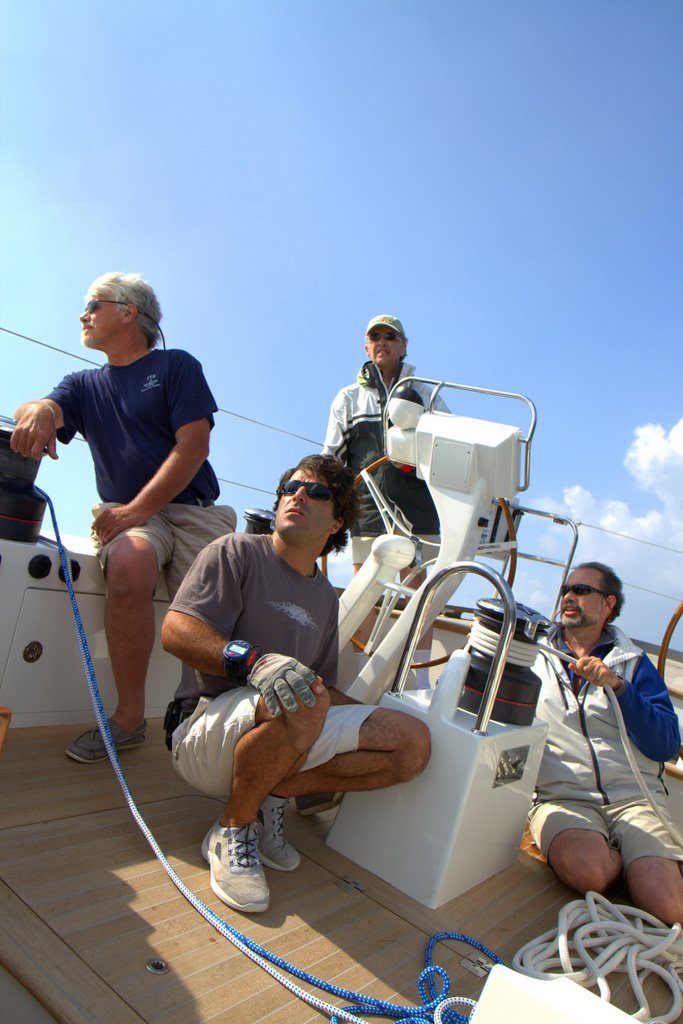 One of the best things about living practically next door to some of America's best boatbuilders is that we're usually among the first to hear about the latest yacht designs. We try to attend as many boat launches as we can (seriously, there are only so many hours in the day!), but nothing can compare to actually experiencing a new build under sail. So we jump at every invitation to get out on the water (hint, hint) and were ecstatic to be invited aboard Isobel the new 75' Stephens Waring "fast cruising" sloop built by Brooklin Boat Yard that took Penobscot Bay by storm this summer. It was without a doubt one of the highlights of 2011 for us, and it proved that remarkable things can happen when an owner, a designer, and a builder all see eye-to-eye.
No matter how you approach Isobel, there's no mistaking that this is a distinctly different kind of yacht than you usually see in New England harbors. The gunmetal grey topsides lend a note of severity to the boat that is complemented by the plumb bow and almost triangular sprit. From the water, Isobel almost seems like it's taking a poke, literally, at the traditions that have defined racer-cruisers for nearly a century.
But this yacht is far more complex than such a simple characterization. On deck, a racing cockpit complete with twin wheels and cantilevered steering platforms is juxtaposed with a lounging cockpit forward where guests can relax in comfort even as the crew grinds, tends, and sweats. (This invited guest admits to being slightly embarrassed for not helping more.) All lines are easily at hand, from the genoa and spinnaker sheets to the mainsheet, which disappears from a center-mounted winch and almost magically reemerges atop an arch spanning the cabinhouse. The side decks include a significant camber near the toerail – a touch we appreciated when Isobel was on her ear and yet our seat at the windward rail was that much closer to level.
Indeed comfort, both under sail and at the mooring, was of paramount importance to Isobel's owner, Richard Schotte, of Camden, Maine. While offshore sailors might lust after the visibility that the boat's raised cabin would afford in rough weather, designers Bob Stephens and Paul Waring included it largely as a way of introducing natural light into the galley and dining area (though a multifunction display here does allow the crew a certain amount of navigation and control out of the elements).
Grey countertops in the galley evoke Isobel's own topside color and metallic tile backsplashes add dose of the modern, but throughout the interior, styled by Martha Fay Coolidge, it is the abundance of natural wood that steals the show. The varnished sole contrasts with the lighter cabinetry, while exposed frames are at times left natural, at times painted. Perhaps most unusual is the presence of the master stateroom in the forepeak – as uncomfortable a spot as can be found aboard a boat offshore – but once again the owner's intentions to use Isobel as a coastal cruiser and racer allowed this unique positioning and thus opened up the rest of the interior to more living space.
Reconciling such luxury with the need for speed was a challenge that Schotte, who had commissioned three other yachts with Stephens Waring, knew his designers could handle. "The reason I came back to the design team at Stephens Waring for another boat for my wife and I their extraordinary talent for creating a magnificent boat that truly suits the – sometimes conflicting – objectives of the owners," Schotte said.
And Isobel lived up to every expectation anyone had for it this summer: First in class in the Castine Classic Yacht Race; first overall on corrected time in the Eggemoggin Reach Regatta; second overall on corrected time in the Camden-Brooklin Feeder Race and the three-day Penobscot Bay Rendezvous. While we were aboard, Isobel easily hit mid-teens and seemed eager for more.
After closing out the Maine racing season with the Shipyard Cup in Boothbay Harbor, Isobel and the Schottes are enjoying some autumn cruising with family. And yet, if the past two months are any indication, that cruising will be done with a delightful combination of both speed and style.