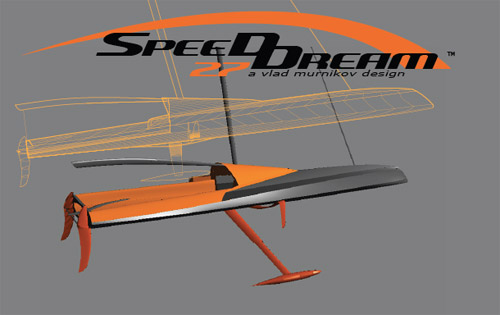 If you're not leading, you're being left behind. That's what Drew Lyman, vice president of Lyman-Morse Boatbuilding Company in Thomaston, Maine, believes and it's exactly why he wanted his family's 33-year-old company to be the ones to build the prototype of a groundbreaking new sailboat.
The 27-foot SpeedDream was designed by Vlad Murnikov with one goal: "To be the fastest sailboat of its size anywhere on the planet," according to the SpeedDream website. With a canting keel that will eventually lift clear of the water, plus twin lifting foils and a hull and deck made almost entirely of carbon-fiber, the boat is a scaled-down prototype of Murnikov's ultimate dream, a 100-foot sloop that he believes can break even the records currently held by multihulls. The 27-footer, which is nearly triangular in plan view and utilizes a crew of two, could easily hit 30 knots because of its combination of lightweight construction, low drag, and high stability ratio, Murnikov says.
Whether or not those predictions come true after the boat is launched late next March, Lyman says he couldn't pass up the chance to build a boat that pushes the boundaries of yacht design. "We're excited because this boat is about as cutting edge as you get," Lyman says. He says Lyman-Morse was selected over boatyards in China, Russia, and South Africa because of its experience with composites and because of his crew's ability to think outside the box in terms of construction techniques. "We're going to do a clever type of build, and that's all I can say about it at this point," he says, adding that Lyman-Morse will be responsible for the hull, deck, and appendages, though it may outsource the rudders. "The build stuff is not too far-fetched. It's all pre-preg carbon and we've been there, done that."
Like Lyman, the rest of the team being assembled for the SpeedDream project consists of sailors who have never been afraid to push the limits of anything. Lyman said the hydrodynamic work for the project was done by Tyler Doyle, son of legendary sailmaker Robbie Doyle. The boat's skipper, too, is a familiar name when it comes to sailing records: Cam Lewis, original holder of the Jules Verne trophy and an America's Cup winner. (Lewis lives not far from the Lyman-Morse yard, and Lyman says he's already been involved in several early discussions about the project.)
Even as it challenges the conventions of monohull design, the SpeedDream project is clearly exciting something in thrill-seeking yachtsmen. "The SpeedDream project is going to be pushing that edge, learning from that, and really sort of opening up people's eyes to something a little bit different," says Lewis.
We, and the rest of the sailing world, will certainly be watching.