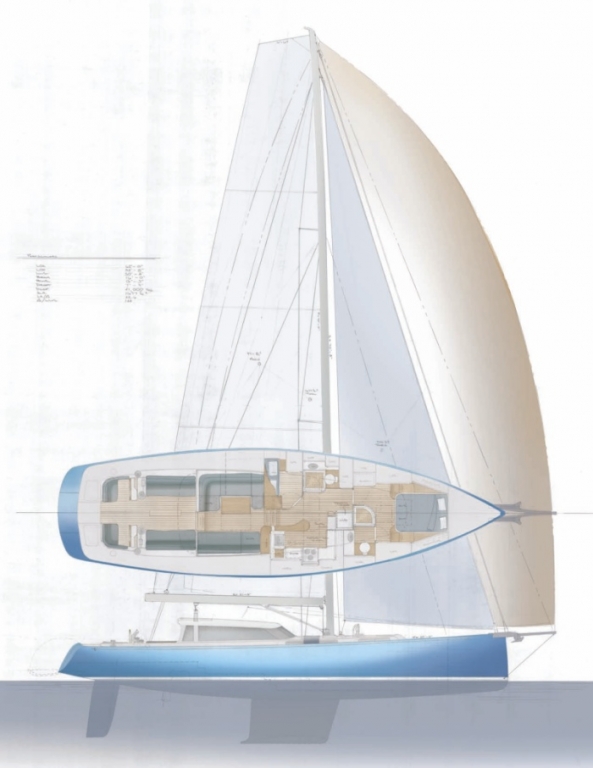 We love Isobel, the new 75' sloop from Stephens Waring Yacht Design in Belfast, but we might just love her little sister even more. The 52' Bluewater is a world-class cruising yacht designed to be as happy alongshore as off in the deep blue. The designers call this creation "stout" and one that steps away from the spirit of tradition yachts that Bob Stephens and Paul Waring have become famous for, but looking at the sailplan and lines it seems like it'll be plenty sprightly enough to us.
"This design is geared for roving the waters of the planet and reaching the many destinations that the client currently visits in his Outbound 46," the designers said in announcing the new yacht, which unlike Isobel features a reverse transom. "At the top of the brief was a focus on 360-degree views in comfortable and contemporary living spaces. [Our] answer is a raised saloon arrangement within a striking pilothouse that forms a window on the world."
Interior details prove that this is a boat for a serious boat-owner: a tool room and work bench are hidden under the starboard settee, which is held open with heavy-duty stays. System components are easily accessed and in nasty weather the skipper can even reach the engine room aft, through a watertight hatch. And who doesn't need a central utility/laundry/freezer closet? The one detail that intrigued us was the master bed, which Stephens and Waring have situated in the forepeak, just as they did on Isobel; when things get bouncy at sea perhaps the owner will simply make use of the comfy settees in the raised saloon.
With port and starboard sail-handling stations, multiple trimming locations, and hydraulics to keep the rig tuned properly, the skipper and crew should be able to handle Bluewater no matter what the weather conditions. "We have learned a lot from the Around Alone sailors and also from our own experience and can see the benefits of having the performance in the main while striving to keep things manageable for headsail changes and reefing at sea — all equally important factors," said Paul Waring.
For more information, visit the designers at www.stephenswaring.com.