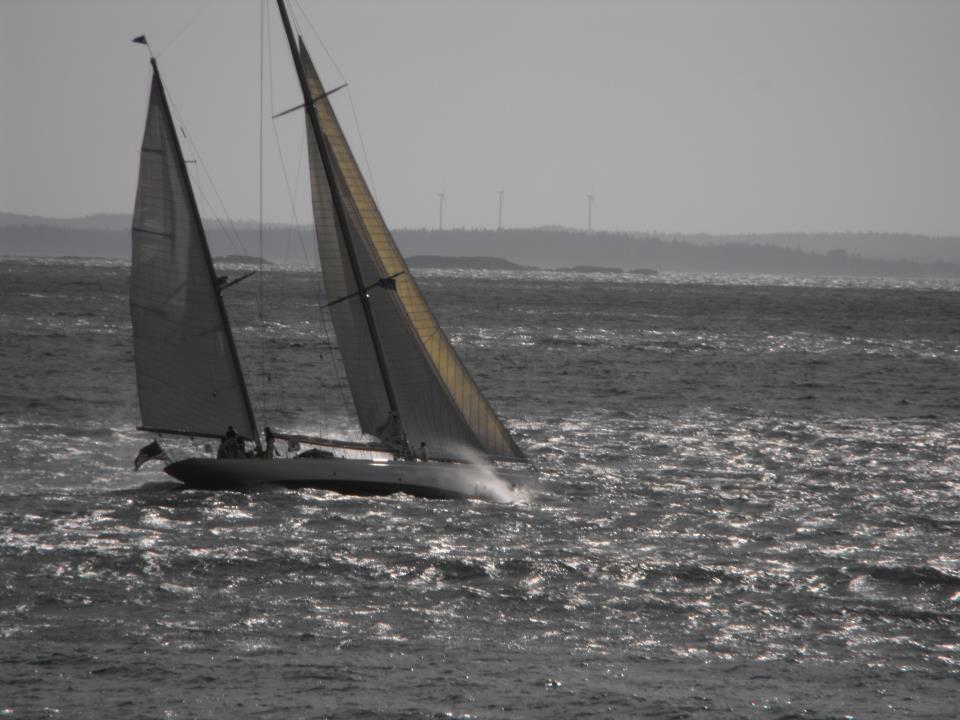 Few yacht designs are as striking as those of William Fife, III. Whether it's the graceful rise of the bow or the sloping sheerline, there's no mistaking a Fife sitting at the dock or on the hook. But what about when the breeze pipes up?
Sumurun, a 1914 Fife that spends much of its time in Camden, proved last weekend that she could stand up to some of the stiffest winds that Penobscot Bay dishes up — and still look good doing it. The West Penobscot Bay buoy (which many local sailors believe is notorious for under-reporting the wind conditions) was recording steady twenty-five-knot south-southwesterlies with gusts into the mid thirties on Saturday, October 15, when Jen Conover spotted Sumurun sailing under "jib and jigger" from her perch on Curtis Island, at the mouth of Camden Harbor.
The classic Fife ketch, set against the backdrop of the wind turbines on Vinalhaven, looked perfectly comfortable under her reduced canvas — and just as gorgeous as always when she was back at the dock at Wayfarer Marine, tidied up after a lively day on the bay.
For more information on Sumurun, click here.
For an article about the work of William Fife, III, including a discussion of a recent restoration completed by French & Webb in Belfast, watch for the upcoming Winter Issue of Maine Boats, Homes & Harbors magazine, due out in November.