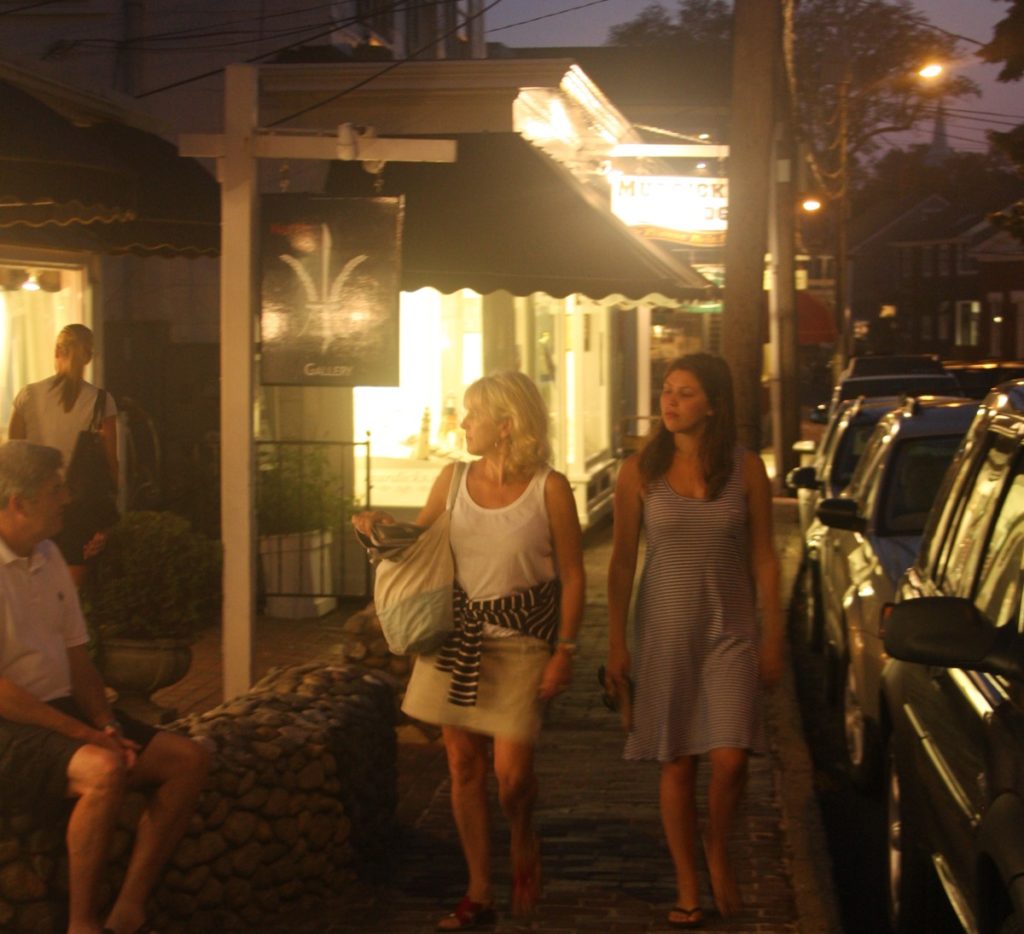 On each new visit to Edgartown Harbor, I cut a little farther inside Bell No. 2. On our first visit years ago, with our two excited young kids onboard, I'd prudently steered safely to seaward before rounding Bell No. 2 and into the harbor.
Coming into a now-familiar Edgartown Harbor this past September, I was steering about midway between Bell No. 2 and Allen Rock (with one eye on the depth sounder). With Edgartown materializing ahead, I felt a twinge of melancholy as memories of previous trips into this harbor flooded the cockpit.
I was recalling this same patch of water just a year ago, as I had then peered past our college-bound daughter and son toward the harbor ahead. Sitting on the port side deck, legs dangling over the rail, they were laughing and reminiscing with their mother over even earlier days spent moored in Edgartown Harbor.
Suddenly (it seemed), it was just the two us sailing into Edgartown — and beyond. I realized at that moment how lucky I was to have enjoyed twenty years of sailing with our family crew of four, and memories like this one will be flooding our cockpit in a hundred places we'll revisit in the future, and hopefully even more. Our decks aren't completely empty now, as we now have two new charges who are just as anxious to get to shore, which they bring to my attention by barking at every passing boat.
We often take a "tour" of a harbor first. It's always fun for all onboard, and I get a chance to study the anchoring and mooring options from all angles before we choose a spot. As we approached the narrows, formed by the sharp point of Chappaquiddick Island where it nearly skewers Martha's Vineyard just across the channel, it seemed to me this part of Edgartown Harbor can be utter chaos!
Boat traffic is usually high here, even in September. Local boats of all sorts are confidently passing through this bottleneck. Imagine this scene (especially on your first trip) when suddenly, on your starboard side, a lumbering and stuffed car ferry pops out of the Edgartown docks, crabbing wildly in the strong current and stiff breeze just ahead. And then, as if that's not enough to turn your knuckles white on the wheel, a floating UPS truck catches your left eye, and you realize ANOTHER loaded car ferry is simultaneously departing from the Chappaquiddick shore!
Disconcerting, but there is a method to this madness. The ferries will simply trade docks. They'll unload, then reload vehicular traffic from each island, and then repeat the run, simultaneously, minutes later. Give the ferries the crossing — they need the space. When both ferries begin to land and unload, THAT'S the time we go through, and quickly.
We motor along the Edgartown shore, thick with docks and buildings in toward Katama Bay. It's thankfully less exciting once you're past the ferry crossing. The current runs powerfully through the inner harbor. I was glad to see the floating water barge was still moored inside. It's one of the handiest things on the East Coast and we often conveniently fill up our water tanks there.
The inner mooring area is well protected and convenient (rental moorings are plentiful in Edgartown), especially when northerly winds make the outside anchorage untenable. On our first visit years ago, we anchored in Katama Bay. Sadly, that's closed to anchoring these days. Since then, Mother Nature has sealed the deal (I believe), by breaching the sand bar to the south. Katama is still a beautiful bay to explore by dinghy.
The outer anchorage may look a bit wide and exposed to be comfortable, but we've had good luck there. The anchorage runs along the Chappaquiddick shore side of the channel. We try to anchor near the western end to shorten our row to town.
In high season, large yachts, lit up like skyscrapers at night, will dot the Chappaquiddick shoreline (there were a few in September as well). With a southerly wind, it's always been surprisingly comfortable at anchor overnight. The current, which flows solidly east and west through where we anchor, perhaps helps to block much roll coming into the anchorage.
With our hook set very deeply in sand, this harbor has been our oyster. Public beaches flank each side (kids especially love these beaches), or you can swim right off your boat. We'll often rig our shade bimini to enjoy the harbor out of the hot midday sun. Dingy access to either Edgartown or Chappaquiddick is nearby.
If you have a sailing dinghy, it's not likely to let you down getting to town or the local beaches under sail. Edgartown Harbor sails — really sails — and it's fun to join in.
On shore, Edgartown is well tucked in and comfortable. New England houses, mostly old, are meticulously cared for. Martha's Vineyard is a big island with (I believe) a broad range of geographical moods. We enjoy them all. Edgartown is a good base to spend time in and take advantage of the in-town bus terminal to get to many interesting areas we also like to visit while on the island (there are simply too many to list here).
Most of what the visiting sailor needs or wants is available right in Edgartown or just outside. A versatile town, we have spent the day exploring nearby beaches and walks, deposited two teenagers (safely) in the late afternoon at the movie theatre, enjoyed a quiet glass of wine or two at a sidewalk café', then all enjoyed a wide choice of dining out or onboard. At the end of the day, we all snuggle in with a good book in a comfortable anchorage and snug berth.
On our most recent trip, we brought folding bicycles to Chappaquiddick and toured some of the island. Chappy (the local slang) is another world altogether. It was very quiet there in September and great for biking. We covered many miles, each of us with a dog in a bag on our handlebars.
We saw more bicycles than motor vehicles on our September bike trip (cars are too much baggage on Martha's Vineyard). The road ended at a beautiful spot overlooking the ocean near Wasque Point. We had it all to ourselves, so we enjoyed a picnic in the warm September sun, just the two of us and our new crew.