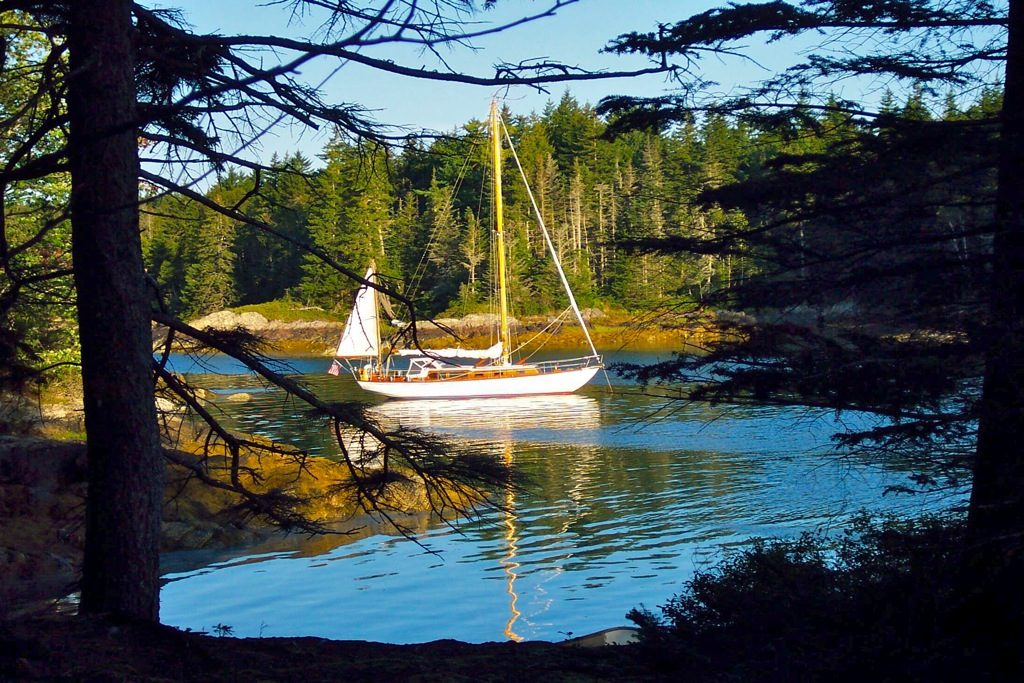 "Hey Tom, where are the trail markers?", Mary Ann asked, unconcerned. "They're over here," I said to my wife and hiking partner.
I didn't really know where they were, the little hatchet blazes with a fading dab of paint, or the rock cairns that mark the trails around Perry Creek, in the Fox Island Thorofare not far from Pulpit Harbor. I was following the instinctual path, the one the first islanders would have traveled along the creek. They would have been drawn to camp near the bounty of shellfish, the natural valley protection, and the precious source of fresh water at the head of the river valley. "Perry Creek has always been a popular place", I thought to myself, daydreaming.
Then, sure enough, I saw the trail markers up ahead.
Whether traveling this path eons ago or in these modern times on the hiking trails around the creek, I like to think every set of feet paused somewhere along the way, to gaze and think what a precious place Perry Creek is.
Today, thanks to the generosity of landowners and supporters, the Vinalhaven Land Trust cares for this precious place and has preserved it for all of us (wildlife included), to enjoy, for the eons to come.
The various trails in the preserve are displayed on a map nailed to a tree where we often pull up our dinghy. A hike around the creek will take you through an old forest laden with an apron of decaying underbrush, across tiny brooks bubbling through rock ledges, and out onto rock-topped clearings with vistas of the creek valley below. Depending on the tide, you may see a lake-like fjord or vast clam flats with a small serpentine creek meandering through the valley. At the head is the Indian Ladder, a natural bridge area to cross the little fresh water creek.
You can hike both sides of Perry Creek landing your dinghy (hopefully above low tide, when it is very difficult to find a mudless landing), on either shore.
While an exodus of dinghys heading up the creek at high tide is likely in season, we like to row up at dead low tide. Floating in inches of water, surrounded by banks of mussels, it's a lunar like landscape to enjoy with
the ospreys and occasionally an eagle.
There's usually room to anchor (or borrow a mooring) in many spots in the outer harbor. Some people ask me where I like to moor in Perry Creek. I tell them to take your boat up the creek to where you begin to feel uncomfortable. I like to go just beyond there.
It's a precious place. Take care of it.