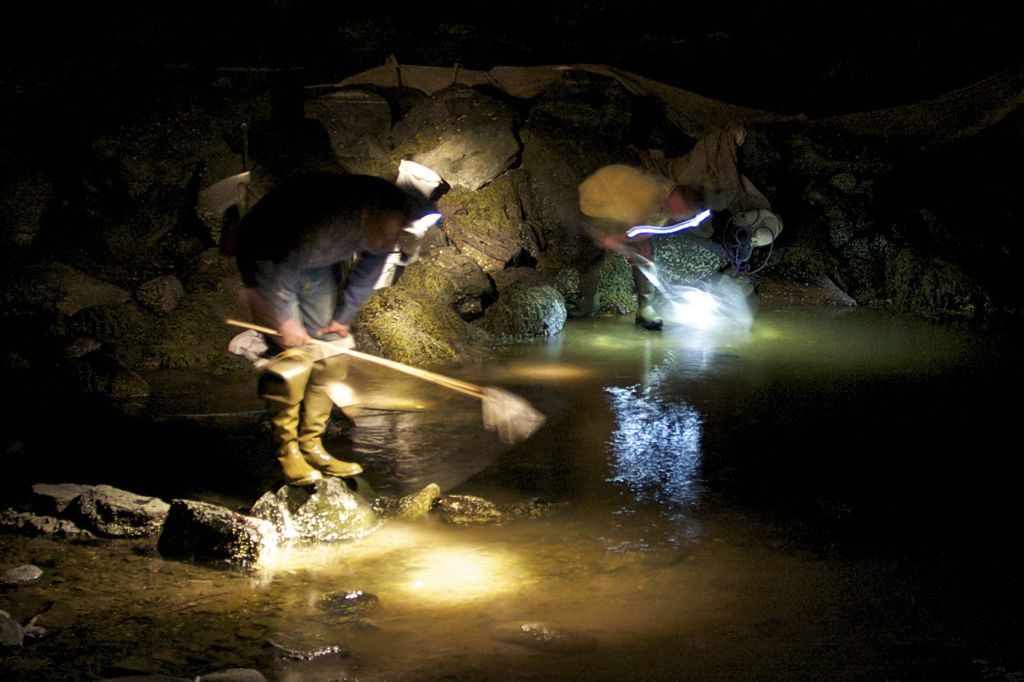 "JAYSUS! You scared the shit out of me!" the irate woman with a dip net scolded me. I was afraid that might happen, I said as I apologized. With no flashlight or moonlight yet, I'd quietly made my way down the rocks and across the mud flats to get closer to the light from their headlamps. I guess I was about five feet from the woman when she screamed at me.
I'm fascinated by this event, elver fishing under headlamps, and watch it every spring down in Rockport Harbor. Rumor had it on March 22, opening day, that wholesalers would be paying up toward $2,000.00 per pound for the tiny glass eels this year. That calculates that the tiny glass eels, an inch or two long, could be worth about a dollar a piece!
The rumored high selling price had instilled severe concentration in the handful of dip netters. The group hardly looked up as I stuck around and took long exposures as they worked the shallow stream feeding into the harbor. It's hard, intense work trying to see no more than a tiny pinhead-sized black eye swimming upstream in the light of your headlamp.
I could see that they were netting elvers, as they kept turning the fine mesh nets over their buckets to empty their tiny catch. Could be a good night for them; time will tell.
"Hope you do well", I offered as I made my way back up the rocks. No reply … no surprise.