For the Record: 10 Questions for an Ocean Racer
Posted by US Harbors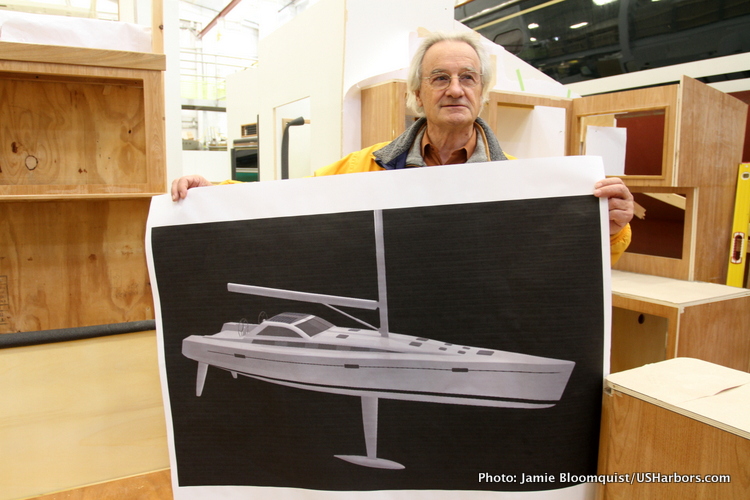 Dr. Stanley Paris is in a rush. Between running a marathon next month, launching a new 63' yacht at Lyman-Morse Boatbuilding Co. in Thomaston, Maine, in August, and entering several significant ocean races next year, he maintains a busy schedule. But the real challenge for him will begin in November 2013, when Paris passes east of St. David's Light in Bermuda and starts the clock on an attempt to break the solo, nonstop, unassisted circumnavigation record time (starting and ending in Bermuda) that Dodge Morgan logged way back in 1986.
Oh, did we mention that Paris will be 76 years old when he sets off around the world?
We caught up with Paris at his dining room table in St. Augustine, Florida, where he was transferring Dodge Morgan's Lat/Long coordinates and route comments to a set of world charts. We managed to get the long-distance sailor to pause in his training long enough to answer a few questions about his new boat and the adventure ahead.
Click on image to expand.
Why go after Dodge Morgan's record?
Well, I never saw myself as a racer, but I like to get where I'm going with speed. I did the ARC and won line honors in my previous boat, a Farr 60. But to me this was always a classic, and I always wondered 'Why has no one tried it since Dodge Morgan?'
Are you building this boat solely to break the record?
No. I'll be using it in three phases, actually. Phase 1 is the boat is finished as a cruise boat. That's what I'll train in for a year. Phase 2, it'll be stripped almost totally by Lyman-Morse for the circumnavigation. Phase 3, everything will be added back in, and there will also be some additional things like electric motors to the winches, because I don't want to be standing at that coffee grinder when I'm 95.
How stripped down will the boat be for the record attempt?
Well, you always use new technology. Dodge Morgan used radio – to not use single sideband would've been foolish. So I will have a weather routing service every couple of days, and I'll be downloading GRIB files.
But I'm making a few things tough on myself, like no electric power to the winches. It'll take twenty-two minutes to raise the mainsail on the coffee grinder! And Dodge Morgan ran his engine and his generator for power, but I'll use wind and solar and waterpower to keep my batteries topped up. The Saildrive unit will actually be glassed over and sealed from the inside.
Click on image to expand.
How do you think this will compare with your previous boat?
Well, this is a big boat. My previous boat was 60', but this one has a bowsprit that goes out to 70'. Bigger boats ride more smoothly, but Dodge Morgan's boat was twice as heavy as mine, so he went through the waves, where mine will go over them.
I would expect that when I was getting 8 knots out of my Farr 60, I hope to get 10 out of this boat. I really don't know what the windward ability will be.
How are you planning your route?
The only time I'll come near land is if I'm sufficiently ahead of the record, I'll pop in for a media event near my hometown in New Zealand. That could take three-quarters of a day.
What kinds of things are you doing to prepare?
I'm training, physically. I'm doing a marathon in May.
That's pretty extreme. Is that your normal level of training?
I did the World Championship Ironman Triathlon in Kona in 1985, and I swam the English Channel in '86. I've made two attempts on the Channel since, including one last year. But I just can't handle the cold water any more.
Will this boat be suitable for cruising when you're done with the record attempt?
The reality is that most cruisers cruise with friends. A boat of this size has to be designed to be handled by one, since when the going gets rough you're singlehandling. And on watch, at night, you're always by yourself. You're singlehandling then, since you don't want to bother anyone else.
Why did you choose Lyman-Morse as your builder?
I was impressed with the kind of boats they were doing service on. They do a tremendous amount of work on both power and sail yachts. Cabot Lyman himself comes from a sailing background, and he is a good entertainer. Compatibility was a big factor.
Are you anxious to get underway?
Well, Google only gives me 10.8 years, and that was six months ago, so yes, I'm in a little bit of a rush.
For more information about Paris' new yacht, Kiwi Spirit, click here.