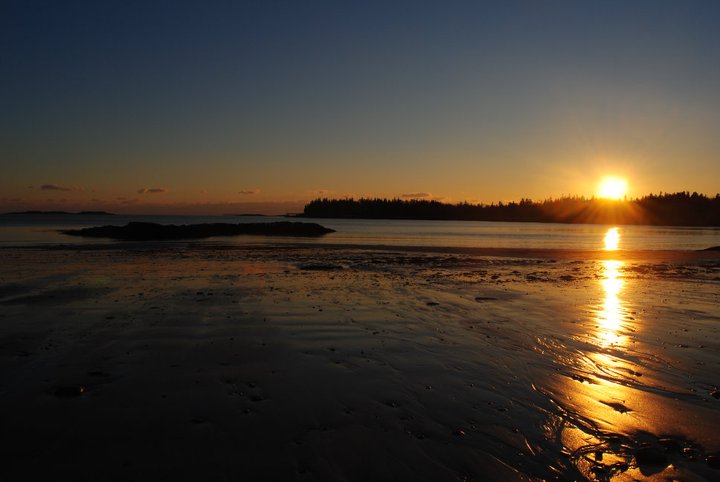 Ever since I was a child, I can remember chasing the summer sunsets on the St. George peninsula. From the shores of Port Clyde Harbor, looking west toward the mouth of the St. George River, one can see the most beautiful colors converge in the sky and paint the ocean a brilliant shade of pink.
Turkey Cove, down Glenmere road in Martinsville, was where I would ride my bike, shooting down the final hill to the shore, where a large inlet looks across to the cozy shores of Cushing. I would race down to Turkey, as I called it, and simply stare at the setting sun. Sometimes, the sun would be alone, a giant orange circle in the sky, slowly fading into the distance. Other times, the summer clouds would hide the sun, providing an amazing array of colors before finally relenting to let the evening take over.
Now that I live in Maine full-time, I will shoot down Route 131 to catch the vivid colors of a winter sunset or to watch as an early spring storm passes, allowing the sun to reappear over the clear waters of Muscongus Bay. There is something about watching a perfect summer day come to an end with a brilliant sunset, and I still dream of these nights in the dead of winter, when the sky is dark and summer seems so far away.
I stopped down at my summerhouse the other day to clean up and turn the water on. After finishing my chores, I walked the two miles down to Port Clyde Harbor. A massive rainstorm had just left the mid-coast, and the sky was beginning to clear. I walked to the end of the town dock, where the Laura B and Elizabeth Ann were rocking back and forth in the ocean swells. I looked west, down toward Hupper Island and Cushing. There, tucked away behind a sweeping stretch of clouds, was the sun, a welcome sight indeed. The clouds began to part, and the sun began to appear, getting brighter with every passing minute. Finally, as the afternoon turned to dusk, a stunning sliver of yellow light reached across the water and illuminated Port Clyde Harbor in a soft glow that lingered for a few breathtaking moments.
There was comfort in this sight, for the storm had passed and clear skies would hold court soon enough. All seems right with the world when the last thing you see before the dark of night is shimmering rays of the sun, providing for one last lullaby before bedtime comes on the coast of Maine.