Coastal Culture: Maine's Fisheries and Working Waterfronts at Blum Gallery
Posted by Wayne Barber Barber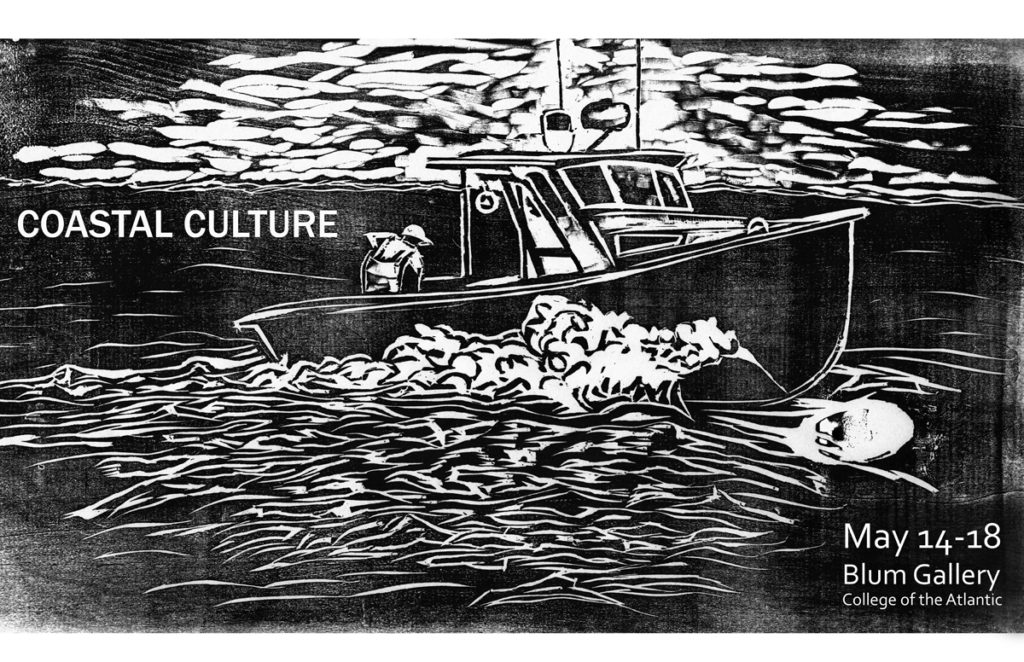 BAR HARBOR, ME—Ask someone from away what they know of Maine, and chances
are they'll say lobster. Ask someone from Maine what they know of
lobstering, and it's likely they'll just shrug their shoulders. Alice
Anderson, College of the Atlantic senior, is hoping to change that with an
exhibit at the college's Ethel H. Blum Gallery between Monday, May 14 and
Friday, May 18. Her exhibit, Coastal Culture: Maine's Fisheries and Working
Waterfronts, opens with a reception May 14 at 4 p.m.
Coastal Culture combines a variety of art forms—woodcuts, photography,
film, installation, and drawings—to help people understand the world of
fishermen and what it takes to get seafood onto a dinner plate.
Anderson comes at this quest from a long interest in fisheries and two
summers spent working at the Penobscot East Resource Center in Stonington.
The first summer was spent working at the lobster hatchery. Last summer,
Anderson traveled along the Maine coast attending regional meetings about
the scallop fishery to get input on upcoming regulation changes.
"My hope is to make it so that people won't take the seafood on their
plates for granted," Anderson says. "I want to offer a better sense of
Maine and its deep connection to fishing." Anderson wants to be sure people
know that beneath each colorful buoy floating on Maine's coastal waters are
two lobster traps, that lobstermen fish as many as 800 traps, and that last
year the industry brought in more than 100 million pounds of lobster. "So,
yes, it's also about scale and context," she adds. "I want people to have a
better context for the lobster and scallop fisheries and some understanding
of the scale they are operating on."
Asked why she chose artwork, Anderson says, "I've had four-hour
conversations about the lobster and scallop fisheries. I think it would
make my conversations easier if they have seen this exhibit." Art, she
adds, offers a more holistic, complete, oral and visual perspective.
The interdisciplinary nature of COA has allowed Anderson to go deeply into
issues of marine science and policy, while also exploring various art
forms, including film, animation, and printing.
For more information about Coastal Culture, on view at COA's Blum Gallery
from May 14 to 18, contact the college at 207-288-5015. The gallery is open
Monday through Friday, 9 a.m. to 5 p.m. There will be an opening on Monday,
May 14 at 4 p.m.
College of the Atlantic was founded in 1969 on the premise that education
should go beyond understanding the world as it is, to enabling students to
actively shape its future. A leader in experiential education and
environmental stewardship, COA has pioneered a distinctive
interdisciplinary approach to learning—human ecology—that develops the
kinds of creative thinkers and doers needed by all sectors of society in
addressing the compelling and growing needs of our world. For more, visit
www.coa.edu.