Lower Narragansett Bay Pays Off for Striper Fishermen
Posted by David Pickering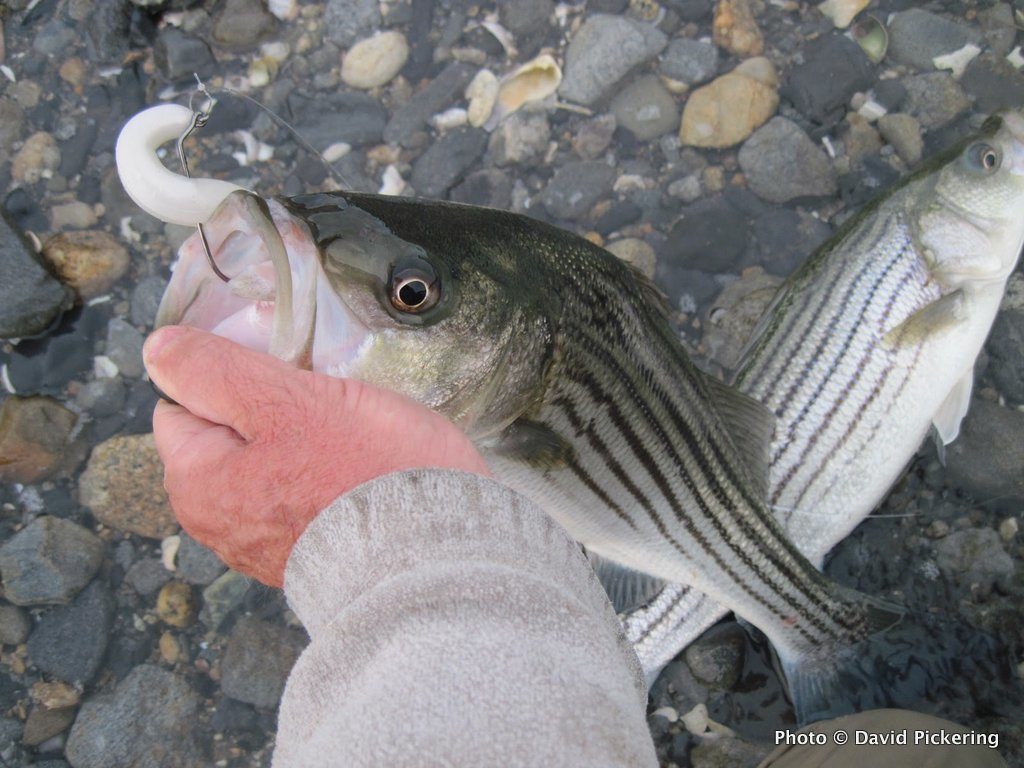 I made the move away from the upper Bay to the cooler waters southward on June 1. It paid off with the best evening of fishing I have had in weeks. The score for the night was thirteen stripers from 18-26 inches and a lone blue.
If you get The Fisherman magazine, you'll see I have an article in this week's issue ( May31) titled "Imitating Sand Eels." The tactics outlined in that article worked like a charm on Friday night's fish. There was a lot of small bait around so I went with a teaser (Red Gill) rigged ahead of a six-inch white Hogy. That rig landed three double headers. For the night, I got about half the fish on the teaser and half on the Hogy. A teaser rig will be one of your prime offerings in the coming weeks, when there will be a combination of small sandeels around as well as other small bait. Right now is prime time to start adding a teaser to your leader.
Compare that success with the previous night's outing, when my brother and I gave the upper and mid Bay one last shot. We spent all day in the boat fishing live menhaden in a number of good spots. The results were one lone keeper bass of 33 inches. Not good.
Once again, the upper Bay was saturated with menhaden. There were acres and acres of them, and we could have snagged a barrel full in no time. However, except for a few pesky blues around those schools there were no stripers to be found. We had quite a few that we were livelining chopped by large blues. The lone bass we were able to catch was in a mid Bay location in about 25 feet of water. The bay water today was a warm 72-73 degrees everywhere we traveled. That is way above normal for this time of year and could be one reason for the poor fishing. The other reason? Simply, there are not that many large stripers around the Bay this year.