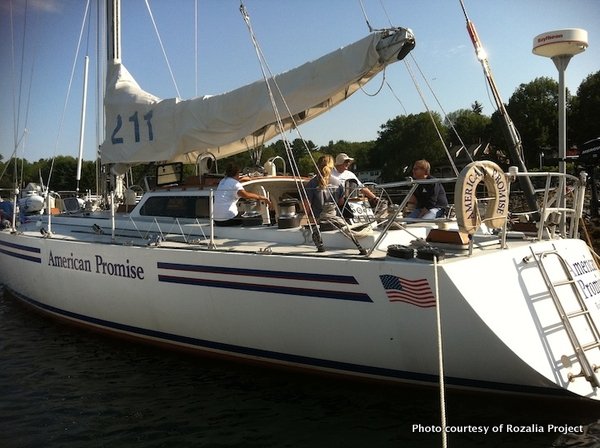 A unique and inspiring coastal cleanup program is sweeping through the Maine coast these days, and it's stopping in Rockland on June 16-17. The Rozalia Project uses a famous ocean racing yacht — American Promise, aboard which the late Dodge Morgan sailed around the world in 1986 and established the record for a solo, nonstop circumnavigation — as a platform to find and remove marine debris and to teach conservation through action, technology, outreach and research. The project connects people of all ages to their underwater world and inspires them to be part of the solution by using underwater robots (ROVs) and sonar as well as nets to locate and remove marine debris.
In Rockland, the Rozalia Project's visit is sponsored by the Friends of Maine's Seabird Islands and will begin on Saturday, June 16, with a presentation at 10 a.m. at the new headquarters of the Maine Coastal Islands National Wildlife Refuge on seabirds. This will be followed by a discussion and presentation on marine debris. Afterward, a group opportunity will be held at the public landing at 11:30 a.m. during which participants will be able to participate in dockside debris location and removal using the Rozalia Project's ROV (remotely operated vehicle). This is engaging for all ages and is great for families. There is a thrill to the hunt and being able to see underwater in real time without getting wet!
After this group event, American Promise will be open for visits from 12:30 p.m. to 2:30 p.m.; a public presentation aboard the yacht will follow.
On Sunday, June 17, the schedule is as follows:
9-10 a.m.: Group opportunity on board the American Promise
10-11 a.m.: Group opportunity on board the American Promise
11-2 p.m.: Open House for the American Promise
2-3 p.m.: Public presentation on board American Promise – From a Lobster's Eye View
For more information, please call the Friends of Maine's Seabird Islands at 207-594-0600.