Refit in Maine, Raced Around the World
Posted by US Harbors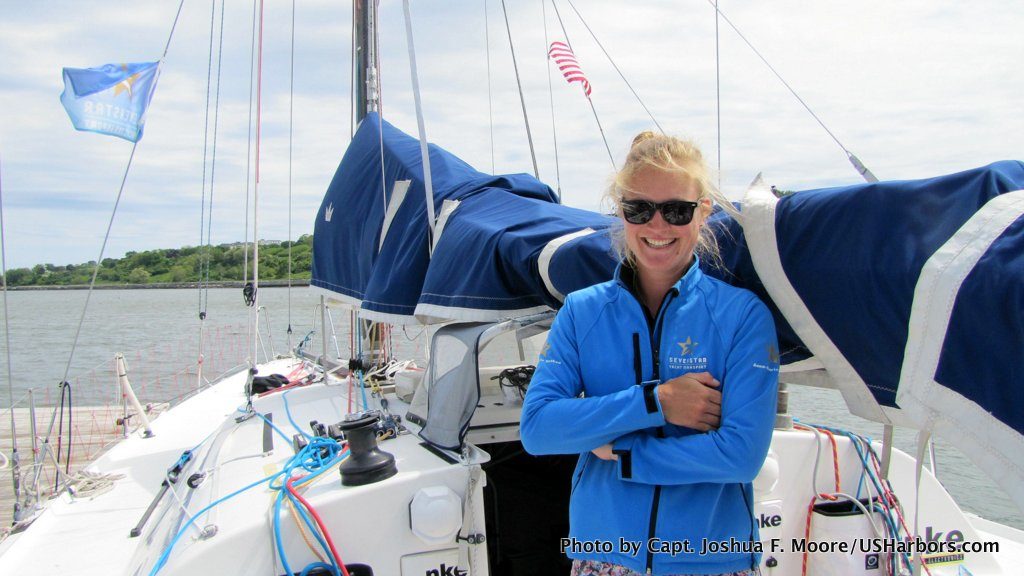 Sorry, Germany. An attractive young lawyer has just quit your ranks to become a full-time sailor — and you can blame a Maine boatyard for it.
At 31, Anna-Maria Renken was well on her way last winter to a successful career as a maritime lawyer. Although the tall, blond native of Hamburg, Germany, had been crewing on a J80 and a few other yachts for about seven years, to her "sailing was for boring old men." That changed when she got the chance to crew on a Class 40, a box-rule yacht that has become increasingly popular as a long-distance shorthanded racer. She leaped at the opportunity, telling her employer that she needed six months' leave to clear herself of the sailing bug.
It didn't work.
"Two days ago, I sent them my notice," says Renken, standing in the cockpit of Sevenstar Yacht Transport at the dock at Maine Yacht Center in Portland. Instead of heading home to her office in Germany, Renken was finishing a quick refit of her yacht in Portland before heading to Quebec for the start of the Transat Quebec-St. Malo, which begins July 22. While she says her particular boat is too old to seriously challenge for a spot on the podium in this or the other regattas like the Atlantic Cup that she's entered this year, the crew at Maine Yacht Center has helped her eek every ounce of speed she can from the boat. (Renken is hoping her sponsors will see the value in supporting a newer model yacht when she returns to Europe.)
She's not the only Class 40 racer to seek out the refit services that Brian Harris and his Portland-based crew offer. Shortly after the conclusion of the Atlantic Cup in Newport in late May, a third of the fifteen-boat fleet converged on the long docks tucked behind the B&M Baked Beans factory in Portland. "Newport is incredibly expensive," declares J.C. Caso, a veteran racer from La Rochelle, France. "Here it is quiet and you can actually focus on the work." While completing the necessary boat projects he commuted to a house in Freeport, another luxury that might not be as easy or inexpensive in a larger city.
Caso, who has raced his Class 40 Groupe Picouty to Mexico, Charleston, and Newport since departing France in March, replaced both his rudders during his stay in Portland and did some minor bottom repairs during a brief haulout. Others, like Halvard Mabire & Miranda Merron on board Campagne de France, did some repair work on their carbon-fiber bowsprit and wet-sanded their hull and appendages during their haulout. And, unlike at many other yards, the pair were able to complete most of the work themselves, a key factor in keeping their campaign within budget (they also lived aboard the yacht during its stay in Portland).
The voyage from Quebec to France later this month will put these boats to the final test of their Atlantic circuit, but all the racers say they're confident that the services they received in Maine have given them a fighting chance against the competition. "In Newport, some people said that it was way better to come up here," says Caso. "I think they were right!"