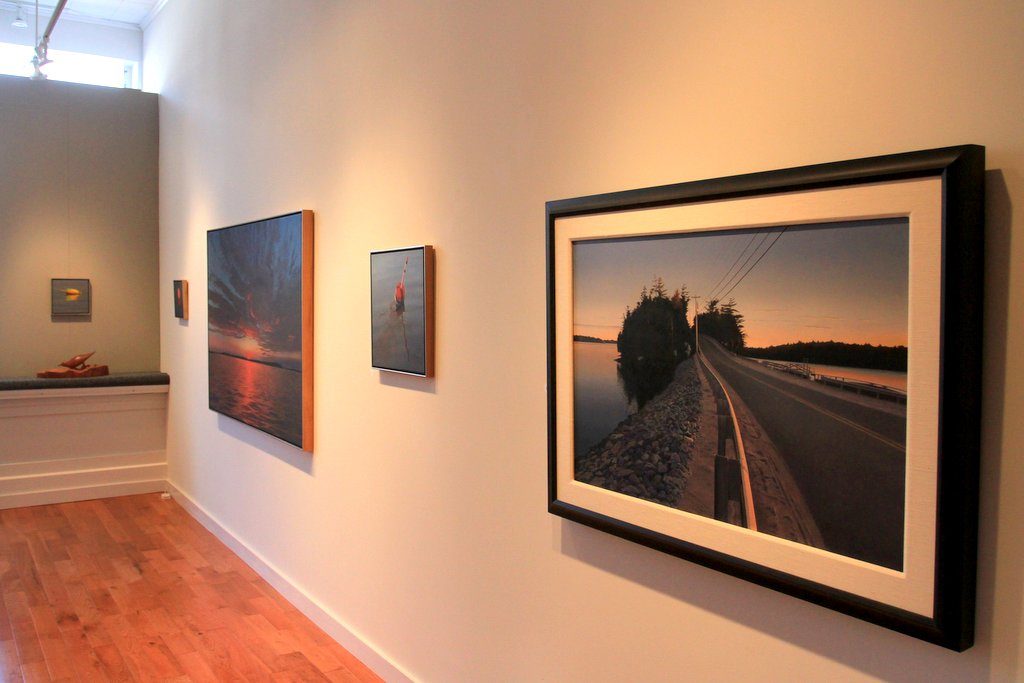 Thomaston has long been known for its ship and yacht builders, coasting schooners in years past, and the world-class yachts of Lyman-Morse today. Just up from the town landing on the St. George River, the downtown is a vibrant center with great restaurants, bookstore, first-rate grocery store, and extraordinary art.
Two new establishments are making waves in the art world — Frost Gully Gallery with its new Thomaston outpost and the Haynes Gallery. Both are on Main Street and both offer work of the finest caliber.
The Frost Gully Gallery is Maine's oldest professional, year-round art gallery, founded in 1966. Tom Crotty, the gallery owner, is an artist of special quality himself and the work that he has displayed over the years reflects his interest in what he calls real art — "art that is inspired, sophisticated and exceptional." Some of the artists he has shown include William Kienbush, Dahlov Ipcar, William Zorach, and Alan McGee.
Tom Crotty has been painting most of his life. The snow and winter scenes he favors are inspired, he says, from memories as a five-year-old on Prince Edward Island, playing in the snow with frozen feet and coming home to warmth, the New World Symphony and the landscapes out the window. He had a one-man show at the Portland Museum of Art in 2003-2004. Currently, the Thomaston gallery is featuring a show of his work. Much of this work is on loan from private collectors and the show is the largest collection of his work on exhibit since the Portland show. It is not to be missed by anyone with a love for enduring, great Maine art. This show is up through July 28, 2012.
The Haynes Gallery, just a block toward Rockland from Frost Gully, is the northern extension of the Nashville-based gallery of the same name and opened in Thomaston in 2010. Gary R. Haynes, an artist and collector himself, was drawn to the mid-coast by his admiration of the work of the Wyeth family, and Thomaston is at the heart of Wyeth Country.
The current show at the Haynes Gallery is the "Portrait in American Realism." The show features a charcoal drawing of a young man by John Singer Sargent as well as work by modern young rising stars such as Jesus Villarreal.
The gallery is an inviting space, the building itself is a wonderful example of an old sea captain's home, and the art flows from room to room and up the stairs in a very warm and personal manner.
The Haynes Gallery specializes in American Realism and there is a rotating selection of the masters of this genre always available.
Moor your boat or park your car — the small coastal town of Thomaston is well worth exploring.