A Gift For All: The Seabird Colony on Petit Manan
Posted by Max Dex Dex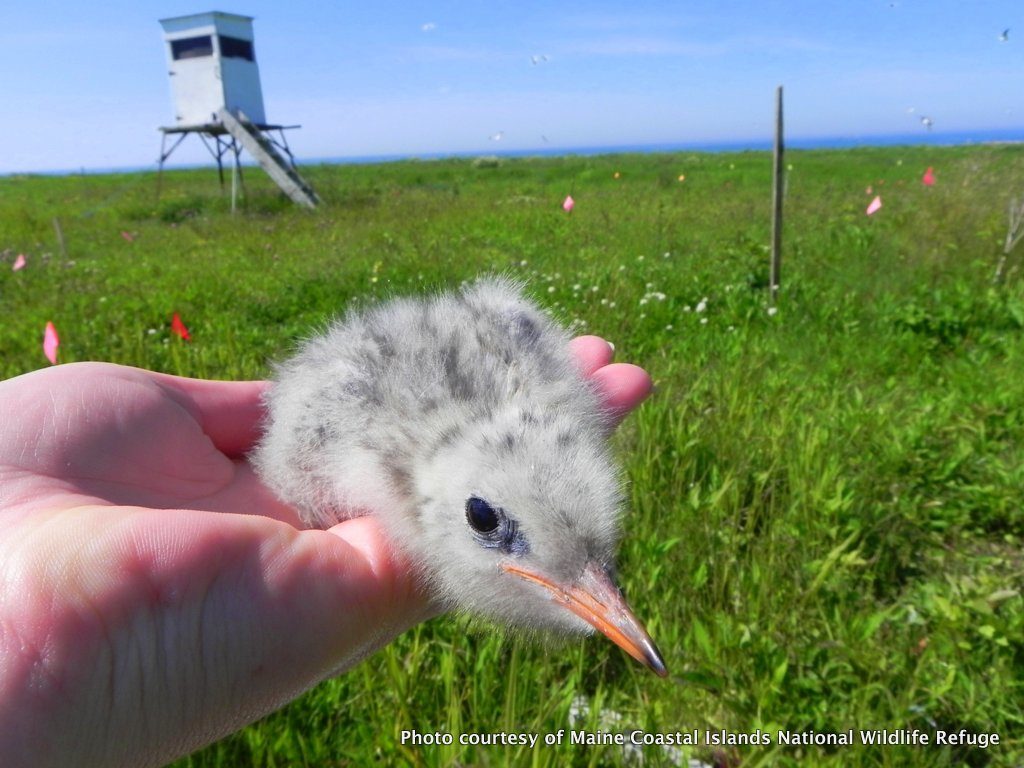 From the beginning of May to the beginning of August, researchers gather together to collect data of various kinds on selected species. In our case, those species include Terns (Common, Arctic and Roseate), Alcids (Atlantic Puffins, Black Guillemots and Razorbills), Common Eiders and Storm Petrels. Days on the islands vary depending on weather and at what stage the birds are at. At the beginning of the season, it was heavy lifting getting as much done before the arrival of the birds. It is important to provide adequate habitat for nesting. This was done by removing invasive and aggressive plants such as bittersweet nightshade, dodder and beach pea. This also included an intense island-wide cleanup of marine debris that had accumulated after the harsh winter storms of the North Atlantic.
Throughout the season, daily activities performed by the island researchers included: tower count where we climb up to the top of the lighthouse to count the number of alcid species seen at 7am and 5pm every day; predator control, where we do our best to prevent other species from preying upon the endangered species on the island; reading bands on Arctic Terns and Adult Atlantic Puffins as well as constant data entry.
Once the birds arrived, it was our job to collect the data required of us while doing our best to try not to disturb them. When the weather allowed it, we marked flags and popsicle sticks so we could calculate the species ratio on the island. However, in the first few weeks of their arrival, mother nature was not in their favor. During this time, there was a storm that hit Maine and washed away probably hundreds of eggs that had been laid on the rocky shore including tern as well as puffin eggs. Many of those terns laid more eggs but the puffins did not. While still possessing the opportunity, we trapped and banded the terns so that they can be resighted in the future. This process included replacing their delicate eggs with fake wooden ones so that when the trap was set off the eggs could be safely returned, quickly transporting the birds so they could get appropriately banded and set free to return to their eggs. As the time neared for the incubated eggs to hatch we constructed what we like to call play pens for the young chicks. This would enable us to monitor the progress of the chicks as they grow.
Time was running out before the arrival of our first chicks and we still had to conduct our two-day island census to obtain the number of birds we had on the island.
Once Census was finished, it seemed things would calm down; or not. In fact, things only got more hectic. It was finally time for us to welcome the chicks and really start to dive into our research. Our normal routine started to expand to include provisioning, which is a three hour stint in a small blind where we record information about the type of fish species being fed to the A, B or C chick. Before we could start recording our information, we had to select a blind that we would focus on and then decide which 5-7 nests would be observed for the remainder of the season.
Not only did our time get sucked up by provisioning but we also had to let our hands dive into the granite and sod burrows of the island alcids to check for chicks and assess nest productivity.
Island living certainly has its ups and downs but the small sacrifices of going without running water or grocery stores seem to pale in comparison to the visual rewards that we receive while observing thousands of birds and a rolling blue sea. Each of us came from different backgrounds and interests that eventually led us to work with these amazing birds. It has been a great season out here on Petit Manan and we have been gifted the opportunity to be involved with this flourishing seabird colony on a beautiful island off the coast of Maine.