CW Hood to Debut Electric Propulsion Drive in Rockland
Posted by CW Hood Yachts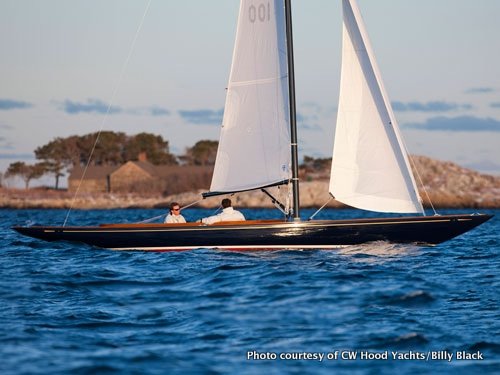 CW Hood Yachts will debut a 32-foot, One-design daysailer with Mastervolt's™ first PODMaster™ 2.0 External Electric Propulsion Drive installation at the tenth annual Maine Boats, Homes and Harbors Show in Rockland from August 10-12.
"Last winter, we had a special request to look into the idea of adding auxiliary power to the 32," says Chris Hood, founder of CW Hood Yachts. "At first, we wondered if the 32 was really meant to have auxiliary power? How do we do that without adding too much weight and reducing cockpit sitting space? The discovery of the PODMaster™ 2.0 presented the perfect solution. We could add battery power to the boat while supporting a very simple and quiet solution for the owner's propulsion needs. Both the owner and our building team were really pleased with the outcome," Hood declares.
"We're really excited about the small kW PODMaster™ models," offers Mark Persoon, Mastervolt's Power Conversion Product Manager. "The big advantage is that there is no requirement for conventional drive shafts, gearboxes, or engine couplings to align while the electrical power source can be located virtually anywhere on board the boat. With just a pod and folding prop aft of the keel, the drive mechanism has minimum drag, but offers exceptional maneuverability around the dock or for assistance getting home in light air conditions.
"Our initial sea trials of the PODMaster™ delivered about 5.4 knots forapproximately one hour of running time," states Hood, "perfect for times when you need to maneuver around the harbor or the dock. You don't even know it's there until you need or want it. It's the breakthrough solution for our customers who want this added feature."
"PODMaster™ power ranges from 2kW to 10kW, effectively replacing combustion engines from three to 36 hp," says Persoon. Mastervolt™ specializes in every aspect of a boats power management system. With every component totally compatible and "hybrid" ready, the possibilities for self-contained drive systems in all kinds of sailing craft are now almost endless. We are pleased that Hood's design team could incorporate the PODMaster 2.0 so easily and with so little change to the boat's construction and performance."
Mr. Ted Wendell, the owner of the first 32 with PODMaster™ notes, "We felt we needed to have auxiliary power for our purposes and use. That meant possibly making some sacrifices in both weight and space. The PODMaster™ solved all our boat needs perfectly."
"You get the best of both worlds if this is the kind of solution you need," promises Hood. "We surprised ourselves! We hope everyone at the show will have a chance to experience what appears to be an evolutionary alternative in design".
The 32 with the PODMaster installation will be on hand at the dock on a daily basis for both trial runs under sail and under power.