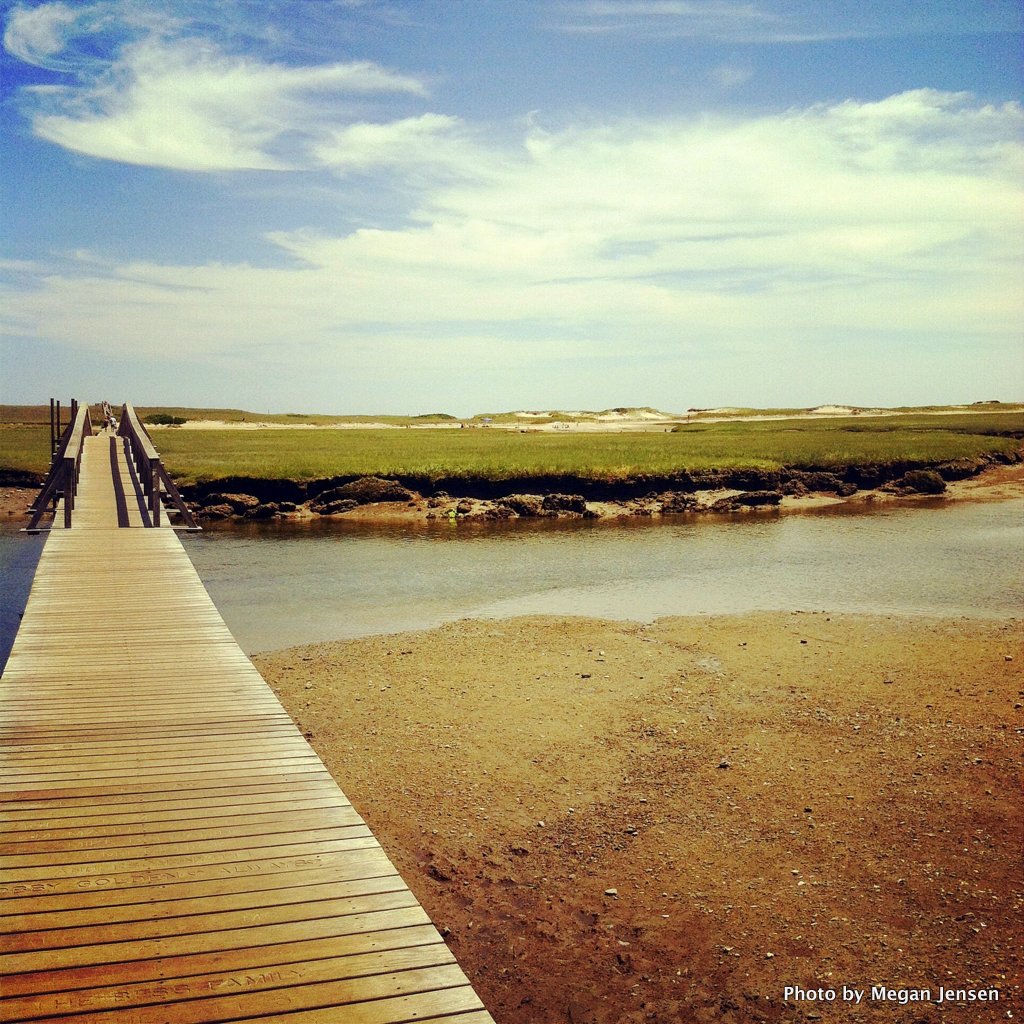 If most visitors to Cape Cod are anything like me, then they probably get a kick out of hearing there is town in the area called Sandwich. Looking at a map when I first arrived I had to laugh, and subsequently make a few bad jokes, "I wonder if they have a good BLT," "that town sounds delicious, and "lett-uce go to Sandwich!"
When I visited Sandwich I found there was much more to this village than an interesting name. This town is full of great places to visit, explore, spend time outside, shop, and grab a sandwich.
Here is what I saw, did, ate — and highly recommend.
1. Visit the Boardwalk
By far my favorite thing about Sandwich is the boardwalk fording Mill Creek across Sandwich harbor. At 1350 feet long, located in the heart of Sandwich this is an attraction you can't miss. This boardwalk is actually a replacement of the original that was destroyed in the early 1990s by a hurricane. When walking the boardwalk pay special attention to the engravings on the planks, which helped pay for the new boardwalk. Messages range from heartfelt to funny to mysterious. You can park in the boardwalk parking lot ($10), but there is also parking available in town (free) and the distance is easily walk-able.
2. Grab a Bite to Eat
This town has lots of great places to stop and have a meal or just grab a bite to go.
Café Chew – Called Sandwich's Sandwichery, this organic café has delicious and healthy options on their extensive breakfast and lunch menus. Café Chew is more than just sandwiches; they have all your breakfast basics and a good selection of soups and salads as well. I tried "The Bavarian," and the brie was amazing!
The Marshland – This Bakery/ Restaurant/ Diner has something for everyone and offers great casual dining on the upper cape. The Marshland's Stuffed Quahog was featured on the Food Network's "The Best Thing I Ever Ate." When I stopped by around 2 p.m. they were still very busy and the woman working at the bakery knew most of the customers by name. She was incredibly friendly and gave me a day – old bakery muffin for free, it was so good!
The Roost – Located near the boardwalk on the corner of Rt. 6A and Jarves, this café has a wide selection of locally brewed coffee's as well as sandwiches. I got the special of the day to go and brought it with me to the boardwalk to eat on the beach.
3. Heritage Museums and Gardens
Beware – you could easily spend an entire day here. Comprised of three galleries and expansive gardens includes galleries for American Folk Art, a vintage carousel, automobiles and traveling exhibitions. This is a great place for families with children to visit, and it has something for all ages. Don't miss the Hidden Hollow: an outdoor play complex, that was featured as part of First Lady Michelle Obama's "Let's Move!" initiative. When I visited the special exhibition was on Norman Rockwell.
4. The Glass Museum
This was my first stop when I visited Sandwich and besides the several rooms and exhibits filled with amazing glass works I found this museum to give a detailed account of this historic towns history. It's interesting how the history of glass works in Sandwich is closely tied to the founding, expansion and economic success of Sandwich. References to many of the great glassmakers can still be seen today, Jarves Street is named after Demming Jarves – the founder and manager of the Boston and Sandwich Glass Company. Make sure to see live glass blowing demonstrations every hour on the hour. Also a secret tip, when the glass blower asks for volunteers, raise your hand, you might get a souvenir!
5. Twin Acres Ice Cream
Don't forget the ice cream! This local favorite is easy to spot by the crowd usually present outside its serving window. I stopped for ginger ice cream and it was delicious!
6. Jarves Street
Located near the Sandwich Boardwalk and intersecting 6A this street has several cute shops, café's and is a great place to park and relax.
7. Burgess House
When in Sandwich stop by the Burgess House, the home of the author of the famous Peter Rabbit Tales. Thornton W. Burgess grew up and lived in Sandwich and his stories focus on the wildlife he loved around him. Over 170 books and 15,000 stories by Burgess chronicle the tales of Peter Rabbit and his animal friends, including Jimmy Skunk, Grandfather Frog, Johnny Chuck, Sammy Jay, Reddy Fox, Hooty Owl and many others.
— by Megan Jensen