3 Boats I'd Like to Tow Home Today
Posted by Josh Moore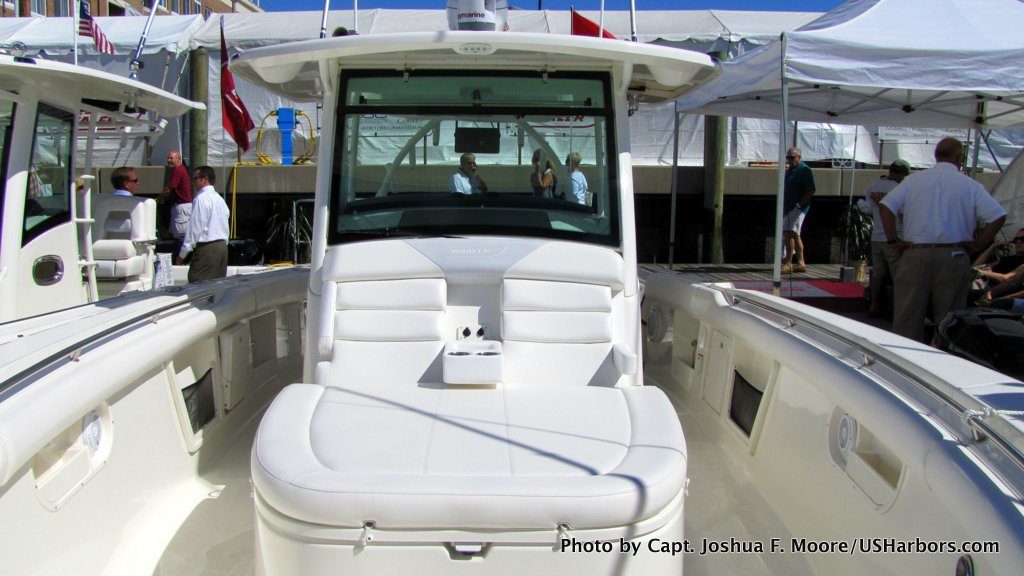 Today is the last day of the Newport International Boat Show, and as always seems to happen at boat shows, I'm struck by just how many gorgeous yachts are available these days. With so many options to choose from, I decided to play a little game and pick just three boats that I'd like to tow home with me today. There are a ton of boats at this show that I could see myself behind the wheel of, but I decided to see if three particularly struck my fancy for one reason or another.
Here are my three, in no particular order.
1. 37′ Center-console Boston Whaler
I know that some might think me extravagant to plunk down $460,000 on a center-console boat, but this is no ordinary fishing boat. (Plus, when I'm fantasizing like this, why be reasonable?) There are too many features of this ultra Boston Whaler for me to single out just one or two that makes it spectacular, but all of them, from the cup-holders up forward to the upholstery that rings the entire boat, make this a boat that will be enjoyed by passengers and skippers alike.
2. 29′ Beneteau Barracuda 9
One of the things that I've noticed at the Newport boat show is that more boats are squeezing every inch out of the space they have, and the new Barracuda by Beneteau is a case in point. From the flybridge to the forward cabin to the tremendous amount of seating within the enclosed cabin, this really does seem like a big boat packed into a relatively small body.
3. 46′ Seaward Sloop
OK, so I'm probably going to need a bigger trailer (and definitely a bigger truck) if I take this one home with me, but the Seaward 46's retractable keel option makes this boat more of a trailer-sailor than yoiu might otherwise think. What other 46' boat draws only two and a half feet? The interior is also absolutely gorgeous, airy, and well laid-out. Not sure I'll keep the fighting-chair-style helmsman's seat, but that's a relatively minor modification I can tackle after I get this sizeable sloop into the driveway.