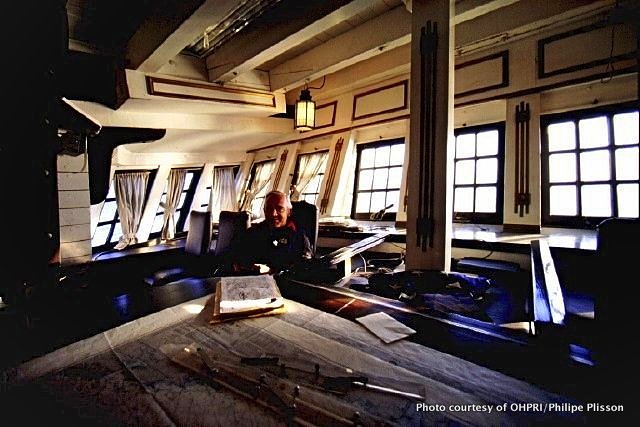 Oliver Hazard Perry Rhode Island is on a favored tack as it sails into fall with Richard Bailey (Wellfleet, Mass.) as its newly appointed captain. Bailey, who has been involved with the organization since its inception in 2008, will take the helm of Rhode Island's official sailing education vessel, the SSV Oliver Hazard Perry, once it is commissioned in July 2013 as a 196-foot long and 13.5-story-high tall ship.
"This will be the biggest and most sophisticated school ship built in America since the passing of The Sailing School Vessels Act in 1985, and it is the first full-rigged sailing ship to be built in this country in the last 110 years," said Bailey, who is no novice to the seafaring life, commanding over six tall ships since 1972, including the HMS Rose when it sailed as the largest active wooden tall ship in the world.
"My father was lost at sea on his small commercial fishing vessel six weeks before I was born. At the time, he and my mother had lived in a very old Cape Cod house decorated with paintings of commercial sail vessels. Though I never lived in this house, growing up we visited it often enough for me to become fascinated with these vessels. As a kid, I think there was an unspoken family effort to discourage nautical activities and it wasn't until I was 18 that I finally stepped aboard a sailboat."
Bailey grew up in central Rhode Island and became fixated on the HMS Rose – a replica of an 18th century Royal Navy frigate that cruised the American coast during the Revolutionary War – after reading about the tall ship in the newspaper. In 1972, at the age of 21, Bailey traveled to Newport and joined day sails with the tall ship, which served as a dockside attraction throughout most of the 1970s. During this time, Bailey was eager to learn and also sailed aboard other vessels while spending his remaining hours reading books on traditional ship operation and maintenance.
In 1980, Bailey left Newport to participate in boat deliveries around the world. Four years later, while driving from Rhode Island to New York, Bailey noticed a billboard on I-95 announcing that the HMS Rose had moved to Black Rock Harbor in Connecticut. Bailey took a detour to visit the ship, and the new owner offered him a job onboard as captain.
"He said he knew who I was and he had great plans to rebuild the ship, which was, by this time, in very poor condition due to both neglect and poor choices of material in her original construction," said Bailey. "I was a little skeptical at first, but by summer I was back aboard Rose and, over a six year period, we rebuilt the ship and operated it as a Coast Guard-inspected Sailing School Vessel until 2001 when it was sold to Hollywood for the making of the 2003 movie 'Master and Commander: The Far Side of the World.'"
Following his time on the HMS Rose, Bailey went on to command other tall ships, including the schooners Spirit of Massachusetts, Westward and Harvey Gamage and the 177-foot tall ship Gazela Primeiro, all of which incorporated education-at-sea programs, similar to what the SSV Oliver Hazard Perry will offer when it sails.
"For centuries now, tall ships have proven themselves to be timeless tools for adventure education. Today, nearly every maritime nation operates a sail training ship," said Bailey. "The SSV Oliver Hazard Perry is singular in this one respect: it's not a naval training ship. Instead it will offer education to non-military students of all ages. This is an opportunity for people to experience the authentic adventure of old time 'working sail.' Centuries ago tall ships were the ultimate vehicle of adventure and discovery, equivalent to space shuttles today.
"For me, the SSV Oliver Hazard Perry builds on my life experience in ships and sail training. This project has sparked my energy and enthusiasm, and I feel that I could happily sail this tall ship for decades to come."