Tips for Catching Stripers During Stormy Conditions
Posted by David Pickering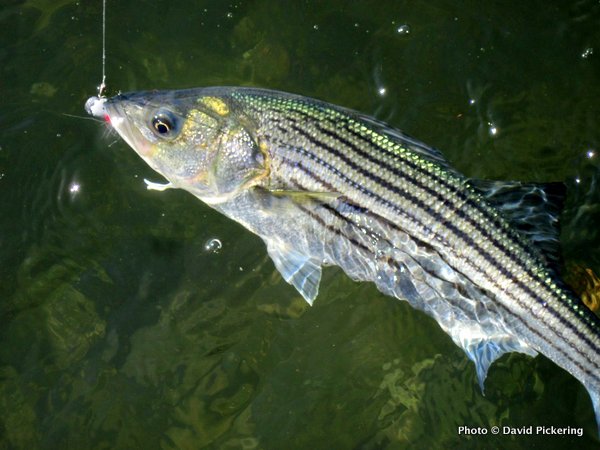 I've always said there is a fine line between conditions that are just right and conditions that are too rough and dangerous. Well, we have crossed over to the rough and dangerous, as big waves are battering the coast and making fishing impossible. It has caused our good fishing to die in the last two days along the oceanfront.
On Thursday, there were tropical storm waves hitting the shore from a storm way out at sea. According to one of my friends, he was watching in awe as waves were going right over the East Wall at Point Judith. On Friday, we had a southeast wind battering the shoreline with gusts over thirty knots, making for near-impossible conditions to fish. Strong winds with small craft advisories are predicted for Saturday.
For anyone who wants to fish this weekend, here's your best bet. Along the oceanfront, concentrate on the backwaters. I'm talking the backs of the breachways and the coastal ponds. These are places that will be fishable, especially on the outgoing water though there might be sand in the water. Note that these spots are not great for large fish and play host to mostly schoolies, small keepers, and hickory shad.
Another option would be to fish the Bay, especially in mid- and upper-Bay locations. I've been catching good numbers of schoolies for more than a week in the Bay. Just about all of it is fishable even in stormy weather. During this period, my two sons and I have landed over 200 schoolies. Jon and Ben caught most of their fish in Narragansett. I have taken about half my fish in Gansett and the other half of them in the Upper Bay. We are catching them in the daytime as well as after dark. Most are falling for some type of jig (Cocahoe on jighead or bucktail jig). Meanwhile, other fishermen are calling me to report they are getting schoolies in spots along the mid Bay. Still others are reporting hot action along the far south shore beaches. You can surmise schoolies are just about everywhere that bait exists. And, they are around in huge numbers.
I don't know where all these fish are coming from. Up until this fall it had been a fair to poor year for schoolies. The spring run was short-lived and summer fishing was poor. With that young-of-the-year index being low for the last five years, everyone was saying this would be a lean year for schoolies. It has been the complete opposite this fall.
While these schoolies are great fun on light tackle, I would like to tangle with a big fish once in a while. That has not been happening in the last week, a time period that has been good for big fish in the past. Of those 200 stripers we landed in the last week, only one fish was a keeper and that seemed to be an oddball in a pile of schoolies.