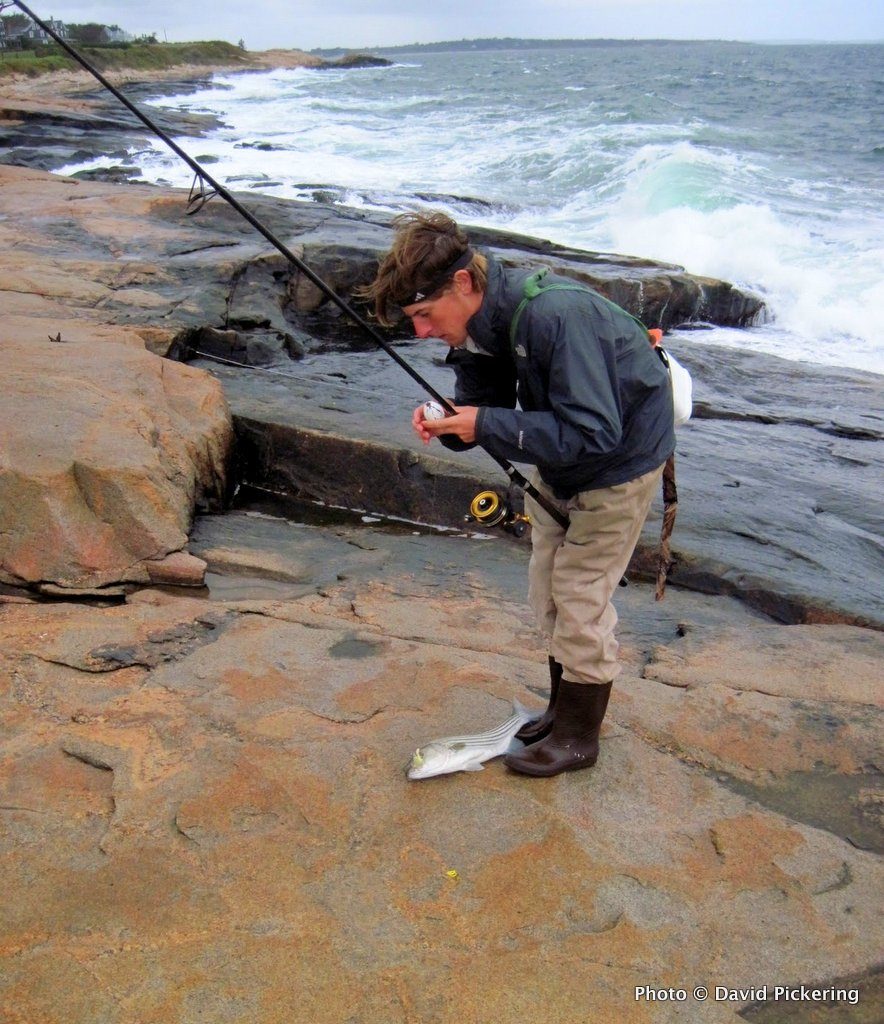 The past week has been a wild one, with some days seeing blitzes and others where I've been lucky to land a handful of fish. Tuesday, for example, was a humbling day. I saw tons of fish breaking, mostly stripers feeding on big schools of bay anchovies that were about an inch long.
It's always tough when stripers are feeding on bait that small. There is no artificial that can match bait that small and that numerous. Your offering becomes a needle in a haystack. To make matters worse, the ocean was flat, with no wind and clear water — always tough conditions to fool finicky fish. Yikes, I was lucky to catch the four schoolies that I did manage to fool in the daylight. I saw at least twenty-five other frustrated fishermen trying every artificial lure known to man, and I don't think the whole bunch of them managed twenty fish.
My son, Ben, and I decided enough was enough and we packed it in and went looking for false albacore. Yes, we found them — lots of them. For a solid hour we had a jump to cast on every single throw. But, they would not hit, either. We each had a whirl on a float and fly and that was it. There were at least six boats in front of us with frenzied fishermen casting away, and the whole group of them got nothing.
My bad luck day took a turn for the better after dark. Finally, well after dark, I was able to snare two 35-inch stripers on a Daiwa Salt Pro Minnow, a plug that has become my favorite go-to lure after dark. These fish finally made my day.
Compare that day with the previous one, where I witnessed an-all day blitz of stripers and bluefish along the oceanfront. There were so many fish that at one point I stood on a rock and just watched hundreds of bass and blues in front of me swimming in the water, whirling and feeding in a slick of bay anchovies.
I fished with my son, Jon, that day. Together we landed ridiculous numbers of fish, maybe forty bass and an equal number of bluefish. We actually lost count. He was using a Yo-Zuri swimmer which far outfished my bucktail jig. But I stubbornly stayed with the jig because I did not want to deal with the treble hooks. I also landed several decent fish on a Cocahoe on a jighead. We probably had at least 8 keeper bass from 28-32 inches. The rest of the stripers went 24-28 inches, real decent size. The blues went 5-6 lbs. on average, but Jon had one big one that went about 12 lbs.
The weather, obviously, can make a huge difference. Last Friday, for example, was a very stormy day along the oceanfront, a day that was marginal for fishing. By late in the day, a driving rain, high winds, and a big charged up surf were battering the shoreline, making fishing near impossible. However, my son, Ben, and I toughed it out and worked the very turbulent white water along the rocky shores of 'Gansett.
We saw no big numbers of fish, no birds working and no concentrations of bait, but we did manage to catch some fish. We landed a total of eight schoolies and Ben also got a false albacore. They were all caught on a float and Cocahoe, a good choice to use in tight to the shore in rough, white water. I had planned to fish after dark, but worsening conditions and lots of weed in the water proved to be just too much so I called it quits.