10 Reasons I Give Thanks for My Piece of the Coast
Posted by Alex Plummer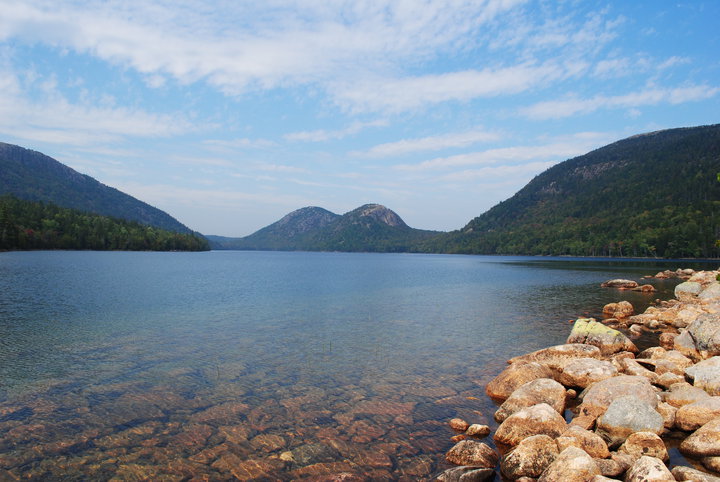 It's Thanksgiving Day here on the coast of Maine, and while I feel blessed every day to live where I live, here are 10 particular reasons I give thanks:
1) The people of Maine. There are few things better than running into a friend at the grocery store or simply waving to a passerby as I mosey on down the road. Maine is a place where people value other people. Neighbors help neighbors with whatever needs attention, whether that be helping to stack the daunting pile of wood sitting in the back yard or simply letting a friend's cat or dog out in the middle of the afternoon.
2) The views. Here on the coast of Maine, we are spoiled by the stunning coastal views that surround us and allow us to really take stock of where we live. Whether it be gazing down the expanse of Penobscot Bay from the top of Mount Battie, or simply admiring a small inlet or cove that winds its way into the ocean, we residents of Maine are a very lucky bunch.
3) The boats. I may be biased here, but I have yet to see a finer collection of sailboats, powerboats, and fishing boats than I have seen on the coast of Maine. It could be a graceful Hinckley tacking her way across Blue Hill Bay, or a small punt making its way across the smooth surface of a quiet harbor on a glorious summer morning. It doesn't matter where or what shape the boat it is, I will take Maine's seafaring collection over anywhere else.
4) The food. The Maine coast is chock-full of tasty treats and mouth-watering seafood. Try the huge whoopie pies and the superb blueberry pie, or simply stick with the traditional lobster dinner or any other salt water bounty. You will not be disappointed!
5) State parks. West Quoddy Head, Roque Bluffs, Camden Hills, Holbrook Island, Owls Head, or Mullen Head. It doesn't matter where you go, the coast offers so many diverse and beautiful pieces of public land where one can picnic, hike, or build sand castles, all while in the company of the surrounding rocks, pine trees, and cold and clear blue waters of the Atlantic Ocean.
6) Lighthouses. There must be over 60 lighthouses in the state alone, and each of them offers a unique perspective on the Maine coast. Some, like Marshall Point in Port Clyde, offer a rocky platform on which to view the surrounding marine activity, while others, such as Petit Manan Light or Matinicus Rock, offer glimpses into the isolation and determination it takes to operate a functioning lighthouse.
7) Acadia National Park. What else can be said about the crown jewel of preserved Maine coastal land. Established almost a hundred years ago, Acadia is a place of infinite wonder, where hiking trails lead to the water's edge and solitude is easy to come by. All three sections of the park — Mount Desert Island, Isle au Haut, and the Schoodic Peninsula — are a virtual outdoor playground for outdoor enthusiasts.
8) Washington County. A stretch of Maine coastline that is unmatched in terms of its wild nature and dramatic landscapes, this easternmost county is the definition of Downeast Maine. From the sleepy little hamlets of Steuben and Cherryfield to the rugged fishing outposts of Jonesport and Cutler, Washington County offers a glimpse into what a coastline looks like when it hasn't been touched by the heavy hands of modern development.
9) Beaches. We may not have what Florida or South Carolina can boast of, but Maine does have its share of stunning sandy stretches. Sand Beach, Popham Beach, Roque Bluffs, or any number of the small pocket beaches that line the jagged coast are all great places to swim, stroll, or simply sleep off a lazy afternoon.
10) Islands. There are few things like arriving on a wild Maine island and spending the day exploring or blueberry picking. I will always remember the times I have explored Seal Bay in Vinalhaven or Merchants Row off Deer Isle. These Islands are amazing places to visit or simply cruise by.