Fast, Light, and Big: Circumnavigating Yacht Launched
Posted by US Harbors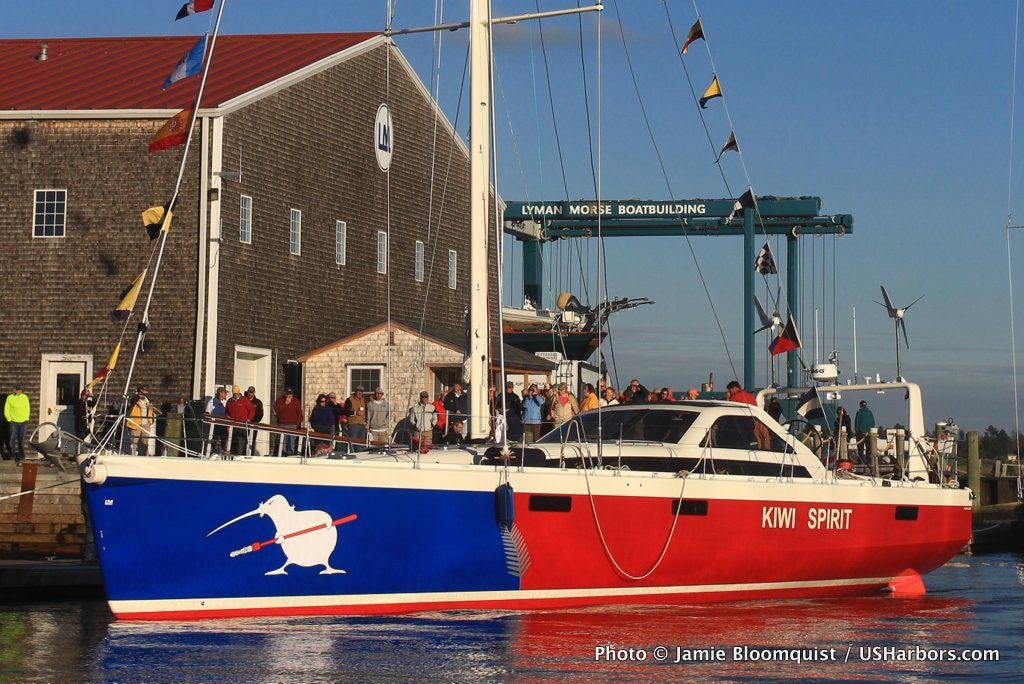 "Weigh This."
That's what's scrawled all over the inside of Kiwi Spirit, the 63' cutter launched November 1 at Lyman-Morse Boatbuilding Company in Thomaston. Never mind the gorgeous red fir cabinetry and interior paneling or the flat-screen television bolted to the wall in the huge yacht's luxurious main salon. Instead, it's the two words written in magic marker behind these accommodations that really matter to whether or not the yacht is a success. Kiwi Spirit is designed for speed, and when it comes to speed, weight is the enemy. So everything, from water tanks to storage lockers and even the cabinetry itself, has been weighed and evaluated.
Taken only at face value, Kiwi Spirit's stats are impressive:
63'8" LOA (plus 7' retractable bowsprit)
14'9" draft (8'7" with the keel retracted)
88' mast
5 water-tight bulkheads
4 water ballast tanks
44,000 man-hours to build
32,000 lbs. dispalcement
This is a formidable package in any yacht, but what sets Kiwi Spirit apart is the fact that it will be sailed not by a hotshot race crew, but by a 76-year-old man, absolutely alone, in a single nonstop sprint around the globe. And he's going to do it without consuming a single BTU from fossil fuels.
Kiwi Spirit is not your standard-issue "fast cruiser," and Stanley Paris is not your usual grey-haired yachtsman. Instead, the former physical therapist has logged 60,000 miles under his keel and completed a circumnavigation, three Atlantic crossings, and several Pacific voyages. For this adventure he has enlisted Lyman-Morse and designer Bruce Farr to create a floating platform that is part sled, part laboratory — plus just a dash of cruising yacht. Paris' goal is to be the oldest person to sail around the world nonstop and unassisted. He wants to break the record first set by Dodge Morgan for a Bermuda-Bermuda circumnavigation. He aims to set a new record for a circumnavigation in a cruising monohull. And, finally, he wants to set a new environmental standard in global sailing by completing his trip without burning a single hydrocarbon.
For an interview with Stanley Paris, click here.
On November 1, just as the last remnants of Hurricane Sandy cleared out of midcoast Maine, Paris and the crew at Lyman-Morse christened Kiwi Spirit and quickly powered it into the St. George River on a falling tide. (Paris' wife, Catherine, was scheduled to do the actual champagne-smashing but was delayed.) Ever the gentleman, Paris then welcomed the public aboard his new yacht to inspect Lyman-Morse's fine workmanship and to see the scale of the project he's undertaking.
Kiwi Spirit is, in a word, huge. To think that one person will be managing this yacht is almost unimaginable, and yet Paris reminds me that the beauty of nonstop sailing is that there's no docking involved, no dinghies to handle. Once the sails are raised — the mainsail alone will take twenty-two minutes to haul up — and Kiwi Spirit is underway, Paris is confident that he'll be able to keep the yacht on course for the many months (how many is anyone's guess, but Dodge Morgan did the trip in five) it'll take to zip past the southern capes and back home again.
And yet even this optimistic skipper, with his Coke-bottle glasses and upbeat Kiwi spirit (the yacht's name is a reflection of his dual citizenship in the U.S. and New Zealand), recognizes that he'll face some challenges. A spare rudder will be stowed below in case one of the other two rudders snaps off, but installing it in a pitching sea will be no small task. Paris has even included a spare mast that can be assembled — but again, erecting it will be a monumental project.
And yet clearly, when it comes to challenges, Stanley Paris is not one to turn and run. Whether it's swimming the English Channel (twice) or weighing and removing most of his brand-new yacht's interior, this is one adventurer who seems to actually welcome new obstacles. Thanks to the talented crew in Thomaston, he now has quite a vessel in which to meet them.