RI Striper Fishing Turns Spotty, but Hotspots Remain
Posted by David Pickering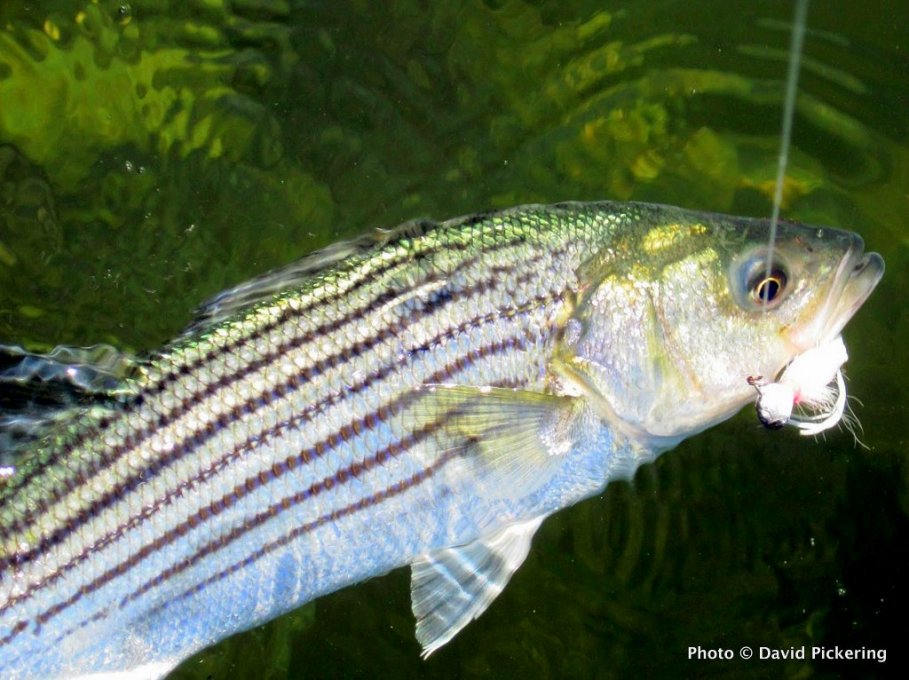 This is the time of year where you just never know what to expect. Most fishermen have given up on the oceanfront, as there has been almost no one fishing all week. Earlier in the week, my son Ben called me from the oceanfront. He was out fishing and tried all the usual late fall hotspots with no success. He asked if I had any suggestions where he might find some fish. I told him a story about what happened to me about twenty years ago. At the time, late November, the fishing had been pretty much dead for a week and everyone gave up, but I decided to go try anyway. I went on a whim to a location off the beaten path where no one fishes in late fall. And, yes, I found fish — tons of them.
I told him to try that spot. Two hours later he called back reporting he caught a good number of stripers. They were all schoolies, but some were near keeper size. I went down the next day to the same location and on my third cast a keeper grabbed my shrimp fly teaser. I got quite a few more schoolies that evening.
Contrast that experience with the one I had earlier in the week, when I went to the ocean and it just looked dead. There were few fishermen around which is always a bad sign. Except for a gannet here and there diving way out, I saw no evidence of any bait and the water was unusually rough and sandy in spots. I fished that area from Matunuck to Charlestown, a real good stretch of shoreline at this time of year. After four hours of fishing, it looked like I was going to blank and finally I got my first schoolie at 3:30 in the afternoon. Quickly, I landed nine more in one particular spot on Cocahoes and teasers right before dark. These were all very small fish running 12-15 inches. These small ones are yet another sign that things are coming to an end. I've decided my strategy is to start hitting the winter spots that have holdover fish. I suspect those places will start producing soon if they haven't already.
So, you just never know at this time of year. Just when you think the fishing is dying out, a pod of fish comes through, and it can be hot for a day or two. It will continue like this for the next couple of weeks along the oceanfront. You have to just get out and give it a try. My suggestion is to move around a lot and look at different spots. Schoolies will be the fish that are most abundant and they will readily take single-hooked jigs (Cocahoes on jigheads or small bucktails) that will cause little or no damage to the fish. However, don't be surprised if you hook a keeper or a large bluefish in the mix. It can happen at this time of year.