My First Maine Winter: Keeping Warm By the Ocean
Posted by Alex Plummer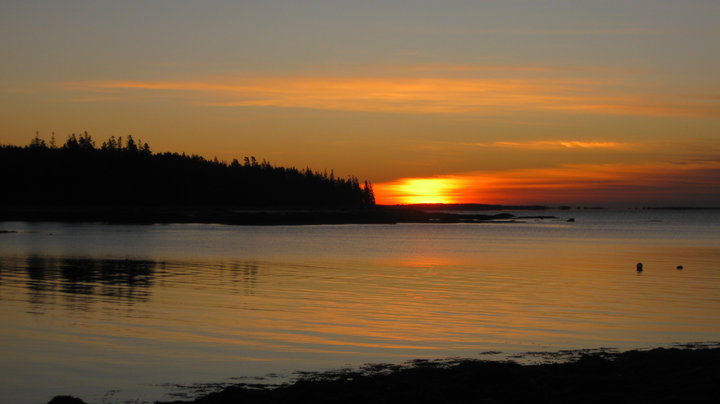 When I moved up to Maine permanently, I was 25 and it was late April. It was that funny time of year when the thought of summer begins to creep into your head but the reality of mud season sits at your feet.
I moved into my family's summer house down by Mosquito Harbor, a beautiful little inlet wedged between Tenants Harbor and Port Clyde. The harbor is protected by Mosquito Island to the southeast and Mosquito Head to the east. The house is all wood, built by a lone woman in the 1960s, and features a large upper deck, where I would sit for hours on a May afternoon, looking out to the water in the distance while listening to the Red Sox game on the radio.
I had spent every summer of my life in the house, but to be here in the spring, before the place came alive, was an amazing feeling to me. It was so quiet at night, so peaceful. I kept waiting for the night when I could really open up all the windows much like we do in the summer. It was June before I could do that, and pretty soon the summer came and went, and autumn came and went as well.
I remember how fast that first fall went. Living in Maryland as I had for many years, I was used to seasons lingering and not changing that much. In Maine, it was if the seasons were here one minute, and gone the next. Winter slowly crept over the midcoast, and that is what I recall so vividly about my first year living here. The house was very drafty, and it was no real deterrent to cold winds and early morning chill. One day in December I awoke to my outside thermometer reading 15 below. I walked down the road to Pebble Beach and watched in amazement as clouds of sea smoke drifted across the water. My breath was so clear that day and my throat hurt just enough to make me want to go inside. I saw on the computer that with the wind chill, the real-feel temp was 27 below.
I spent the next few months layered in wool, long underwear and fleece. That week in December turned out to be a real cold streak, but the rest of winter progressed as it should. Cold at night, snow here and there, and low clouds in the sky, which turned dark so early in the afternoon. I now live in Camden, but that first winter down the St. George Peninsula sticks in my head like the ice sticks to the ground. It was so beautiful!