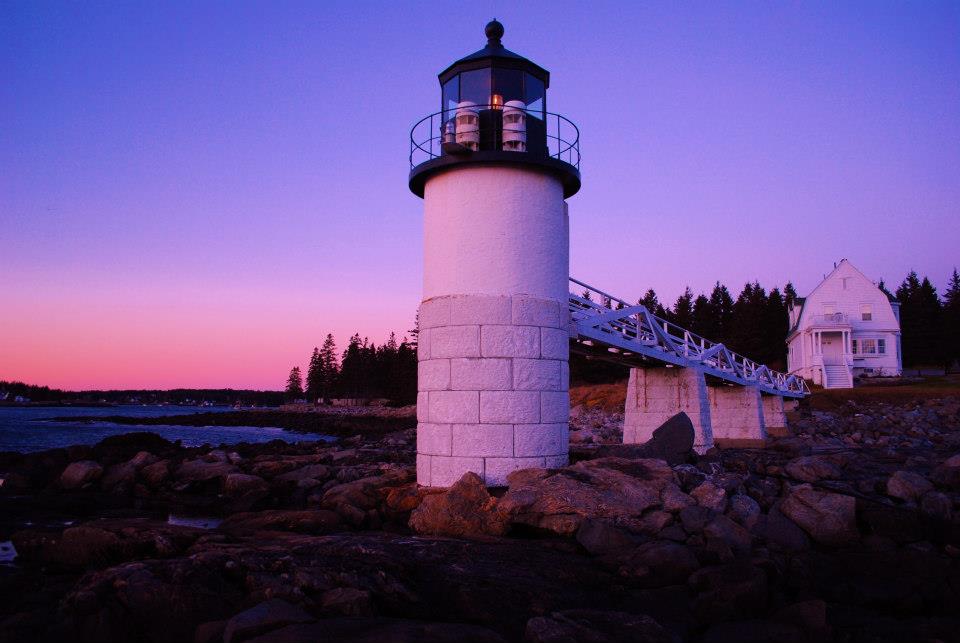 Marshall Point Lighthouse sits at the very southern end of the St. George Peninsula. It is surrounded by jagged rocks and windswept fields. Dense thickets of spruce and balsam fir provide a stunning green background, while neighboring Hupper Island guards the entrance to Port Clyde Harbor.
Monhegan looms in the distance, while a bevy of smaller islands — Allen, Benner, Thompson, Davis, and Burnt — all sit in a cluster at the eastern edge of Muscongus Bay.
There is no prettier place for a classic Maine lighthouse to stand, and I have spent countless hours here as a child and now as an adult. My faithful Nikon in hand, I like to sit above the small inlet on the western side of the light and track the sun as it sets over the rocky shores of Hupper Island and the wide mouth of the St. George River.
I used to hide in the small spaces that can be found between the amazing rocks that surround the lighthouse. The patterns fascinated me as a child and still draw my attention to this day. At low tide, it seems as if you can walk right off the edge of the land and become part of the ocean. At high tide, the surf can crash right over the small road that leads to the point. I have seen some pretty spectacular waves here in the middle of a raging storm.
With all the great vantage points to watch a sunset in Port Clyde — the town dock, Turkey Cove, Horse Point Road — I always find myself here, where the land meets the sea and the powerful light of Marshall Point welcomes mariners toward the western entrance to Penobscot Bay.