The truth is often hard to face but once accepted and decisions are made, a sense of relief is the reward. Such is the feeling for Dr. Stanley Paris who decided to end his circumnavigation aboard Kiwi Spirit. "… I have decided to abandon and head for Cape Town, some 1,700 miles away. To continue in the face of the sage advice would be foolish in the extreme, and cruel to my wife, family, and friends. I must now abandon this dream."
The advice came from Farr Yacht Designs and Commander's Weather. "We are all disappointed but share in Stanley's sense of relief that this decision has been made," said Drew Lyman, vice president of Lyman-Morse Boatbuilding Company.
The team at Lyman-Morse spoke to Paris on the morning of January 13. "The call came in loud and clear. Stanley sounded great and expressed several times the extreme relief he felt to be heading to terra firma," said Lyman.
Lyman-Morse is sending Steve Tofield to Cape Town to arrange the logistics for Paris' arrival next week in Cape Town. After a couple of good nights' sleep, hot meals, and a shower, Steve and Paris will assess damage to the rig sustained during an accidental gybe on Dec. 26th. The current plan is to repair the boom and roller furler and then sail the boat back to Maine via the Caribbean. Once back at Lyman-Morse in Thomaston, the boat will have all the "furniture" and amenities put back in and readied for her next stage as a fast family cruiser.
Paris dealt with unusually light winds for the first 15 days of his journey, causing him to shut down refrigeration, all electronics, and auto-pilot. Once the winds filled in, batteries were recharged and he started to gain on Dodge Morgan's record. Then, on December 26th off the coast of Brazil, Kiwi Spirit experienced an accidental gybe. Paris jury-rigged solutions and was in regular communication with Farr and Lyman-Morse regarding repairs and status. With the Southern Ocean looming, however, all parties involved strongly advised on stopping.
"Life is full of disappointments — some big, some small. This is a big one as it involved four years of planning and execution. Made bigger still by the involvement of so many others, designers, builders, family, friends, and, through social media, several thousand more, all now disappointed and perhaps relieved that with the mounting difficulties that the only right decision has been made,' said Paris on his blog.
Cabot Lyman sums it up for all those following Paris and Kiwi Spirit. "I am in complete amazement and awe of your accomplishment so far — you have the complete respect of everyone who has any knowledge of this project and the many thousands of miles you have already sailed puts you in the category of the very few. It is prudent for you to stop in Cape Town."
To recap the mission, Dr. Paris was attempting to:
•Be the oldest to solo circumnavigate, non-stop and non-assisted – 76
•Be the first to complete a green voyage – no gas, diesel, propane, etc
•Break the 150-day record from Bermuda and back
•Establish a St. Augustine and back record via Bermuda.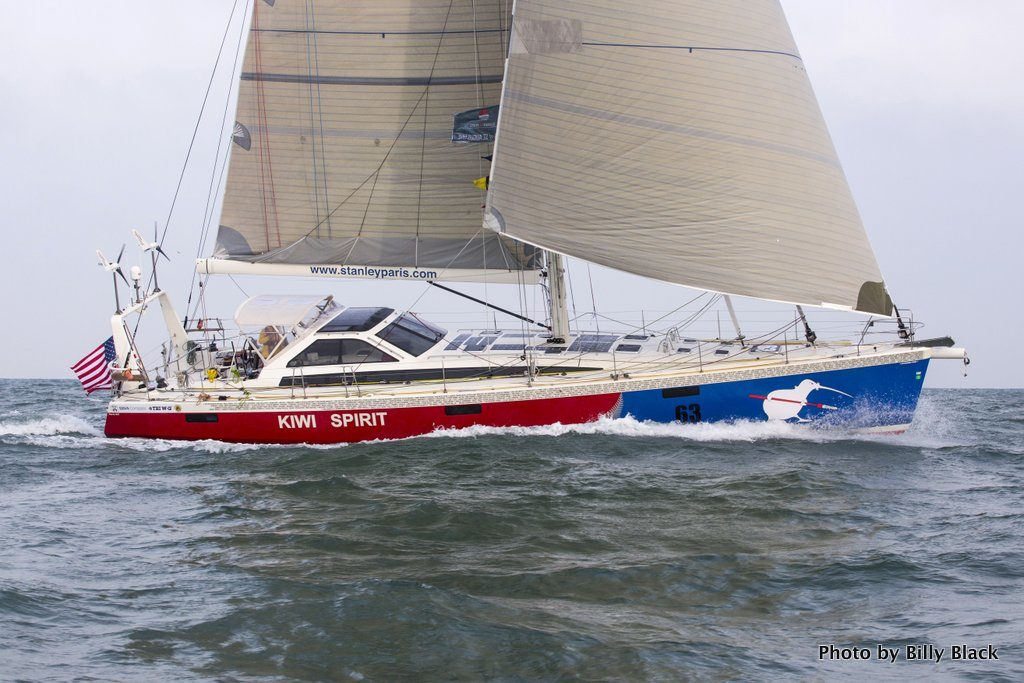 Photos of Circumnavigation Abandoned, but Kiwi Spirit Endures