Chesapeake Light Craft, the boat kit experts, will be running dozens of their popular Build-Your-Own-Boat classes at locations around the country in 2014, including four sponsored by the Wooden Boat Foundation at the Northwest Maritime Center in Port Townsend. Over the last 19 years, CLC boatbuilding classes have launched more than a thousand wooden boats and introduced thousands of students to the joys of boatbuilding. CLC has been hosting and teaching build-your-own-boat classes since 1994.
Students in Port Townsend in 2014 can select from six of CLC's most popular rowing and sailboat designs including four dinghy models — including two that break down into sections for compact storage — as well as a sleek rowing wherry suitable for fixed-seat or sliding-seat use and a classic rowing/sailing dory.
Students in 2014's first class, beginning on May 12, will build the popular 17-foot Northeaster Dory, the same model used in Rick Clark's newsmaking "Row to Canada for ALS" fundraiser in August 2012.
Clark is an English instructor at Seattle Central Community College. He and five others rowed three of the dories 135 miles up the length of Puget Sound from Vaughn Bay to British Columbia to symbolically recreate a spur-of-the-moment adventure he and a friend undertook just out of high school in 1970. After Clark and his companions built two of the three boats used for the trip in the same class in Port Townsend in May 2012 and the third at home a few weeks later, they set off again from Vaughn Bay, rowing in memory of the friend, who had succumbed to ALS (Lou Gehrig's Disease), and to raise funds for the ALS Association. They succeeded in reaching the Canadian border, to much fanfare, on August 11, 2012.
The Row to Canada for ALS effort has raised more than $8,000 to date and sparked the film "Rowing Smitty," which made its premier at the Seattle Art Museum in June 2013, and a soon-to-be-published book of the same name. The fundraising efforts also earned Clark and his team special awards from the Evergreen Chapter of the ALS Association. Fund raising continues online, click here for more information.
The Northeaster Dory is not only well suited to rowing but also to sailing with the addition of an optional sailing rig. It's a capacious, stable boat with a substantial payload for passengers or gear for camp-cruising and adventuring.
Other 2014 boatbuilding classes offered by CLC through the Wooden Boat Foundation include one focusing on the Annapolis Wherry, in single or tandem configurations, beginning July 14; and a late-October class on dinghies, where participants may choose an 8-foot Eastport Pram or the larger Passagemaker, both of which come in standard, one-piece models or take-apart versions, and both of which also may be outfitted for sailing with an optional additional kit.
In CLC classes, talented professional instructors help students assemble their own boats from start to finish. Most classes are 5-1/2 days — a perfect one-week vacation, with a boat to take home at the end, ready for finish work.
Demand for the classes remains strong year after year as the word spreads. In 2013 CLC ran more than 30 classes at sites in Maine, Connecticut, Maryland, Michigan, and Washington. In addition to the Northwest Maritime Center, 2014 locations will include the legendary WoodenBoat School in Brooklin, Maine; the Center for Wooden Boats in Seattle; the Spaulding Wooden Boat Center in Sausalio, California; and the Great Lakes Boatbuilding School in Cedarville, Michigan.
While CLC's precision-cut boat kits are intended for first-time boatbuilders working at home — more than 30,000 completed CLC boats are on the water — a classroom setting still has its advantages. Students work in lavishly equipped shops with a professional boatbuilder at their side and enjoy the positive energy (and extra hands) of a group setting. For those who bring helpers, classes are a rewarding and memorable parent-child or family experience.
Those unfamiliar with modern wood-epoxy composite boatbuilding can watch examples of these week-long classes condensed into ninety-second timelapse videos; click here to view the videos.
Tuition for the week costs $850 and the various boat kits range from $975 to $1500. More information on Chesapeake Light Craft's Build-Your-Own-Boat classes can be found at CLC's website; click here for a list of classes.
For more information on Rick Clark's Row to Canada for ALS, click here.
Chesapeake Light Craft's mission is to help people build boats. Founded in 1991, CLC has shipped 24,000 wooden boat kits to more than 70 countries. Specializing in the amateur boatbuilder, CLC offers kits and plans for a huge variety of smallcraft that are easy-to-build, plus all of the lumber, hardware and supplies unique to boatbuilders. The range includes kayaks, canoes, dinghies, skiffs, rowing craft, and sailboats from 8 to 31 feet. Educational programs are a large and growing facet of CLC's broad expertise. CLC develops and leads boatbuilding classes all over the world for students of all ages and backgrounds.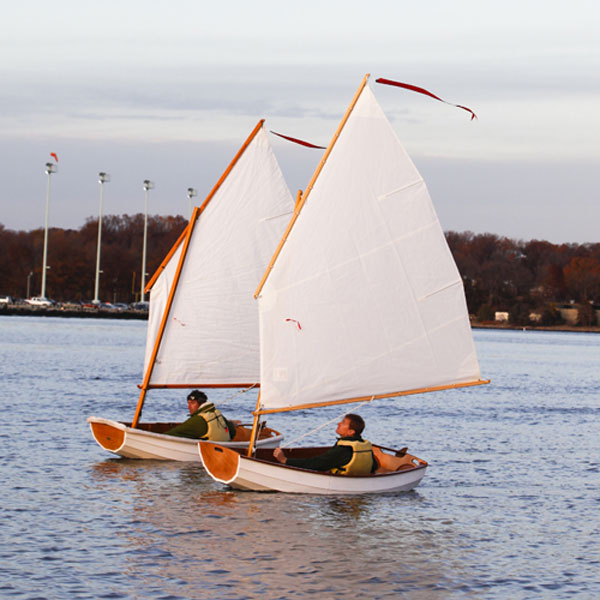 Photos of CLC Offers Build-Your-Own-Boat Classes in Port Townsend