Since its 2012 launch, Chesapeake Light Craft's Peeler Skiff kit has become very popular as a light and sturdy fishing and utility skiff. The 15-footer is a bigger building project than the typical CLC kayak or sailing dinghy, but its construction is straightforward enough for first-timers.
In just two years, CLC has shipped about 50 complete kits and more than 100 sets of plans and manuals across the US and around the world. One of the most persistent inquiries has been whether the company would offer an option for a center console with remote controls for the outboard motor. After six months of mock-ups and experimentation, designer John C. Harris has released a center console option.
The result of several prototypes and careful ergonomic study, the new center console is sleek, strong, and neatly integrated into the Peeler Skiff's interior layout. It's a functional upgrade and good-looking, too. The wheel is at the perfect height for all adults. A passenger seat with a hinged lid is incorporated into the front of the console, creating a large storage compartment beneath.
Designed as a retrofit package, the center console may be added to an existing Peeler Skiff or incorporated from the beginning during hull assembly. It's built with the same 9mm okoume marine plywood, stitched-and-glued together with epoxy and sheathed in fiberglass. It is secured permanently to the hull with epoxy fillets and fiberglass, where it contributes noticeably to overall hull stiffness.
"This really is a logical addition to what has proven to be a very popular and versatile boat," says Harris. "The center-console option provides great visibility for the helmsman when the boat's at planing speed, along with a comfortable, stable seat for a passenger and a nice bit of secure dry storage."
The Peeler Skiff's payload is 1000 pounds, including passengers, motor, fuel, battery and gear. The boat planes readily with an 8hp motor and two adult passengers and will do 11-12 knots. A 15hp shows 22 knots with one adult in smooth water; with the throttle backed off a little, it's easy to do 15 knots with two adults and a 15hp in smooth water. The Peeler Skiff is rated for a maximum 15hp (4-stroke) motor, but many builders think a 9.9hp might be the perfect all-around motor.
For more information on the Peeler Skiff and the new center console option, see www.clcboats.com/peeler.
(Steering wheel, throttle, and other remote controls for the engine are sold separately.)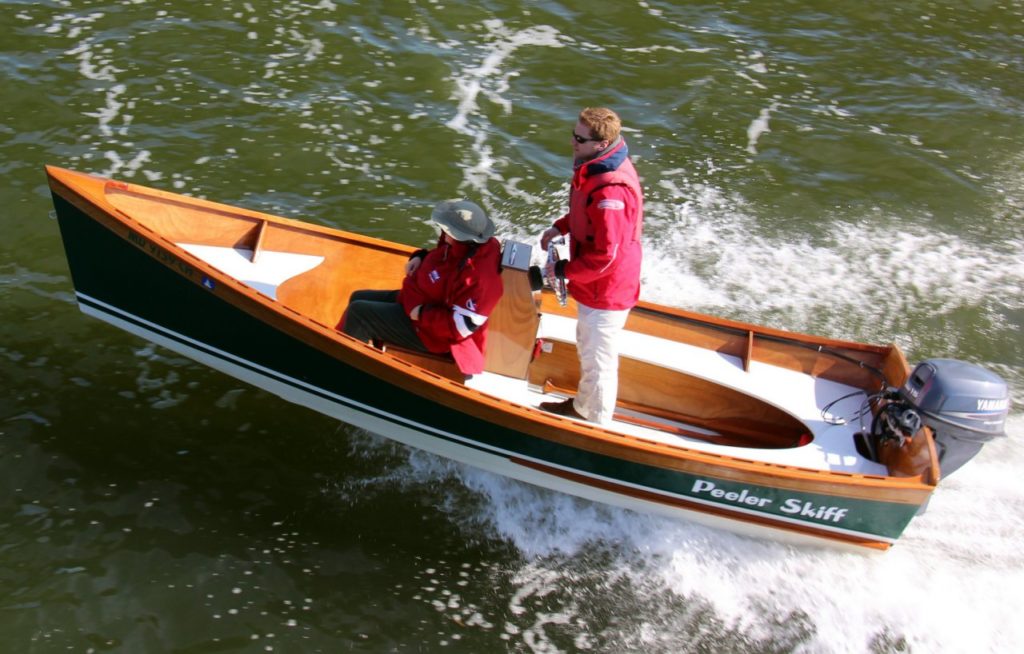 Photos of Wooden Boatbuilder Releases Center Console Kit Option