Cruising NJ's Mullica River: A Study In Contrasts
Posted by Gretchen Coyle
"When our ancestors came over they were either boat builders, preachers or pirates," the late Don Leek told us. "Why, my grandfather, Charlie Leek, even built some rum runner boats with big liberty engines and bullet proof glass at his boat yard in Lower Bank."
The Mullica River history is so old that the ships and most of the original clapboard and cedar shake homes are gone. Stories abound of loyalists, rebels, pirates, and privateers: the terms seem to blend, depending on the century. It is a sleepy, brackish body of water, home to plovers, eagles, and falcons. Miles can be traversed with nary a soul in sight. A palette of green, undulating marshes are glazed by the sun at every bend in the river near the mouth of Great Bay. Upland areas covered with miles of pitch pine, lands protected forever.
A trip up the Mullica River is a study in contrasts: old, new, historical and environmental. Exploring the Great Bay – Mullica River area by boat can take a long time, as there are many creeks to investigate. Having explored the Mullica for decades, we were pleased to discover on a recent trip up the river that it has not been re-built with mega-mansions. Instead we still saw wilderness, wildlife, and beauty.
But let's backtrack: We start from our Beach Haven home at 10 a.m., following the ICW past Little Egg Inlet to Great Bay. We purposely avoid the Sheepshead cutoff and Newman's Thorofare next to the old fish factory. Post-Sandy boating means ignoring local knowledge until we have traveled these routes several times. Not to mention the fact that my husband, John, does not want to run aground with me and our friends in an area notoriously known for life-size greenheads.
On the south side of Great Bay at Leeds Point is Oyster Creek Inn, a restaurant accessible by both boat and car, which has gotten better and better over the years. Dinner at Oyster Creek is a step back in time with first-rate food. Motts Creek Bar and Restaurant (pronounced "crick" by locals) is also visible above the grasses as we head west.
Chestnut Neck is located near the mouth of the Mullica River. Chestnut Neck Boatyard is now mostly restored after being drowned in Sandy. During the Revolutionary War, the small village of Chestnut Neck was burned by British invaders in search of Brigadier General the Count Casimir Pulaski's Legion. A small cluster of homes and a clam house are all that is left of Nacote Creek, yet a high bridge allows boaters to go up to Port Republic.
Shipbuilding was once a big industry here. Large ships sailed the Mullica; commerce was brisk. Imports were brought in from around the world on a flood tide. Exports such as timber, lime, glass, brick, iron and charcoal were loaded aboard ships. It is easy to wonder about the early settlers who lived in the area. Were they dashing privateers or just plain everyday folk trying to make the most of the moment?
Our Mako passes under the Garden Parkway Bridge and we wind our way through the salt marshes of Swan Bay, past historic Clark's landing, and up to the sleepy village of Lower Bank. The Mullica River was named after the Swede explorer/settler Eric Palsson Mullica in the late 1600s, who settled at Lower Bank, though whether he lived in a shack or plantation is still up for debate. He is buried in an unmarked grave in an old Lower Bank Cemetery.
Salt water begins to turn a bit brown here; the pungent brackish smell of the cedar water an odor we can't mistake. It was at Lower Bank that the Leek family built boats for generations. This once-thriving town of shipbuilders, a general store, post office, and seven saloons is now almost completely deserted. We can picture C.P. Leek alternately selling both Coast Guard and rum-runners fast boats during Prohibition.
We edge under the Lower Bank Bridge with about 2' clearance. Stands of tall cedars give a fresh, clean scent to the air. Green Bank is soon visible, with some beautifully restored homes lining the bluffs on the northern side. A paper plant, glass works, and Aunt Hattie's General Store are things of the past. A congenial bridge tender immediately opens the bridge for us. Old farmhouses are tastefully interspersed with newer homes.
In Jersey Genesis, author Henry Carlton Beck interviews resident Laura McConaghy, who remembers Green Bank as "sloping bluff banks forever green in the tangle of jasmine, honeysuckle, roses, wild grapes, holly, cedar, and laurel." The mouth of the Mullica is home to aquatic vegetation, beds of eel grass, and birds of all types (most often seen during their spring and fall migration along the eastern flyway), while the upper parts of the Mullica look like a dense forest. The largest area of pitch pine in North America grows here in the Pine Barrens. Luckily for all of us, the New Jersey Pinelands Protection Act includes most of the area.
Houses become visible as we approach the Sweetwater area. Sweetwater Casino Restaurant burned down eight years ago, and The Forks Restaurant has closed, so we had packed a large cooler full of sandwiches, snacks, and drinks. Friends are waiting on their dock just past Sweetwater (where a liquor license allows the restaurant operators to serve drinks outside and have bands on weekends). We visit for a while, marvel at their old home that once was a gunning club, and are told local markers have disappeared up to The Forks. Once a hub of activity during the Revolution, The Forks is now a village of tidy homes nestled in among tall pines and hearty cedars. Multi-masted sailing ships once navigated far up the Mullica, but sediment of mud and debris has filled the riverbed over the years. Once again, local knowledge is needed to go up to the headwaters; so we pass on the option, instead beginning the long 2-3-hour trip home.
Back under the Garden State Parkway Bridge, we turn up the Bass River to the impressive Viking Yacht plant and have a quick stop at Breezes, a local restaurant managed by Allen's in New Gretna for iced tea and beer. Tide meets wind for a wet ride back across shallow Great Bay. Once we cross Little Egg and Beach Haven Inlets and tuck in behind Long Beach Island, though, the rest of the ride is smooth. By 5 p.m. we are home and ready for a cool shower.
—Gretchen F. Coyle
Gretchen Coyle is an author, freelance writer, and member of Boating Writers International.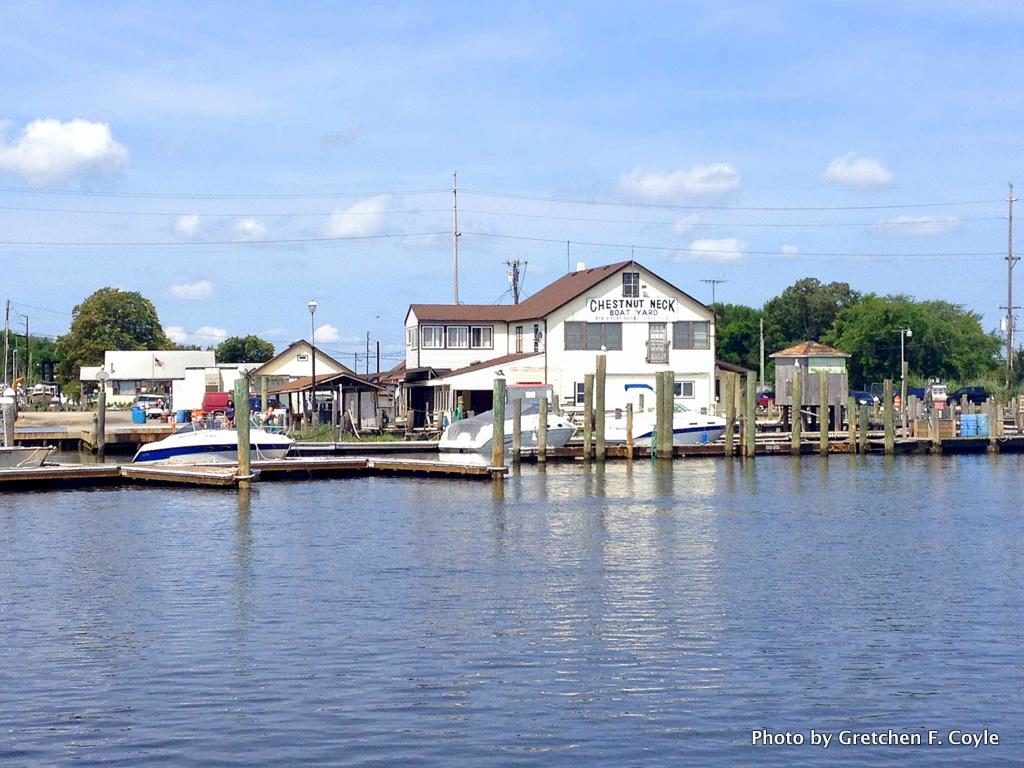 Photos of Cruising NJ's Mullica River: A Study In Contrasts