Rockland Show to Crown New World Champion Boatyard Dog
Posted by MBHH Show
Six courageous (or are they crazy?) canines have been chosen to compete in the World Championship Boatyard Dog® Trials in Rockland on Sunday, August 10, at 10:30 a.m. The trials take place during the 12th Annual Maine Boats, Homes & Harbors Show, a celebration of coastal living, which runs August 8-10, 2014, at Harbor Park in Rockland.
Always a favorite with the crowd (because who doesn't love watching other people act like knuckleheads around their pets?), the trials are a light-hearted, family friendly, paw-to-paw "competition." Each team must complete the Dockside Obstacle Course (dog and handler negotiate a maze of funky dockside detritus); the Dinghy Hop (dog and handler scramble in and out of an unstable dinghy); and a Freestyle segment (each team shows off whatever special talents they may (or may not) have). No holds are barred for the freestyle segment, but in honor of the 12th year of the trials (and the show), "twelve" MUST be included in the performance somehow. As a final challenge, either the dog or person must be soaking wet when they finish.
The Field of Competitors:
Ruffles (Defending World Champion)
Homeport: Cushing, Maine
Ruffles is more than ready to defend her title, but she can't imagine having more fun than she did last year! She loved all the people cheering her on, the prizes, the Pup Cup, the photos, and the excitement on the docks. She is practicing her new act at her waterfront home, where the regimen includes chasing sticks into the water and cruising to the Lobster Dock next door where all the boats drop off their catch. Other skills get honed as she leads her "gang" of five around the 'hood. They swim, roll in bait, beg for cookies, and perform public service by retrieving anything that floats.
Gatsby
Homeport: Scarborough, Maine
Gatsby came in second in the 2013 trials, so she is bound and determined to win this year's competition. She has composed a list of 12 reasons why she will be a great competitor:
"I love the water, I love to jump, I love everyone, I love tennis balls, I love competition, I love to give kisses, I love life, I love swimming, I love to win, I love to play, I am super cute (if I must say so myself), I have big plans for the number 12." (One "rule" for the trials is that each dog must incorporate "12" into their freestyle act.)
Polly
Homeport: Stonington, Maine
Polly is a natural canine gymnast who is just so eager to strut her stuff at the trials. She absolutely loves to jump, and can't wait to show off what her dad tells us is the "graceful twisting style" she uses in her efforts to fly. Since Polly weighs in at about 55 pounds, it's quite a spectacle when she launches into the air; her leaps range from three to five feet off the ground.
Sadie Rose
Homeport: Marblehead, Massachusetts
Sadie Rose is a purebred golden retriever. She's now six years old, but (like many of us) in her mind, she is still just a two-year-old. Sadie has lots of water experience and has been swimming in nearly every anchorage from Casco Bay to Northeast Harbor. Her favorite cruise activities are chasing birds from the floats in Northeast Harbor, sliding on her belly on the seaweed in Pulpit Harbor, and hanging out with her humans at the bars in Boothbay. On her bucket list is to successfully drag a lobster pot to land. She finds it frustrating that they seem to be stuck on something on the bottom, but she keeps trying.
Sandra Bee (a.k.a. Sandy)
Homeport: Gorham, Maine
This lucky pup accidentally found her current home via The Pixel Fund. The person who was supposed to foster her did not show up, so Lori Green grabbed the crate without looking inside and took it home. Green said she brought the crate inside, opened it up, and the "saddest, ugliest, baldest, smelliest" dog came out, madly wagging her tail. Still, it was love at first sight, and with lots of loving care Sandy has now been transformed. Sandy now has a stage name — Sandra Bee — and has promised to get her owner trained in plenty of time because she wants The Pixel Fund (a Maine nonprofit that saves the lives of shelter pets through education, advocacy, and rescue efforts) to get lots of great publicity.
Scout
Homeport: South Portland, Maine
Scout doesn't stay at home every day while his humans go off to work; he lives a true "dog's life." Every morning he waits eagerly for the moment when he can jump in the car and head to the lake where, for the past year, he has been helping to build a house. As official job site dog, Scout excels at keeping wildlife away, drooling while begging for food, wandering (or, as he likes to call it, "exploring new territory"), and, of course, swimming. After a hard day's work, Scout also likes to sprawl on the couch and cuddle with his three best friends, his two humans and (shhh!) the cat.
Carolina (Alternate)
Homeport: Moose River, Maine
Carolina is a friendly, sweet, silly Dutch shepherd that was rescued by The Pixel Fund to become one of the great loves of her owner's life. She's a year and a half old but still acts just like a 50-pound puppy. Recently, she tried to jump off the dock in a unique way: She left her hind end in place while putting her head completely under water. Once she recovered her dignity (more or less) and managed to swim back to shore, she decided that she loves the water. That bodes well for the trials, where either she or her handler will have to get wet!
Judges will be Dale Dyer, of Custom Float Services; Dr. Bjorn Lee, of Pen Bay Veterinary Associates in Rockport; and Joel Neal, co-owner of The Loyal Biscuit, with locations in Camden, Belfast, Rockland, and Waterville. The trials will be spiced up by the verbal antics of emcees Mike Joyce and Alan Sprague, who are also the co-hosts of WERU-FM's call-in show "Boattalk" (89.9 FM and weru.org).
The overall winner takes home the perpetual "Pup Cup" trophy and is featured in the regular Boatyard Dog® column in Maine Boats, Homes & Harbors (where all this nuttiness began). All competitors receive a Sea Bags ditty bag filled with goodies from Loyal Biscuit Co.
The field of competing dogs has been pre-selected; the organizers emphasize that for liability reasons ONLY those dogs will be allowed onto show grounds. Please leave all other pets at home to avoid disappointment. Also, due to the show's no-pet policy, show organizers ask that any service animals be clearly marked as such if possible.
The 2014 Maine Boats, Homes & Harbors Show will be held August 8-10 on the waterfront in Rockland, Maine. Gates open at 10 a.m., tickets are $12, children under age 12 get in free. Admission to the trials is included in the show admission price.
CLICK HERE for more information and a full list of exhibitors and activities.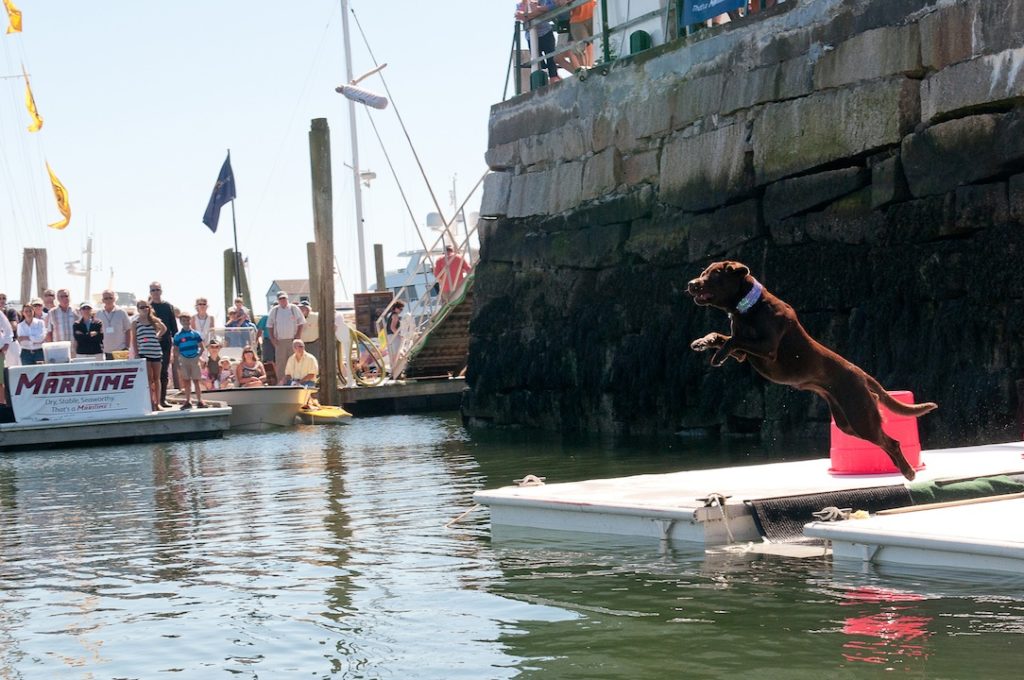 Photos of Rockland Show to Crown New World Champion Boatyard Dog