Day breaks on Warren Island in Gilkey Harbor. Our neighbor on the blue ketch breaks the silence. "Whizzz, ker-plunk", he's casting for mackerel.
50 or more cruising boats are anchored in Broad Cove, all sleep soundly. It's the Seven Seas Cruising Club Gam, an annual get-together. After breakfast, we'd row through the anchored fleet, reconnect with a few friends and make some new ones.
Then it's–pull-pull-pull to Grindle Point, where the Isleboro Ferry lands, to pick up my sister-in-law and her two boys for the day. Stroke-stroke-stroke back to Warren Island to close the morning circumnavigation by oar.
After a leisurely lunch, we rig the dinghy for sailing and watch nephew No.1 sail by. Tiller in his toes, young Finn is a natural sailor.
Now we're in the sailing mood. "If someone will grind the sheet winches, I'll sail us home through Gilkey Harbor", I suggest. The sisters were game, and the 7 to 9 knot south wind, on the nose, inviting.
Threading the needle through Gilkey Harbor with sure zig-zag stitch precision, we mend Islesboro and 700 Acre Island together. Such a good day, it felt right to take a first time short cut, the slot between the Ensign Islands and 700 Acre Island.
"Falling off now, ease the sheets," I requested as we watched the depth sounder readings; 17 feet-16-15-14-13-12-11-10 (gulp!),…10,…10,….11 (phew!)-12-13-14-30 feet, and out into Western Penobscot Bay we sliced.
We left the whine of grinding winches in Gilkey Harbor. Two long graceful tacks put Lowell Rock safely off our starboard decks as we turned into Rockport Harbor. On the South wind we rode the Rockport Harbor grande finale deep into the funnel.
Then with a twist of the wheel we sew one last stitch- a tidy "J", where we hove to and dropped our sails.
The tapestry of another memorable sail, was complete.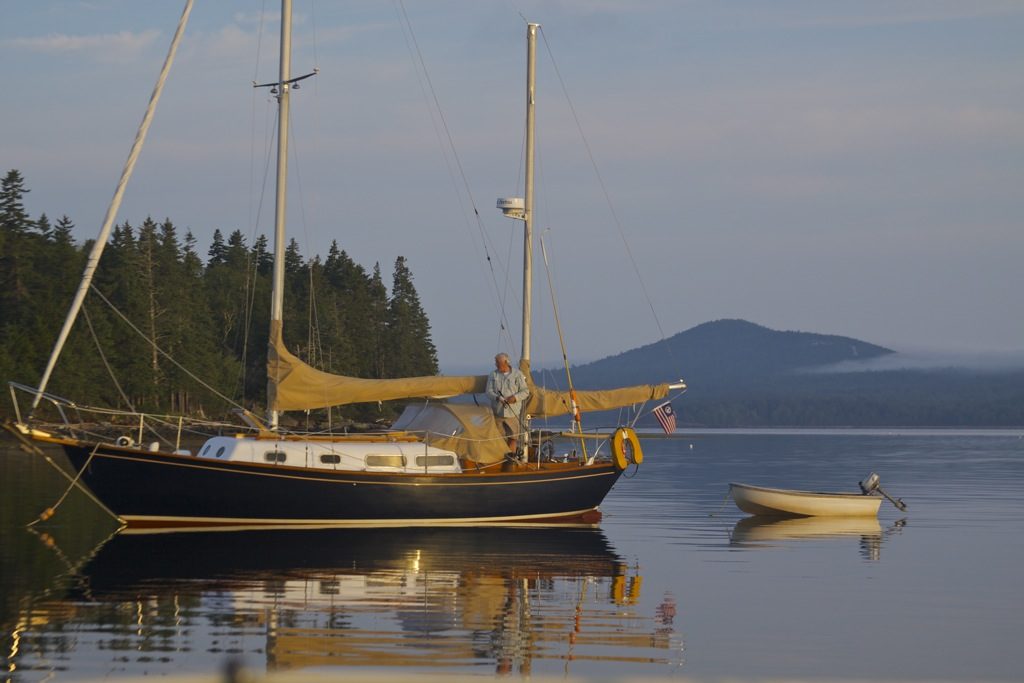 Photos of Summer in Maine: Daybreak on Warren Island