The mainmast of the 200-foot Tall Ship SSV Oliver Hazard Perry was stepped Wednesday, September 24 in a dockside ceremony at The Hinckley Company in Portsmouth, marking a major milestone in the completion of Rhode Island's Official Sailing Education Vessel that will serve students from across the country and abroad. Attending were supporters – including donors and Board members – of Oliver Hazard Perry Rhode Island (OHPRI), the non-profit organization responsible for building and operating the ship.
"The stepping of a mast means it is erected and secured into its 'step' within the hull," explained Perry's Captain Richard Bailey, who served as Master of Ceremonies and first spoke while the massive 132' mast hung at-the-ready in a sling held by a giant crane. "Earlier this month, the forward mast was stepped, also here at the Hinckley boatyard, where dozens of riggers and shipwrights have been working on the ship this summer." (The mizzenmast, the last of the three masts on the square-rigged ship, was erected after the morning ceremony, late in the afternoon.)
The mainmast towers 13 ½ stories (or 120') above the deck of SSV Oliver Hazard Perry. It is made up of three sections: the 65' long lower section made of steel and its upper two sections (called the topmast and t'gallant) made of Douglas fir, which came from a private tree farm in Rainier, Oregon and was turned in Washington State on the largest spar lathe in North America. Collectively, Perry's 19 wooden spars – including the mizzen, mainmast and royals for each; fore top mast and gallant; mizzen gaff; boom; and jib boom – weigh almost 36 tons and total 25,182 board feet – enough to build a house of over 3700 square feet.
After remarks by Bart Dunbar, Chairman, OHPRI, and Donald Christ, Esq., President, Alletta Morris McBean Charitable Trust (a major contributor for which the rig will be dedicated when complete), a 1936 Rhode Island Tercentenary Half Dollar, issued to commemorate the 1636 founding of Providence, R.I. and donated by OHPRI Board Member Jim Pickering, was placed in the Perry's mast step. Samuel Appleton Treherne-Thomas placed the coin with help from Ben Grenier; both are family descendants of Commodore Oliver Hazard Perry, the American hero (and Rhode Island native) in the Battle of Lake Erie for which the ship is named.
"There is a long and rich history of placing coins beneath masts to address an assortment of superstitions; today we place our coins to bring good luck and to memorialize a significant moment in the process of our ship's creation," said Bailey.
While one worker operated the crane, several more helped to position the mast vertically before it was lowered into place. When the mast was in place, the firing of the Perry's cannon signaled that all was well with the progress of this privately-funded and publically supported project: the first full-rigged ocean-going ship to be built in the United States in the last 110 years.
Enlarged framed versions of the 2013 "Perry victory" quarter that sits under the ship's forward mast, were presented to Vice Admiral Thomas Weschler, USN Ret. and Bart Dunbar in recognition of extraordinary service to the project. Admiral Weschler drew laughter from the audience when he quipped, "This is the most exciting thing I've done since World War II." (The main cabin is named in honor of his brother, WWII hero Lieutenant Charles John Weschler, USN.)
Alluding to the date Perry's steel hull was bought from a Canadian group, Dunbar added, "It's a momentous day for this entire enterprise that began in 2008, and some might not realize how significant this particular mast stepping is, as well. There has not been a rig like this built for a U.S. ship in 110 years, so there was not one person or organization that we could go to and say, 'We want one of those for SSV Oliver Hazard Perry.'"
Texas and Newport resident Dan Tutcher sponsored the purchase of the lower mainmast section as well as the lowers for the foremast and mizzenmast. Volvo of America and Combined Transport also contributed to the transportation of the spars from Washington.
The shrouds and backstays have been fabricated by a team of riggers employed by OHPRI since March of 2014. The team will spend the next eight weeks completing the rig while the ship remains at The Hinckley Company, which has generously donated dock space. Seven miles of rope and four miles of wire will be incorporated into the complex system that will support and allow the trimming of 20 sails with 14,000 sq. ft. of sail area.
Donald Christ shared his appreciation for OHPRI's vision, which he said was presented to the Alletta Morris McBean Charitable Trust "through the good graces" of Admiral Weschler a number of years ago. "He came over and over again to meet with us, and finally we said 'we can't say no.' We have made a serious commitment to this ship, and to me, it makes possible the enthusiasm that we have at the Trust for some of the things that we can do. Many of the projects we fund disappear into the ether, and there's nothing tangible you can look at, but when you sit here and see this dream-come-true, it's a miraculous thing."
OHPRI has raised over $14 million toward the completion of SSV Oliver Hazard Perry and has $975,000 left to raise before the ship transitions into its operational phase for hosting education-at-sea programs next Spring.
SSV Oliver Hazard Perry, when completed, will be a Coast Guard-inspected and approved steel-hulled technologically sophisticated 21st Century ship. In addition to her three decks, modern galley and Great Cabin (where captains, in days of yore, entertained), Perry sports, among other things, high-end navigation and communication systems, a state-of-the-art science lab (designed under the guidance of the University of Rhode Island's Graduate School of Oceanography), and wheelchair accessibility (including accessible below deck staterooms, heads and a wheelchair lift). The Great Cabin will be used less for entertaining and more for education in its capacity as a classroom outfitted with monitors displaying real-time navigation and meteorological data. The other classroom space will house laptop computers (donated by Intel), interactive SMART boards (donated by Shanix Technologies, Inc.) and a well-stocked library.
"This is the flagship of our state of Rhode Island, for our tourism, for our marine industry, for our school and students, and for our citizens who appreciate that we are the Ocean State," said Dunbar. "That is the statement we are making."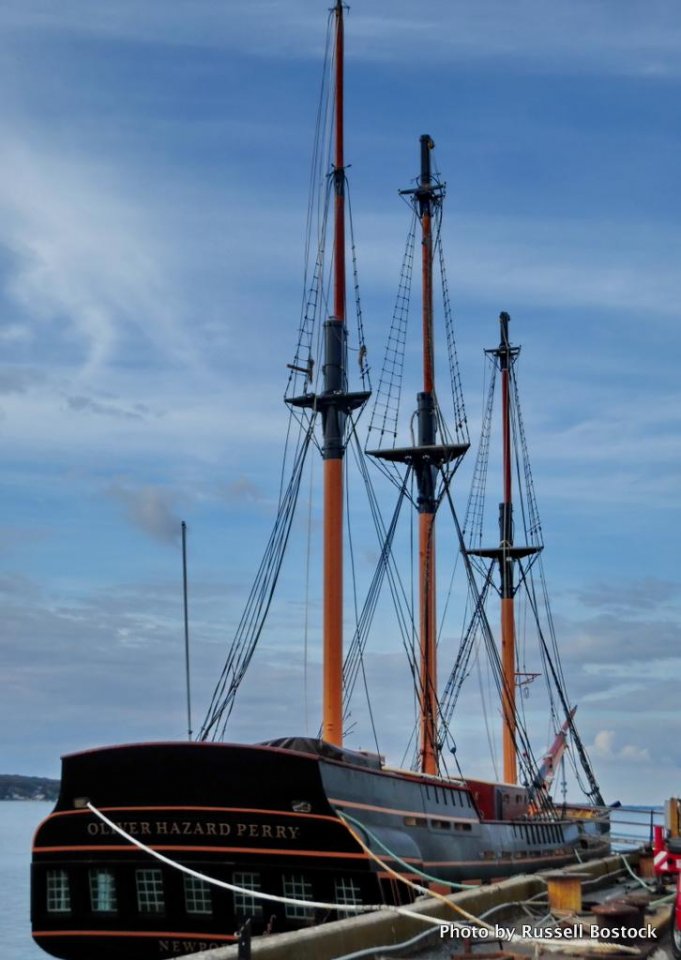 Photos of RI Tall Ship Passes Major Milestone Toward Completion