The Best Tackle for Albie Action on the RI Oceanfront
Posted by David Pickering
They are here — big time. False albacore, known as albies, have hit the RI oceanfront in masses in the past week. They are in a wide stretch of the oceanfront from Narragansett all the way to the far south shore beaches. For all I know they could even be off Jamestown and Newport!
Last Friday, I got down to the oceanfront from shore and saw albies breaking all over the place in all the places I fished. In one spot, I must have seen about 60 fish caught by an army of fly casters and spin fishermen casting almost shoulder-to-shoulder in what resembled a picket fence. In addition, I also saw an armada of boats slamming them right in front of me, just out of casting range. In all of this there were constant pods of albies tearing through small schools of bay anchovies in a surface display that was simply awesome.
Then last weekend, we had the best day of albie fishing we have ever experienced in the boat. My brother and I fished a number of places along the RI oceanfront in at least a ten-mile stretch and found albies all over the place going nuts on bay anchovies. They just seemed to be everywhere and in astounding numbers. I don't think I have ever seen this many fish in such a wide area. Yes, record numbers! The score for our best day ended up with us landing between 50 and 60 fish — phenomenal numbers for false albacore fishing.
Without question the best producer was a wooden float with a Deceiver fly. The fly was a homemade chartreuse-bodied Deceiver that had blue hackles for a tail. Our float/fly rig was outfishing most of the other boaters around us who were mostly using metal. We did also land a few fish on Kastmaster XL's reeled quickly along the surface. The float/fly combo was also fished with a very fast retrieve. If we threw it into breaking fish, a hit was almost guaranteed.
The albie fishing has attracted a ton of boaters to the oceanfront, as the word is out and albie madness has set in. There are also lots of fishermen along the shoreline looking, as well as catching, in certain spots. Boaters, though, have a big advantage when it comes to finding these fish and staying with the breaking schools.
So, it's happening and that is great news for RI fishermen. In the absence of any stormy weather the hot action should continue right through September and into early October.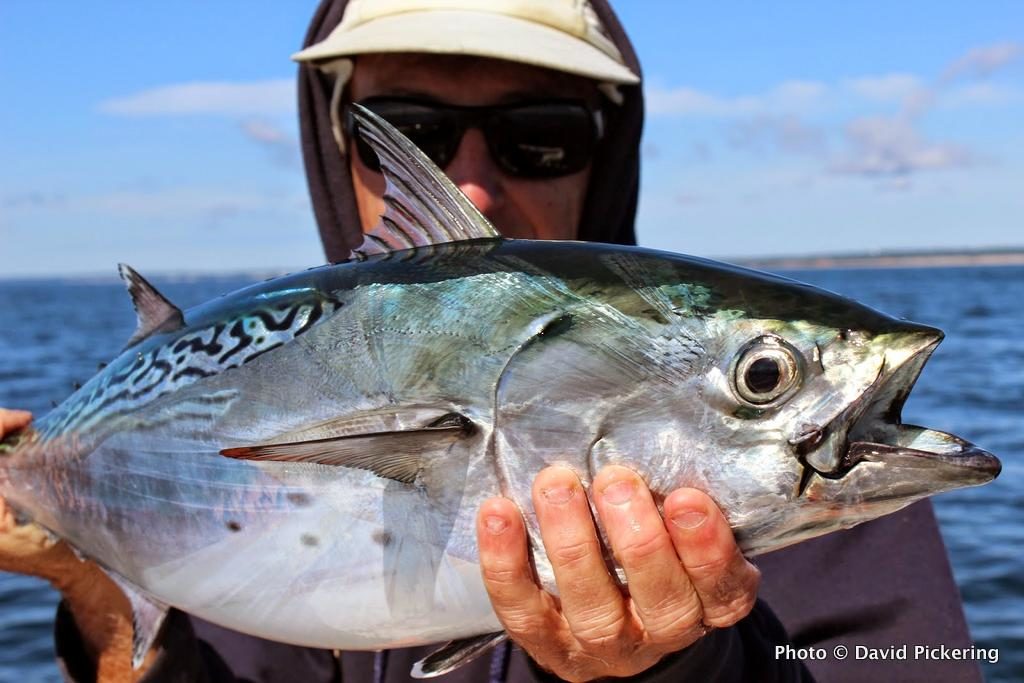 Photos of The Best Tackle for Albie Action on the RI Oceanfront